Booking A Rock & Pop Function Band
Everything You'll Ever Need To Know
If you're thinking of hiring a rock and pop function band for your event, this guide explains everything you'll need to know, including advice about what band will do at your event, how various types of party band differ from each other, what type of music they'll play, how much space they will require, how you can ensure quality, how much it costs to hire a function band, what's involved in the booking process and much more.
What is a Rock and Pop function band and what do they do?
Rock and pop function bands can be hired provide live music entertainment for weddings, corporate events and private parties. They perform a high energy show that's ideal for dancing. They generally cover a diverse range of popular music spanning the 1950's through to contemporary chart acts, focusing on hits which nearly everyone in your audience will know and want to dance to. You could expect music from bands such as The Beatles, The Rolling Stones, Elvis and Van Morrison going through the decades to current bands like Kings of Leon, Coldplay, Bruno Mars, The Killers, Tailor Swift, Maroon 5, Ed Sheeran, Oasis, Beyoncé and Katy Perry.
Function bands are great fun and really make a feature of your event. It is worth working together with the band. They will want to make your event perfect and will often go out of their way to meet your requests, but it is also worth taking their advice. The band will have the benefit of experience and will know what has and hasn't worked in the past. They know their own repertoire inside out and will know which songs work best alongside other songs, and how you can maximise enjoyment for your guests. - Becky, Cartoon Kings
Common formats of function bands
1. Guitar orientated, 3-5 members, with an indie/pop/rock sound: usually with male or mixed vocals, covering artists like The Rolling Stones and The Beatles through to Killers and Arctic Monkeys.

2. Pop/Funk/Soul orientated, 5-11 members: often with female lead vocals and more prominent use of keyboards or a brass section, playing classic pop and Motown through to contemporary pop/r'nb artists like Tailor Swift, Pharrell, Rihanna, Maroon 5, Amy Winehouse, Beyoncé etc.
The smaller format guitar based rock and pop bands are what we book the most of as they're easier to fit into most function venues, they play classic music that everyone knows, and they're more affordable as they have fewer members.
Larger bands are still a popular choice for bigger events where the stage needs to be filled, maximum impact is required, and where perhaps a more formal looking band is required.

The choice as to which format you choose will largely be based on your musical preferences.


Examples of 4 piece indie/rock/pop guitar function bands
Examples of the more traditional pop/soul function bands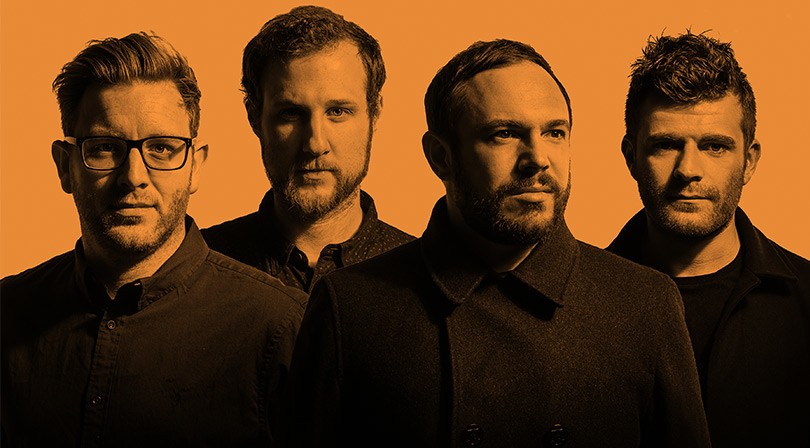 What to look for in a quality function band

All of the Rock and Pop function bands on the Alive Network web site have been carefully pre-vetted so they represent the very best of what's available in the UK. We have selected our artist roster from literally thousands of applications so in order to ensure quality all you need to do is choose a band from our web site. It's risk free and you have peace of mind that we've already done the hard work for you.
If you do choose to look around elsewhere, here's what you should look for:


1. A fixed regular band line up
Something which Alive Network tries it's best to be strict about is ensuring that the bands we work with maintain a regular fixed line up so that our customers can expect to get the exact same band turn up to perform at their event that they booked from our web site. If you look at bands outside of the Alive Network agency, be sure to ask (and have written into your contract) that the band who will perform at your event will be the same band, with the same singer, that you've been looking at.

Our booking contracts only allow band members to be swapped where there is a force majeure emergency, or where the band has made it clear in their advertising that they use a number of different members. It's not uncommon for bands to use a selection of musicians in order to maintain their availability, and it's not always going to impact on the quality of their show, but it's important that you the customer know what you're booking. Some unscrupulous band leaders and agencies accept bookings only to subcontract it on to an entirely different band who are told to turn up and perform under their name. Others swap singers without letting their customers know, which can cause disapointment on the day of your event. To be sure you're getting a professional function band who won't let you down, book them through Alive Network!


2. A great demo CD / MP3s
The music should be in time, in tune, and be well produced (it should sound like a high quality recording). You obviously also want to hear the band playing the kind of music you want at your event! Compare recordings against other bands to get a good idea of how well they stack up.


3. Great photos
If a band can't be bothered to have decent photos produced, what else will they be skimping on? Being able to see that a band have made the effort to present themselves professionally shows you they are serious and care about what they do. Also look out for how well the band have styled themselves. Although it's not always a deal breaker, Dad jeans and old polo shirts don't really say 'hot and happening band' - so if you're looking for a really great band who are pro-active in presenting themselves professionally, and who are up-to-date - check out how 'on-trend' they are.


4. Customer reviews and testimonials
Make sure you can read genuine recent reviews from previous customers. You'll find loads of previous customer reviews readily available here on the Alive Network web site.


5. Equipment
The band should use professional quality PA, instruments, amplifiers and microphones. The better the equipment, the better they'll sound at your event. This is an important factor in why some bands cost £100 - £200 more than others - and it's something that you would REALLY notice at your event. A rock/pop band with a basic 'vocal PA system' will not sound as full, well balanced or pleasant to listen to as a band who have a 'full range' PA system where all the instruments are mic'd up and balanced together through a decent set of full range PA speakers. Having a bigger PA system isn't about volume, it's about being able to properly balance all the instruments in the band - so don't assume you don't a bigger PA system just because you don't want the band to be loud. It doesn't work like that. In most cases the band can sound louder when they're running through a smaller vocal PA system as the sound of the backline instruments and drums are less controlled, and need to be turned up louder to spread the sound around the room. You don't have the same issue when the sound is carefully mixed and projected out of full range PA speakers at the front of the dance floor, where a single engineer can control the whole sound and mix it to sound beautiful.


6. Experience and background
Check that the band consists of high calibre musicians with a strong track record of playing at private events. Review the experience of individual players within the band as well as the experience of the band as a whole. There's nothing wrong with booking a great 'new' band - but you would expect to pay a little less for a band with no track record. Experienced bands who are 'in demand' charge a little more and bring a wealth of experience and ideas to the table.


7. The backing of a reliable agency
No agent, no backup if anything goes wrong. If you book a band 'directly' and they let you down either intentionally or unintentionally, you'll be completely on your own trying to find a last minute replacement. This would not be fun on the day of your wedding / event! Alive Network offers 24 hour-a-day emergency cover, 365 days of the year - with 1000's of artists to fall back on. Look for an agency that responds quickly, efficiently, and takes the time to listen to your individual requirements. They will be your point of contact so you need to be happy that they're providing a high quality service too. If you're looking at companies online, make sure that they clearly advertise their contact details and address (not a PO Box) and that they actually are a real business (as opposed to website run out of a bedroom). Alive Network is the largest entertainment agency in the UK, specialising in live entertainment for private events. We've been in business since 1999 and have booked bands for over 110,000 events - something which you don't get to do without offering a reliable service that customers are happy to recommend.


8. Cost
You get what you pay for, so don't cut corners unless you don't mind risking the success of your event. We represent hundreds of artists, all of whom define their own fees, so our prices are a good indicator of what's usual to pay. The average cost of an experienced 4-5 piece function band in 2016 was roughly £1350 - £1500 including all expenses.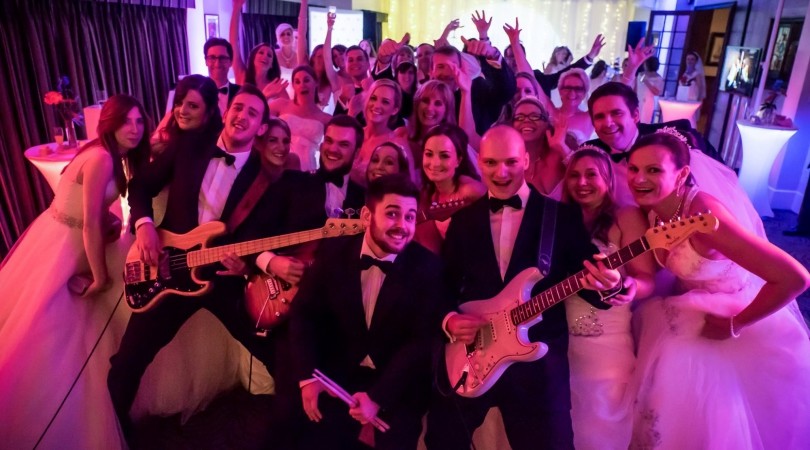 What exactly will a covers band do at my event? What will the format be?

The band will arrive at a time to suit you and set up their equipment where required. To unload, set up and sound check takes on average 60 - 90 minutes. This time is important if you want the band to sound good as levels will need to be balanced correctly. Usually they will play background music from a laptop or iPod whilst they get changed and ready for the performance.

Assuming your event is a wedding or includes a sit down meal, it is usual that set-up and sound check would happen after the meal whilst the room is cleared, and whilst guests leave the room to get drinks and stretch their legs. If you would prefer the band to be set up before guests arrive, this can be arranged but usually costs more because of the extra time involved.

The bands first live performance would usually commence about 8.30pm and last 1 hour. They would then take a break until the next set is required. If a wedding, this usually covers the time when the evening buffet is served or when the cake is cut. During this time the band would play background music from a laptop or iPod.

The second live performance would then usually start around 10.30pm lasting 1 hour until 11.30pm, plus hopefully a few encores! When the performance is finished, the band will usually play more background music until the contracted finish time. Most bands will leave this music running whilst they dismantle their equipment at the end of the night.

The band should start loading their equipment back into their vehicles only after the agreed contract finish time. It takes around 45 minutes to an hour to pack down and load out.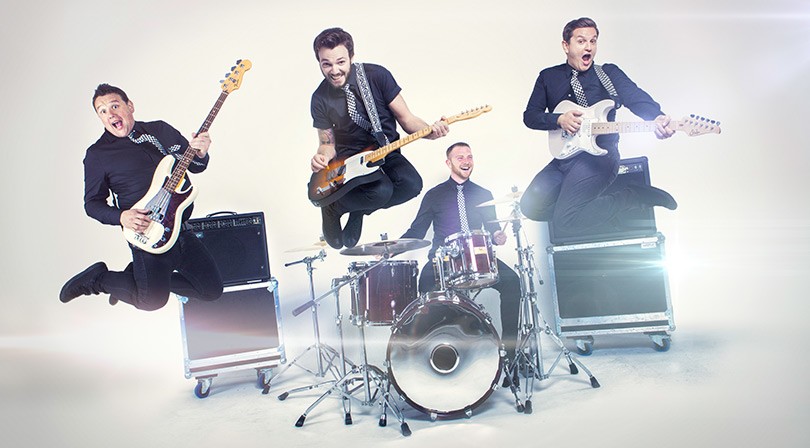 What equipment will the band provide?
99.9% of the function bands working with Alive Network will provide all of their own equipment. This would include PA, instruments, amplifiers, basic stage lighting and either a laptop or iPod to play background music through their PA between performances. Some of the larger corporate events tend to use a dedicated audio visual company, and often they will provide PA and lighting for the band.
Although there is a difference between the size of PA systems used by the various
cover bands
we represent, they will all bring a PA system suitable for up to 150 people, which covers most private parties and weddings. Bands with larger PA systems won't necessarily turn them up any louder but the option is there if needed, and larger systems usually sound much higher quality. Looking at the size and quality of their PA and lighting systems is a good way to judge value for money between several bands. Ask your Alive Network co-ordinator if you need help with this.
Important note: If your event will have more than 150 people, or if the room where the band will perform holds significantly more than 150 people, it's worth remembering that a larger PA system will need to be considered and you should discuss this with your coordinator. As a guide, you need roughly 10 watts per person, so a 300 capacity room will ideally require a 3000 watt (3K) PA system. Most of our bands can arrange larger PA.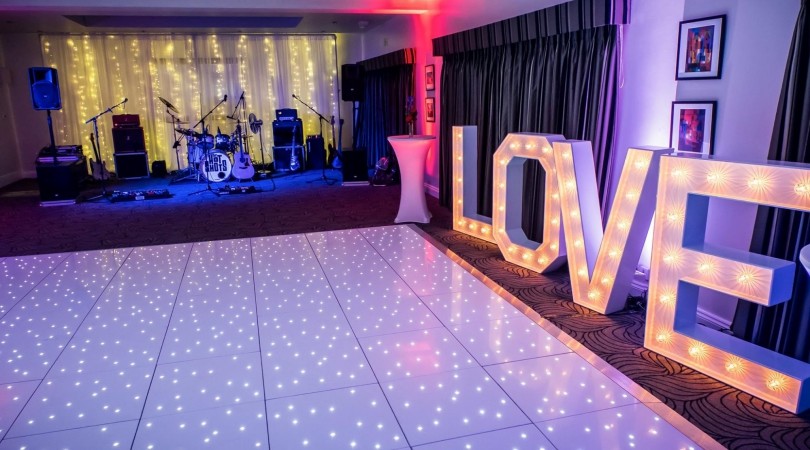 How much space will a Rock and Pop party band need?

There is a useful stage size guide on our FAQ page.

Allow ideally 1.5 meters square per person. Allow 2 square meters for a drummer. Remember, space is needed in front and to the sides of the band to accommodate their PA, speakers and lighting stands.

Minimum band stage size requirements

3 piece band: 3 x 3 meters
4 piece band: 4 meters wide by 3 meters deep
5 and 6 piece band: 5 meters wide by 3 meters deep
7 piece and bigger: 5/6 meters wide by 4 meters deep

The more room the band have, the more comfortable they'll be, and the better they'll perform.
That said, bands will do their very best to fit within what ever space you have to work with, just don't expect miracles.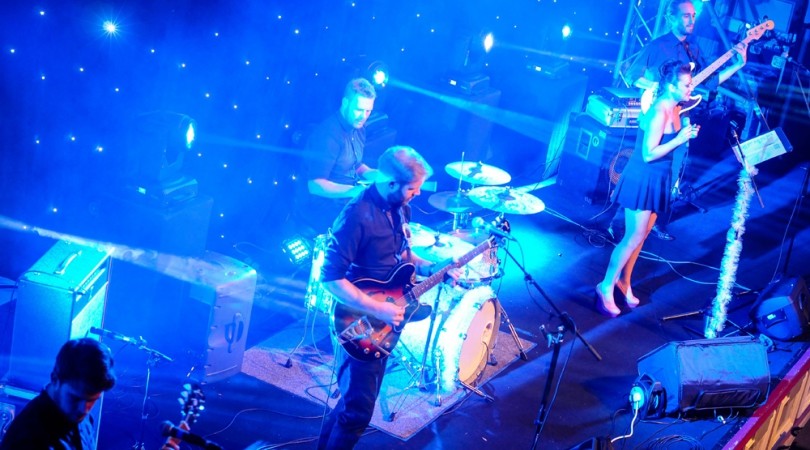 How long will the bands performance last?

The standard is 2 x 60 minute sets, but this can be split into 3 x 40 minute sets. Many bands prefer to play 2 sets because it avoids stopping and starting so they can keep guests on a high for longer.

When choosing the start time for the bands first performance, bear in mind that if your guests have just eaten, they probably won't want to dance right away. Also, they'll be more in the mood for dancing as the light fades outside and once they've had a few drinks. For the average wedding/birthday party, 9pm would be the ideal start time, with a 30-45 minute break afterwards, and a final performance running until close to a midnight curfew.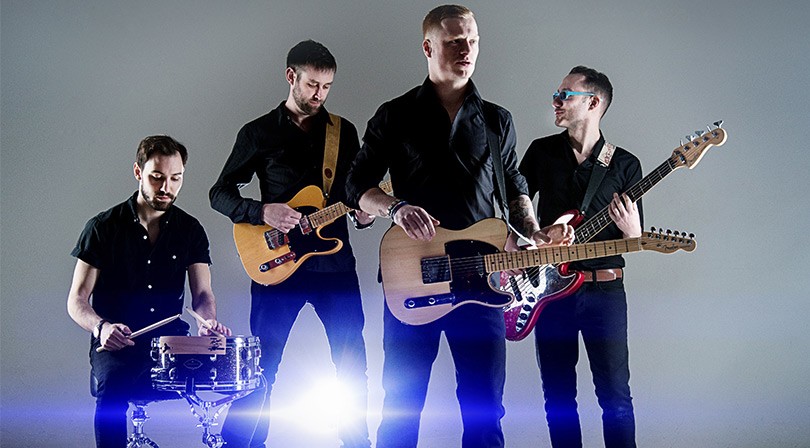 What happens when the band aren't playing?

The band will need somewhere to go before and between performances. If a changing room or staff room can be arranged, this ensures the band can rest comfortably, prepare their set lists, warm up, and start their show in a good frame of mind.

The band will provide background music on a laptop or iPod. You can also provide your own play lists if you prefer, but ensure you discuss this with the band in advance. (They will call you approximately 3 weeks before the event to work out the finer details).

The usual format would be for them to provide background music as soon as they've set up, then between and after their performances. This will be left running until the finish time on your contract, and often until the band have finished packing up if guests are still present. You can request background music until later, but this will usually cost more.

Many bands offer a DJ package as an optional extra, which means you'll either get a separate DJ with decks and lights, or more often, someone from the band will DJ from a laptop or decks, taking requests, making announcements, and generally providing a more interactive service than just leaving a play list running whilst the band take a break. If you don't mind not having the same level of equipment or song choice that you would get from a professional DJ, this can be a very cost effective solution at around £120 extra.

Also bear in mind that once the band has finished playing, most guests will leave the dance floor to get a drink, catch their breath, chat to friends, and even a professional DJ will find it hard to fight against the pull of the bar! Most people find that background music is more than adequate to fill the gaps and this costs nothing.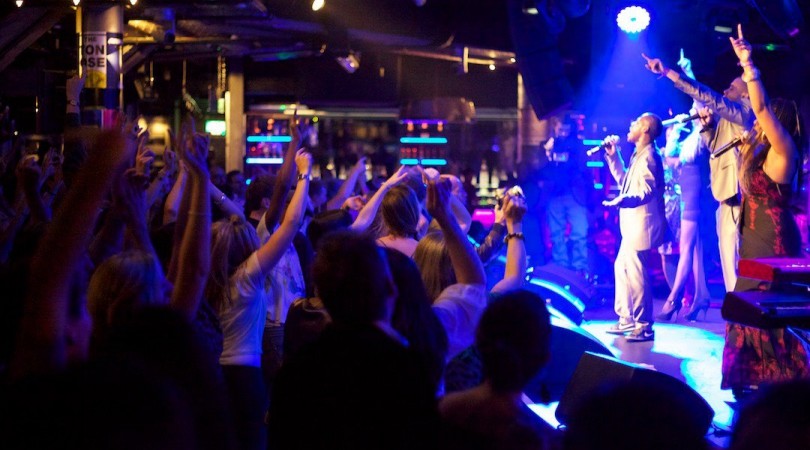 Are there any options available to customise my covers band or their performance?
Different cover bands offer different options, ranging from adding or subtracting members (eg, adding a brass section) through to the provision of extra PA/lighting, additional acoustic or jazz sets, star cloth hire or a DJ service. The options available for each band are shown on their profile page and are selectable when you make an online enquiry.
If you have a particular theme in mind, most bands will make an effort to meet it, either matching repertoire or clothing. It is best to specify exactly what you want when you make the booking to be sure your chosen band can definitely accommodate.

Requests
Nearly all our function bands will be happy to customise their usual set-list based on your requests. Most bands perform a standard repertoire of songs for private events, carefully tailored over time to feature the songs that best suit their strengths, and which work as a cohesive performance. They'll know based on experience which songs suit a given occasion, and will often adapt their repertoire on the fly as they judge the atmosphere of your event.
A full two hour performance might contain between 30 to 40 songs, but if you look at the full repertoire listed on their profile page it will likely contain upwards of 60 songs, often many more. This gives you a little leeway to guide them in the direction of your personal favourites.
Please do bear in mind that building a repertoire isn't like building a playlist on your iPhone. In a live set some songs do not work well next to each other due to the key the singer may need to sing in, or the general dynamic flow of the performance. Whilst the band will welcome your input and will be keen to ensure their performance meets your requirements, you must allow them to build the final repertoire themselves, based on your feedback.
Some artists may also learn new pieces of music for you (for example a first dance) but there is often an additional fee for this to cover rehearsal time.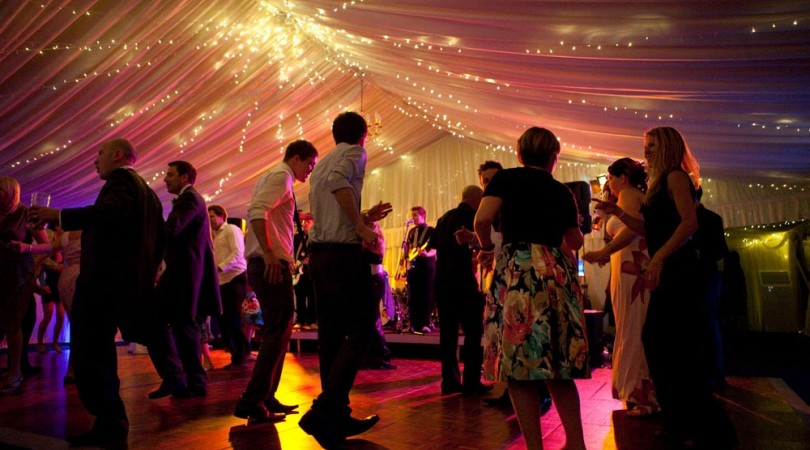 How much will it cost to hire a function band?

This depends greatly on the size, quality and experience of the band. All Alive Network function bands are carefully vetted and so therefore represent the top percentage of quality live bands in the UK.

Our party bands range from as little as £650 for a trio, to £10,000+ for a top flight 11 piece function band.

In 2016, the average privce of a 4-5 piece function band is around £1350 - £1500.

The best way to reduce costs is to avoid early arrival times (bands charge extra to arrive and set up before 5pm) and try to find a band who are based close by so you're not paying for lots of travel time. The home town location of all Alive Network function bands is shown on the roster pages and also on each bands profile page. You can also ask your coordinator to recommend the best band local to your event.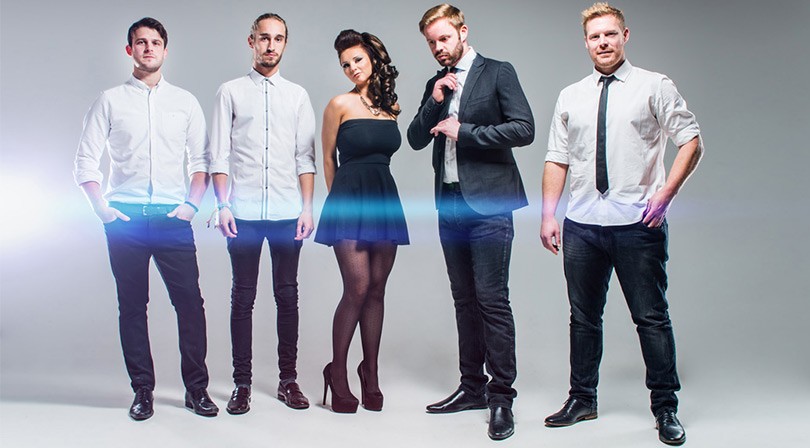 Why is there a difference between the costs of different party bands?

Generally, you pay more for a reputable band with a high level of experience and demand, stronger ability and good quality equipment. The minimum standard of our bands is already very high as we carefully vet everyone we work with, but essentially, you get what you pay for.

Also, when you search our website for bands available on your event date and in your event location, those bands who are travelling from outside the area will add travel fees, and these fees are included in the prices you'll see advertised. Travel fees can sometimes be 50% extra on top of the bands local price, so there can be a big difference in the cost of local bands compared to acts from outside the area.

The number of members in the band also greatly affects cost, with 3 or 4 piece bands costing much less than 10 or 11 piece bands.

Some higher earning bands are also VAT registered which pushes the overall cost up, though most band aren't.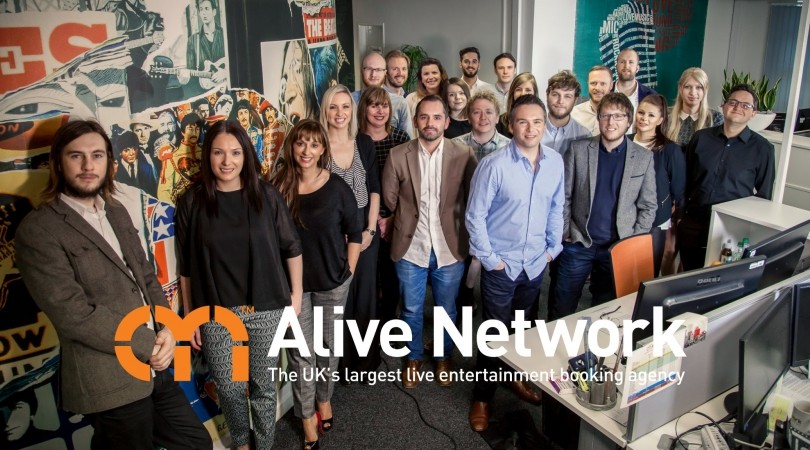 What security will I get when booking a Rock and Pop covers band?

When you book a Rock and Pop band through Alive Network you'll receive a legally binding contract which protects you against any foreseeable eventuality. This means that short of the band being seriously injured or abducted by aliens, your booking is 100% safe.

You also get the full backing and support of Alive Network, the UK's largest live entertainment agency, as well as the assistance and advice of your personal Alive Network coordinator who will always be on hand to help if you have any questions or concerns.

You can think of Alive Network as your entertainment insurance.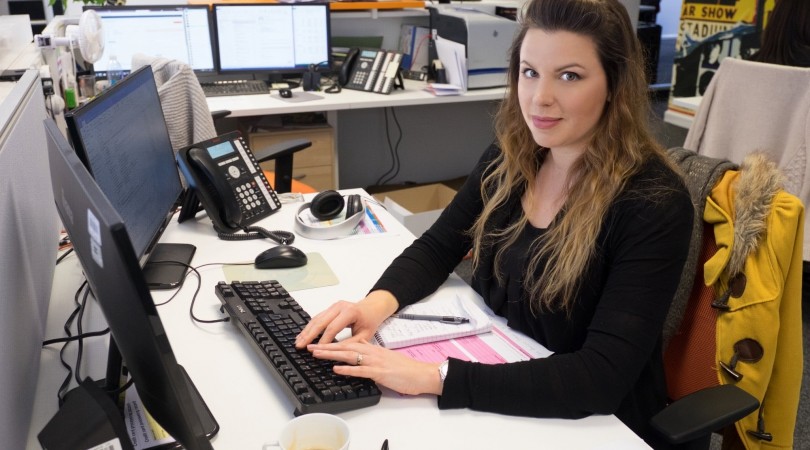 What happens if the band is ill?

It's very rare that problems occur, but if the unthinkable does happen, Alive Network will help you to source a replacement artist, even at very short notice. We work with hundreds of bands across the UK and have a huge database of contacts to fall back on in an emergency.

Alive Network runs a 24 hour-a-day emergency hotline, 365 days of the year, manned by a minimum of six on-call staff. We will always have your back.

Given sufficient notice, if the artist you've booked is ill - you will always be fully informed and involved in agreeing a replacement artist. If you aren't happy with the replacement we suggest you can choose another of our acts, or else receive a full refund. If an emergency happens on the day of your event and we cannot contact you, we will liaise with your venue, and send the closest matching alternative artist so you are not left in the lurch. You still have the option to send the artist away if you are not happy to accept them.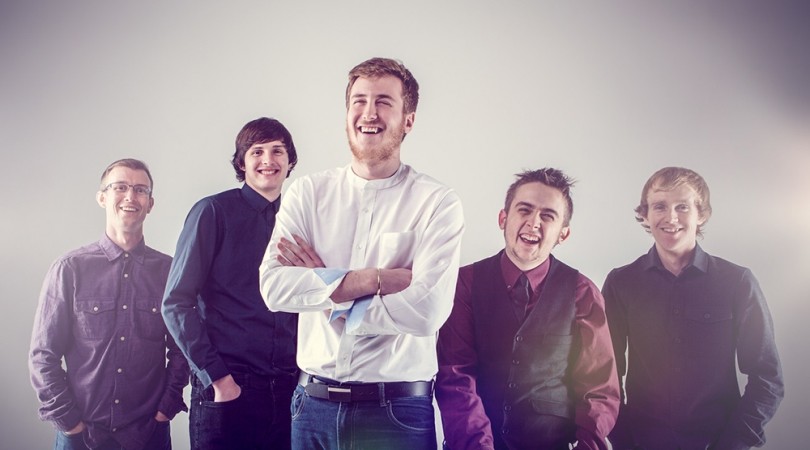 Is there anything I need to provide for the band?

The band will need a safe performance area with at least 3 or 4 power sockets in close proximity to the stage / performance area.

They will require food and refreshments (preferably a hot meal as they'll be on the go for approximately 12 hours and will be hungry!). If you can't provide a hot meal, some of the evening buffet will usually be ok. A plate of cold sandwiches isn't really sufficient considering the length of time the band are working for, and their inability to get anything better once at your event. Food is usually provided before or after the bands first set.

You do not need to provide alcohol, though most bands will appreciate a beer or glass of wine. Soft drinks, water, tea and coffee should all be made available at no cost to the band, and you should arrange this withy our venue in advance.

A changing room is very much appreciated including enough seats for all the band members, and if possible, a mirror.

The band will also require parking, and if you can ensure they have easy access at the front of the venue to park and unload, this will ensure the band can get in and get set up quickly.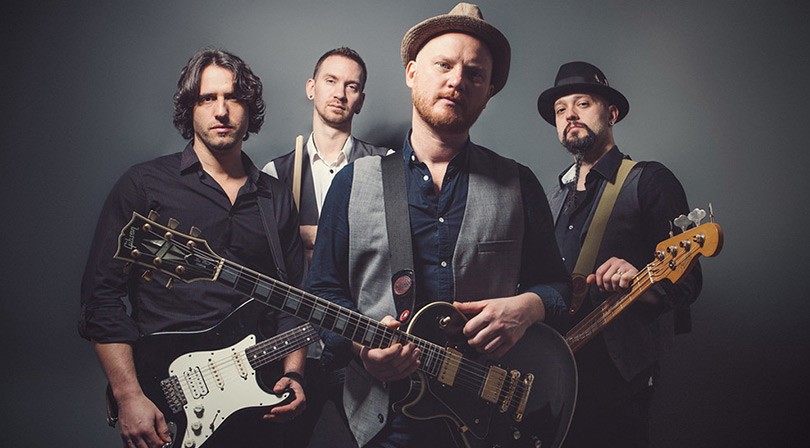 Is there anything else I need to know about booking a band?

We've put together a selection of useful tips and insights provided directly by our artists.

Becky, Cartoon Kings quotes "Bands are great fun and really make a feature of your event. It is worth working together with the band. They will want to make your event perfect and will often go out of their way to meet your requests, but it is also worth taking their advice. The band will have the benefit of experience and will know what has and hasn't worked in the past. They know their own repertoire inside out and will know which songs work best alongside other songs, and how you can maximise enjoyment for your guests."

Dan, Funkytown quotes "Ideally, you should allow 1.5 hours for the band to load in, set up and sound check. The time needed depends on the venue itself and access to the performance space. If the stage is on the third floor and there aren't any lifts, it will obviously take longer to load in than if the space was first floor and accessible from the car park."

Joe, Hipster quotes "It is always worth having somebody available to greet the band on arrival to show them where they will be setting up. Often the band will have travelled some distance to get to the venue so it's worth asking if they need anything when they arrive. Musicians are always friendly and approachable, and will do what they can to make your event all the more memorable."

Matt, Livewires quotes "If there is a query, don't be afraid to ask! The bands perform week in, week out so something that might seem a strange request will probably be normal to the band. From my experience, the more interaction the client and audience have with the band, the better the event, as bands really bounce off an audience and therefore get more fired up to put on a good show!"

Mark, The Kicks quotes "Our sole mission is to keep the dance floor filled for the entire evening and our show has been tailored to this over years of work. With this in mind, it's worth remembering that the band are probably best being entrusted with the design of the set list as we know what has worked historically. Feel free to make requests and we'll do the rest."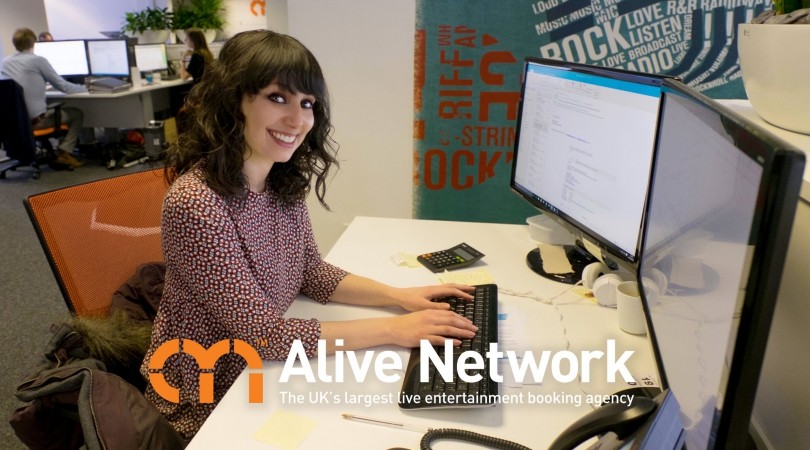 How do I make a booking?
To make an enquiry simply submit an enquiry form from the artists profile page on our web site (click the 'add to basket' button and follow the instructions) or give us a call on 0845 108 5500.
Once we have all your event details we will contact the artist to confirm their availability, discuss any requests you might have made, and get a confirmed quote.
Once your Alive Network coordinator sends you a confirmed quote and you're happy with it, simply let them know that you'd like to secure a booking with the artist. You can do this via phone or email. They will contact the artist to confirm the booking based on the quote submitted.
You will then be required to pay a deposit, usually over the phone by credit card, and we will send you and the artist a booking confirmation form which shows exactly what you've both agreed to and all your event logistics.
Once we've sent you the booking confirmation, both you and the artist have 48 hours in which to cancel the agreement should you no longer wish to go ahead, otherwise your booking is in place and is non-cancellable.
If you need to discuss any aspect of your booking, or if you need to make any changes, your dedicated Alive Network coordinator will be on hand to support you as much as you need.
You will be put in touch with the artist approximately 3-4 weeks before your event to run over the arrangements, fine tune the details and make any changes necessary.
Useful links
Rock and pop function band roster pages
Cover bands
available to hire.
Party Bands to hire
throughout the UK
To view our rock and pop function bands please click here
.
By Alive Network, with contributions from members of Cartoon Kings, Hipster, The Kicks, Live Wires and Funkytown
Need some help or advice choosing a function band? We're here to help!
If you would like help selecting the perfect entertainment for your event, simply give us a call or submit the quick enquiry form below and one of our talented entertainment coordinators will be happy to assist.
Make a Quick Enquiry
01782 740839 Make a Quick Enquiry
9am-5.30pm Mon-Fri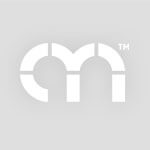 Posted by Rich Hearn, Digital Marketing
on Wed, 30th January 2019