Artist Management & Development Programme
Exclusive Agency Representation For The UK's Best Bands & Musicians.
Alive Network offers an industry leading management and development programme for our best function bands and musicians, providing world class recording, video production, photography and marketing services to ensure you achieve your full potential in the private events market. Get an investment of around £7000 upfront into your promo materials when you're accepted on an exclusive agency deal basis, and secure between 60-100 bookings a year. Sound good? Read on ...
Register Your Interest
If you're interested in joining our exclusive management and development program either as an existing Alive artist or as a brand new act, please complete the form below or call Laura on 01782 381656. Please note that you can also submit a normal application to join Alive Network here.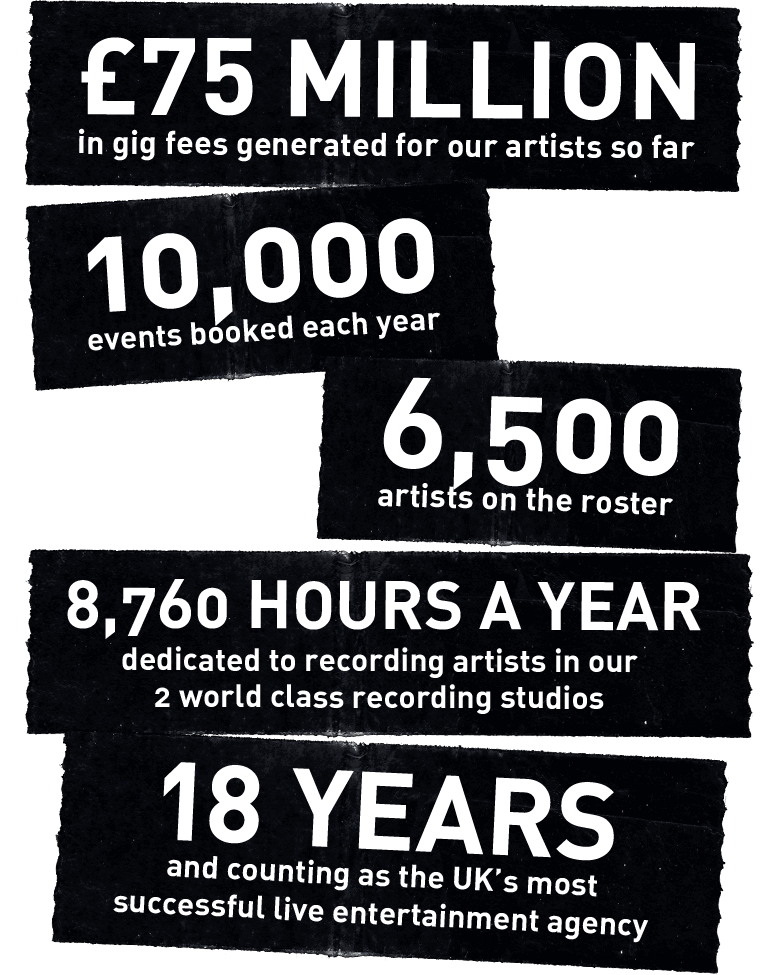 Success Stories
Check out some of the bands and musicians who are currently part of our development program.

Record In Our World-Class Studios
Included in your development deal, most bands get an allocation of around 8-10 days each year to record and mix new audio at our world class recording studio The Silk Mill. We'll ensure your promotional recordings sound superb, and always reflect the current quality of your act.
Video Production
Customers often ask if they can see an artist live before they book, but with most of our events being private, this isn't usualy an option. Included in your development deal, we'll film new Live In Session videos at our studio each year, allowing customers to hear the quality of your live performance, and ensuring your videos are always fresh and up-to-date.
Artist Photo Shoots
A yearly photo shoot is also included in your development deal, helping to keep your band image current and on-trend. We can provide look-books and assistance with developing your image, as well as recommending several personal shopper services to help coordinate band attire.
Sound Good? Get In Touch ...
If you're interested in finding out more about joining our exclusive artist development program please call Laura on 01782 381656 or click the button below to complete the registration form.