Booking A Wedding DJ
Everything You'll Ever Need To Know
When you want to get your wedding guests up and dancing, it's hard to beat a professional wedding DJ. Playing all your favourite tracks plus those dance floor filler classic from the 1950s to the present day, a good wedding DJ will ensure everyone has a fab-tastic time from first dance to last stagger! If you've never booked a DJ before, this guide explains everything you'll need to know, including advice about what the DJ will do at your event, how you can ensure quality, how much it costs to hire a wedding DJ, what's involved in the booking process and much more.
What Is A Wedding DJ And What Do They Do?
A Wedding DJ specialises in providing the very best wedding entertainment, carefully tailored to keep guests of all ages entertained and dancing throughout your wedding party. They will often act as compare for the evening reception, introducing the bride and groom for their first dance, the cutting of the cake, and making general announcements as required throughout the night.
Wedding DJs understand the diverse mix of guests you're likely to have at your wedding, from youngest nephew to elderly grandparents, and their skill is in judging the right music to play to keep everyone entertained and involved all night long. They carry huge collections of songs in what are now often digital DJ systems, allowing you the chance to have a highly customised playlist for your event, and offering guests the opportunity to make a wide veriety of requests.
Also know as 'mobile discos' - professional Wedding DJs provide a fully self contained service which you can hire for your wedding anywhere in the UK. They will supply all the equipment they'll need to turn your wedding reception into a party, including their own DJ decks, PA speakers, microphones and disco lighting. Where ever you're getting married, our Wedding DJs offer a cost effective party in a box!
A good Wedding DJ should have a passion for all genres of music so that he can predict the response of people in the room when he plays certain classic songs from his collection. It is important for a DJ to read his crowd, and he should instinctively know what kind of music will get people dancing.

- Anton Foley
Example Wedding DJ video
In the following showreel video for one of Alive Network's top Wedding DJs Ben Malone, you can see examples of the various DJ / lighting systems which are commonly offered.
Examples of popular Wedding DJs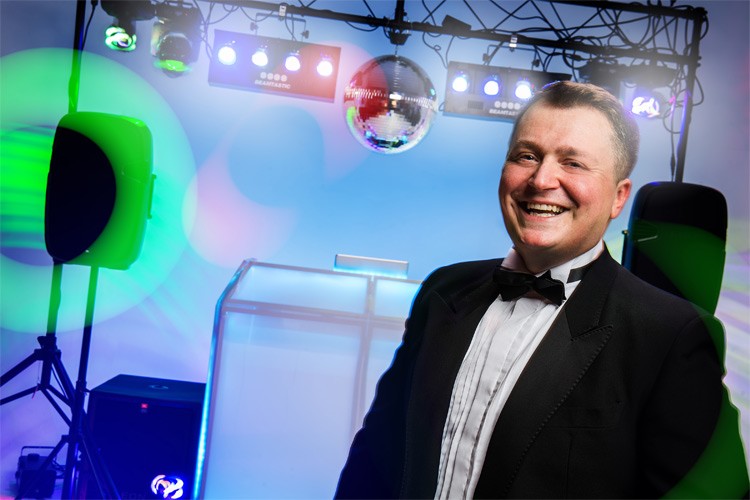 What to look for in a quality Wedding DJ

All of the Wedding DJs on the Alive Network web site have been carefully pre-vetted so they represent the very best of what's available in the UK. We have selected our DJ roster from literally thousands of applications so in order to ensure quality all you need to do is choose a DJ from our web site. It's risk free and you have peace of mind that we've already done the hard work for you.
If you do choose to look around, here's what you should look for:


1. Does the DJ actually exisit?
I know, crazy question but ..... when you're looking around on the internet for Wedding DJs be sure the DJ you're looking at actually exists and that the person you book is the same person who'll play at your wedding. Some unscrupulous DJs and agencies accept DJ bookings only to subcontract them on to an entirely different DJ who's told to turn up and perform under their name!
That's not to say you shouldn't book a DJ from a DJ company, and we work with several established brands who use a number of top flight DJs under the umbrella of their company name, but it's important that where you've taken the time to read about a particular DJs experience and their previous client reviews, you have the confidence that the same person will be who you actually get.
Our booking contracts only allow DJs to be swapped where there is a force majeure emergency, or where the DJ has made it clear in their advertising that they use a number of different people. To be sure you're getting a professional wedding DJ who won't let you down, book through Alive Network.
2. DJ performance style
Probably the most important choice is the musical taste and performance style of your chosen DJ. Whilst most professional Wedding DJs by nature have a very broad taste in music and don't particularly specialise in any one style, if you're looking for something more contemporary and definitely don't want to hear Grease Lightening or Build Me Up Buttercup under any circumstances, then you need to consider the overall personality of your DJ. You should also consider whether you want a highly interactive and talkative DJ, or someone one who takes a back-seat to the music and makes announcements only as requested. The popular choice if the later. Bear in mind that most professional Wedding DJs WILL be able to accommodate almost any request, and will be able to build a playlist that's exactly suited to your requirements, both in terms of the music played AND the delivery style.
3. Experience and background
Check that the DJ has a good track record of playing at weddings and private events. A club DJ as not the same thing as a wedding DJ, and you need to know the person you hire has the experience and equipment nessesary to provide a decent DJ service for your wedding day. Check out the DJs previous client / venue list to make sure they've played at similar quality venues to your own. There's nothing wrong with booking a great 'new' DJ if they have all the nessesary equipment and a basic level of experience, but you would expect to pay a fair bit less for a DJ with no track record. Experienced DJs who are 'in demand' charge more and they bring a wealth of experience and ideas to the table.
4. Great photos
By reviewing a DJs photos you can get an idea of what they look like and how well presented their DJ system looks at events. Good DJs pride themselves on having nice looking systems and you should be able to see what they provide in their promotional photographs.
5. Customer reviews and testimonials
Make sure you can read genuine reviews from previous customers. You'll find loads of previous customer reviews readily available here on the Alive Network web site.


6. Equipment, PA and Lighting
The DJ should use professional quality decks, PA, microphones and disco lighting. The better the equipment, the better they'll sound at your event. This is an important factor in why some DJs cost more than others - and it's something that you would REALLY notice at your event. Most good DJs can offer a choice of PA system / lighting sizes to suit different venues, but the size it's self is not as important as the quality of the equipment used. A DJ with a cheap / basic PA system will not sound as full or pleasant to listen to as a DJ who has a high quality PA system - even when the music only needs to be quiet. In laymens terms, the difference in quality between a cheap PA system and a high quality system is similar to the difference in sound quality between a £50 portable radio and a £1000+ hi-fi. You WILL be able to hear the difference and it will be significant.
Disco lighting is also a big factor in making your party look like a party, and again - you get what you pay for. A few cheap lights will look dim and boring, but professional lighting will illuminate the dance floor fully and add interest with moving / spinning fx and lazers. Good quality disco lighting can be very expensive so larger lighting systems usualy carry additonal cost, or perhaps explain the cost difference with more expensive DJs who will only perform with a decent system.
7. The backing of a reliable agency
No agent, no backup if anything goes wrong. If you book a DJ 'directly' and they let you down either intentionally or unintentionally, you'll be completely on your own trying to find a last minute replacement. This would not be fun on the day of your wedding! Alive Network offers 24 hour-a-day emergency cover, 365 days of the year - with 100's of DJs to fall back on. Alive Network is the largest entertainment agency in the UK, specialising in live entertainment and DJs for private events. We've been in business since 1999 and have booked entertainment for over 110,000 events - something which you don't get to do without offering a reliable service that customers are happy to recommend.
8. Cost
You get what you pay for, so don't cut corners unless you don't mind risking the success of your event. We represent hundreds of DJs, all of whom define their own fees, so our prices are a good indicator of what's usual to pay. The average cost of an experienced Wedding DJ in 2016 was roughly £450 - £550.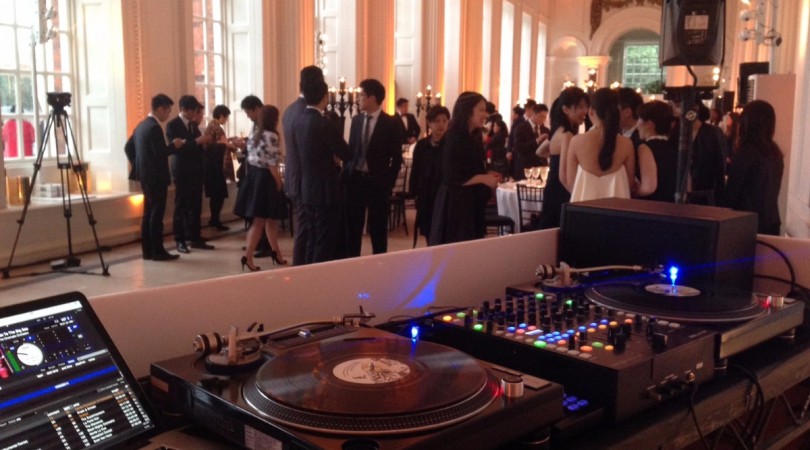 What exactly will a DJ do at my wedding? What will the format be?
The DJ will arrive at a time to suit you (usually around 6pm) and set up their equipment where required. To unload and set up takes around 45 - 60 minutes depending on how much equipment the DJ has. They will then need to get changed. Once set up, they will be able to leave background music running quietly before the evening party starts. Many DJs are also able to provide wireless microphones for speaches at a small additional cost.
It is usual that set-up would happen after the wedding breakfast and whilst the room is cleared. If you would prefer the DJ to be set up before guests arrive, this can be arranged but usually costs more because of the extra time involved.
If the DJ is the sole entertaiment for the evening (EG: you haven't also booked a band) then their first set would usually commence about 7.30pm / 8.00pm, right after they've announced the first dance. The first set would usualy run through to around 9pm when the buffet might be served. Whilst guests are eating the buffet, the DJ will leave music running quietly. It is usual for you to feed the DJ hot food and this should be made available during the buffet. If this isn't possible, then some of the buffet is ok.
The second DJ set would start around 10.00pm and run through until midnight, or when ever you contract the DJ to perform until. The DJ should pack-down and load-out only after the agreed contract finish time. It takes around 45 minutes to pack down and load out.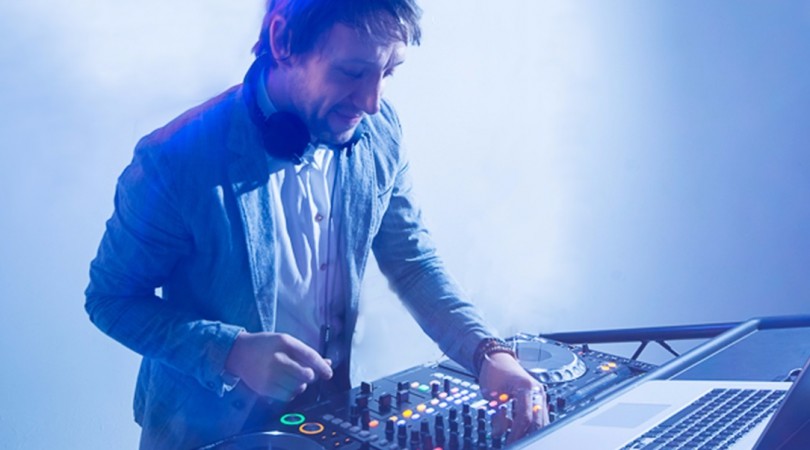 What Music Will My Wedding DJ Play?
Most wedding DJs should have a library of tens of thousands of tracks available for your wedding party. They can draw on the whole history of pop from 1950s to present day if required, or focus on your favourite eras or styles.
Your wedding DJ will be happy to talk through your specific requests, but don't be too prescriptive with what you want them to play. Give your DJ the freedom to pick and choose as required on the night. This allows them to draw on their experience and expertise in order to build the night, and keep people on the dancefloor.
"My collection of over 500,000 tracks covers all genres, from Rock, Pop, Soul, Dance, Motown and even Ceilidh." - The Flying Scotsman
"I have the ability to change the mood in moments if my music is not hitting the right spot. I am always willing to work around the clients likes and dislikes, to create a truly memorable music experience." - Stuart H
The most experienced wedding DJs enjoy making special mixes just for you and your guests:
"I make sure I keep bang up to date with the current chart, latest releases and remixes. I love to create unique edits and re-edits of classic tracks, giving a special edge to make each track irresistible to your guests!" - Anthony Parella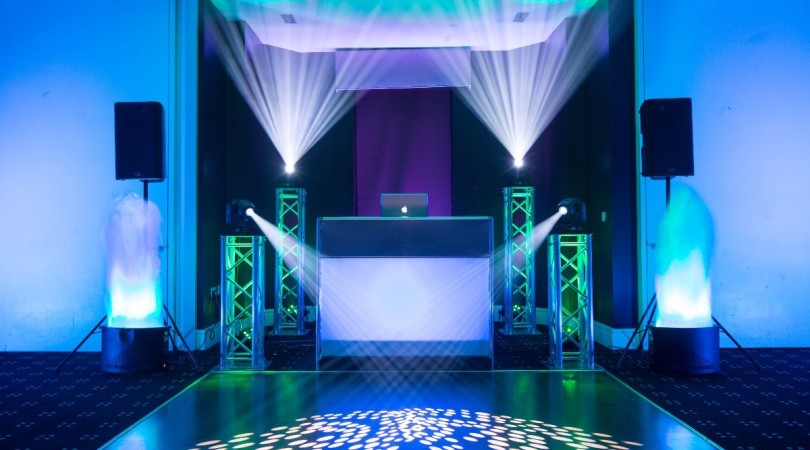 What Equipment Will My Wedding DJ Provide?
A wedding DJ should be totally self-contained, providing all of the equipment that they need for your event. The best wedding DJs will tailor their set-up for your event.
"I take exceptional care to ensure the sound system I use is right for the bride's wedding venue and number of guests. There is nothing worse than an underpowered system struggling in a marquee! That's why I offer no less than 4 options covering every style of wedding from an intimate family occasion to the biggest wedding party with 300 guests or more." - Anthony Parella


Lighting
Many wedding DJs also provide a full lighting system which can transform any room from four dull walls to a pulsating laser-lit nightclub complete with mirrorball. The best wedding DJ light shows use all the latest kit, from spinning and rotating lights to beams and lasers. Known as intelligent lighting, and controlled by a computerised DMX system, this setup enables your wedding DJ to customise their lighting to your venue, and even to your wedding colour scheme.
"I use a whole range of cutting edge lighting equipment to create incredible lighting for all kinds if wedding venues, and I can tailor it to your requirements. Whether you want old skool disco, Ibiza nightclub or family-friendly fun lighting, I have the spotlights, spinners and strobes to make it happen." - Rich Budding
Modern LED lighting doesn't get hot so is unlikely to cause any problems with heat detectors, but smoke detectors may have issues with some fog / haze / smoke machines. Your venue will be happy to help with advice on their specific safety requirements.


Dancefloor
Your wedding DJ will not provide a dancefloor, so if you are hiring a marquee or a carpeted function room, make sure you order this separately from your venue of marquee opperator.


Star-cloth
Your wedding DJ may provide a lit startcloth or similar (known as a backcloth), which is particularly useful for decorating unusual venues or more basic marquees. Be aware these will need to be set up well in advance of guests arriving, especially if the marquee is to be used for a meal first.


Microphones for speaches
If you would like your wedding DJ to provide the sound system and handheld microphone for the wedding speeches, always ask in advance. There might be a surcharge for this and it will usually involve your DJ arriving earlier in the day. For evening parties, some DJ's come ready prepared!
"I always pack 2 additional high quality radio (handheld) microphones with me to any wedding. These are available for the wedding party to use for speeches, housekeeping announcements (where the loos are) or for surprise announcements!" - Stuart H


Background music during the wedding breakfast
Most wedding DJs are happy to provide pre-made playlists for times when you want some background music, rather than the full DJ service. Again, if you'd like this during your post wedding meal and before the evening party, you will need to pre-book this with your DJ.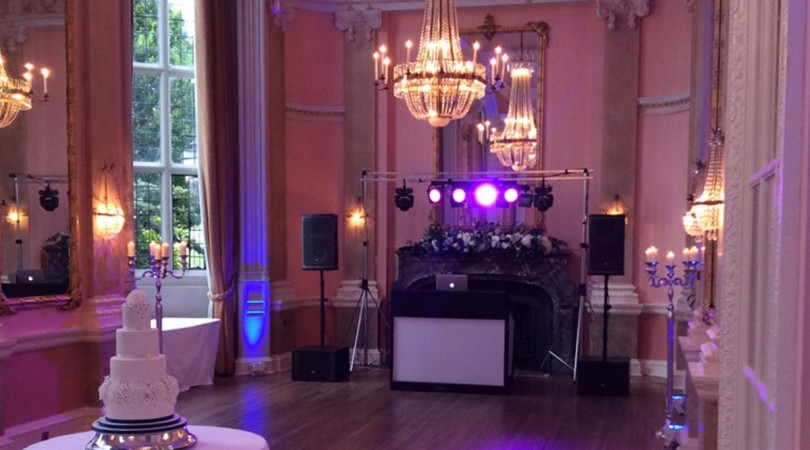 How Much Space Will My Wedding DJ Require?
Often, it's more a case of how much space has your venue got?! Venues such as hotels may already have a DJ booth or stage area, whereas in a marquee you'll need to allow sufficient space for a dancefloor, the DJ's equipment, their speakers and lighting stands.
As a rule, you should allow a minimum 2.5 meters wide x 1.5 meters deep for a wedding DJ.
"I come with a very impressive sound and light show so in an ideal world I would love at least 3.5 by 1.5 metres floor space to project my show for maximum impact, and for your pleasure!" - Stuart H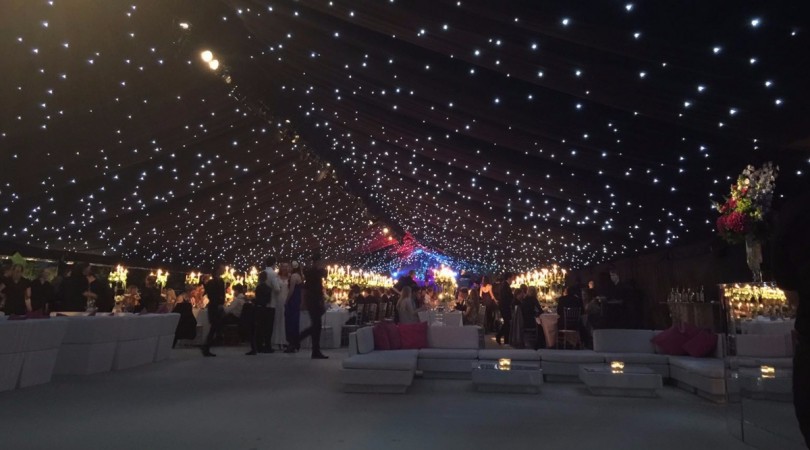 How long will a Wedding DJ perform for?
The length of a DJ's set is pretty much up to you, to fit with your wedding day timing. It's usual for Wedding DJs to provide music for around 4-5 hours. Just bear in mind that even the most professional DJ needs a break now and then, and your guests would probably welcome a breather from dancing every 90 minutes or so too!
Your wedding venue may have a curfew time for music or dancing according to their licence. You may need to stop at midnight if your venue is a hotel or in a built-up area, for example, or you may be able to continue on to 1am or beyond.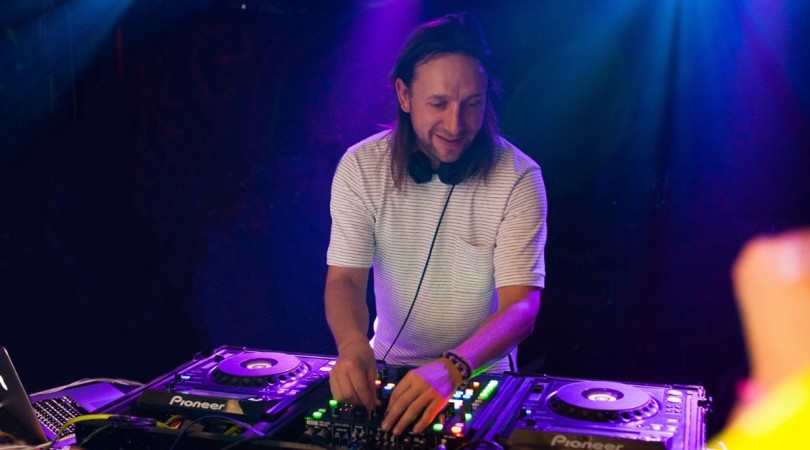 What Customisation Options Do Wedding DJs Offer?
Most wedding DJs can theme their sets and performance style to whatever era or style of music you want for your wedding. Whether your wedding party is Swinging Sixties themed, 70s disco vibe, 80s electro, house music, Northern Soul, Motown or contemporary chart, most DJs can create a great show with lighting to match.
As well as customising the music, experienced wedding DJs can also work with you to customise the look of their equipment and light show to match your colour scheme. Although likely to be an additonal cost option, it's possible to hire colour themed PA speakers and DJ decks, as well as themed lighting gobos, backdrops, projectors, video screens and more. What ever you have in mind, let your Alive Network coordinator know and we'll make it happen.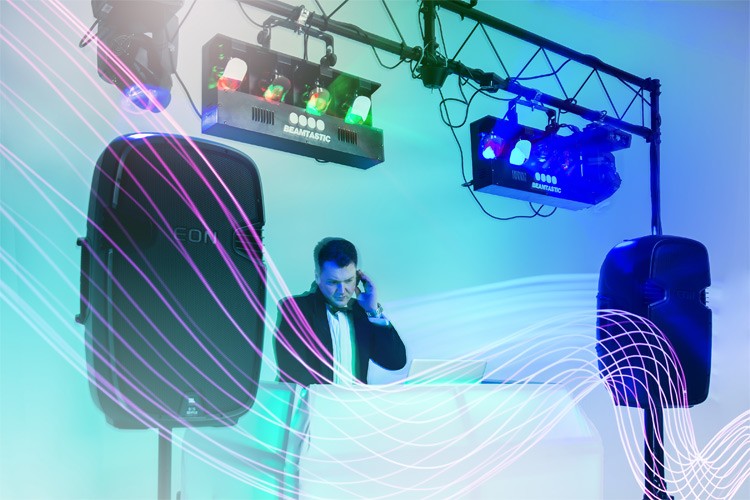 How much do wedding DJs cost?
Your wedding DJ may have the sole responsibility of entertaining your guests all night, so it's not worth cutting corners. The average price of a professional wedding DJ in 2016 was between £450 - £600 based on a 'standard' set-up. For larger sound and lighting systems the cost would be higher.
"Although it's tempting to look for a cheaper local DJ - don't underestimate how crucial the quality of the DJ will be on the night of your event. The DJ will be responsible for entertaining all of your guests over at least four hours. They will be the main focal point of the evening. Do you really want to risk hours of complete embarrassment for the sake of a couple of hundred pounds?" - Anton Foley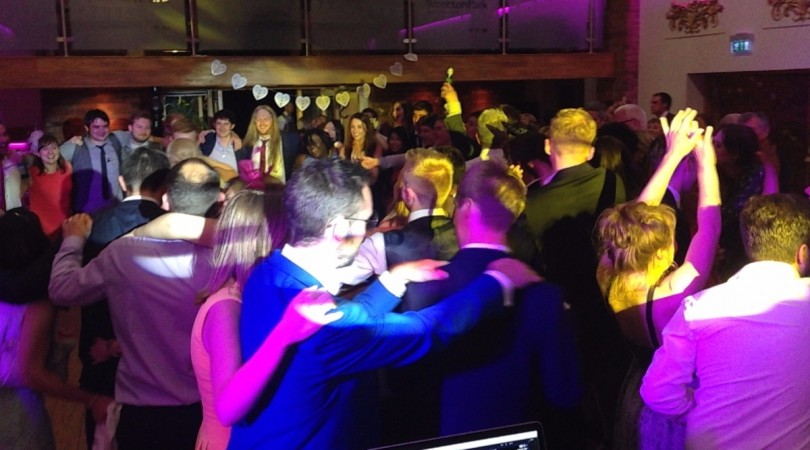 Wedding DJs vs iPod Playlists
If your budget is tight, you might be tempted to make an iPod playlist and hire in a sound system rather than booking a real Wedding DJ. This rarely works. The reality is that whilst playlists may feature all your favourite tracks, this is rarely what gets the whole audience dancing. What might seem like a fun song choice at home when you're putting your playlist together can feel like a very bad choice on the night, once the flow and mood of the party gets underway. A real live wedding DJ tailors what he/she plays to each event, in real time, taking into account your preferences, but also importantly the mood on the night, what guests are responding too, and they 'build' the buzz in such a way that people feel continually lifted - so that they stay on the dancefloor all night. There is no way to do this in advance with a playlist, it's a human 'in-the-moment' thing and it's what makes each event unique.
You'll always get a much better sound quality with a live DJ too, thanks in part to the high quality of their equipment and their professionally digitised tracks. Your collection of Spotify MP3s might sound ok on your headphones at home, but they will sound thin and horrible cranked up through a decent sound system.
Most venues don't have professional DJ lighting either - and your wedding marquee will probably only be lit by a couple of chandeliers and some uplighters. The state of the art lighting provided by a professional DJ will transform any venue and create a spectacle for all your guests to enjoy. It's a big part of what sets the mood for a party and helps people feel comfortable to dance.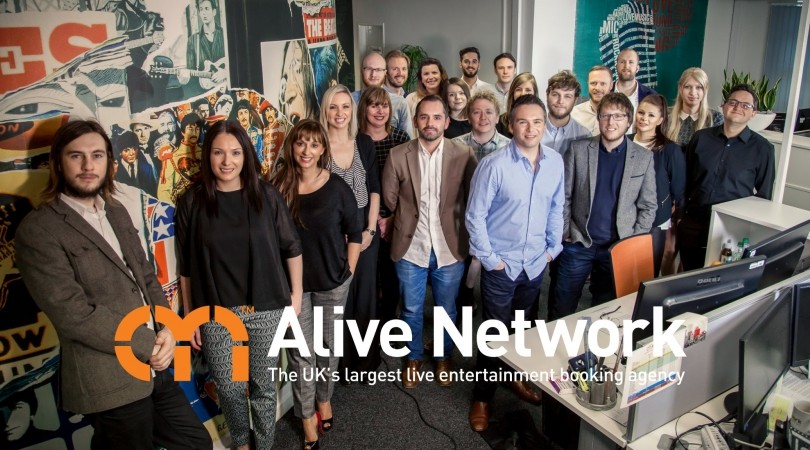 What security will I get when booking a Wedding DJ?
When you book a Wedding DJ through Alive Network you'll receive a legally binding contract which protects you against any foreseeable eventuality. This means that short of the DJ being seriously injured or abducted by aliens, your booking is 100% safe.
You also get the full backing and support of Alive Network, the UK's largest live entertainment agency, as well as the assistance and advice of your personal Alive Network coordinator who will always be on hand to help if you have any questions or concerns.
You can think of Alive Network as your entertainment insurance.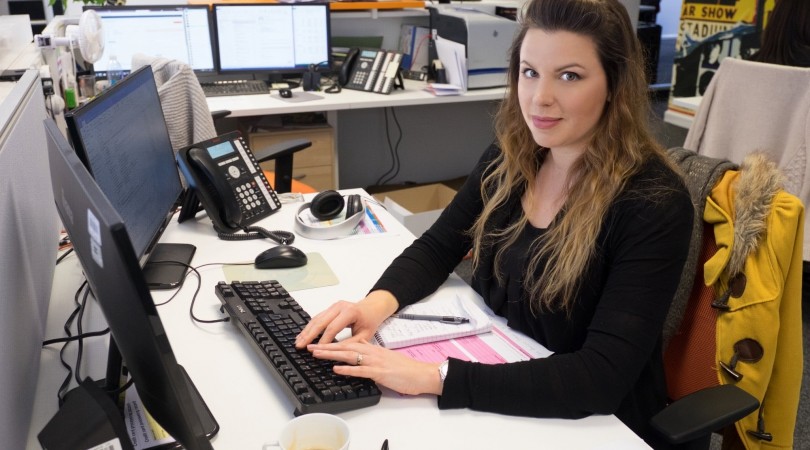 What happens if the DJ is ill?
It's very rare that problems occur, but if the unthinkable does happen, Alive Network will help you to source a replacement artist, even at very short notice. We work with hundreds of bands across the UK and have a huge database of contacts to fall back on in an emergency.
Alive Network runs a 24 hour-a-day emergency hotline, 365 days of the year, manned by a minimum of six on-call staff. We will always have your back.
Given sufficient notice, if the DJ you've booked is ill - you will always be fully informed and involved in agreeing a replacement DJ. If you aren't happy with the replacement we suggest you can choose another of our DJs, or else receive a full refund. If an emergency happens on the day of your event and we cannot contact you, we will liaise with your venue, and send the closest matching alternative DJ so you are not left in the lurch. You still have the option to send the DJ away if you are not happy to accept them.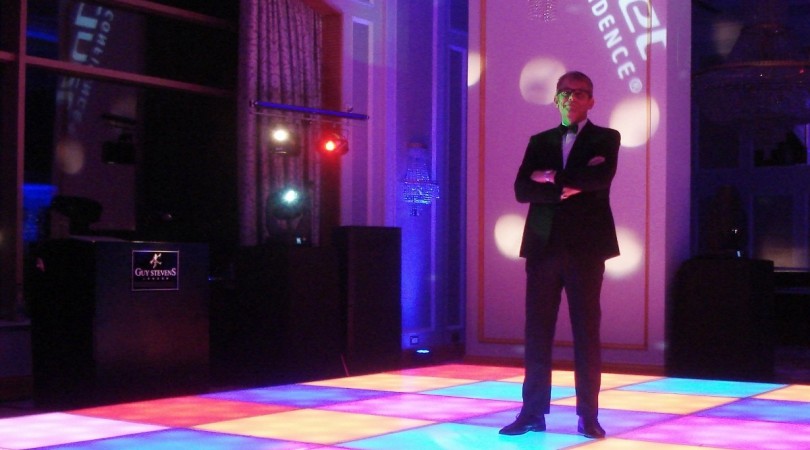 Is There Anything Else I Need To Know About Booking a Wedding DJ?
Many wedding venues have sound limiters installed; electronic devices that monitor sound levels in the room (limits are set by the local council to avoid nuisance to neighbours) and then cut the power to the DJs equipment if the DJ is too loud for too long. Always check with your venue well in advance to see if a sound limiter system is in place, as this may affect the type and configuration of equipment that your wedding DJ brings. Chances are, you and your guests won't even notice, as the best quality wedding DJ sound systems still sound superb at lower levels, and the neighbours won't get annoyed and come knocking on your venue door!
All commercial venues will have fire detection systems including smoke detectors, which might be set off by smoke / fog / haze machines used by DJs to enhance their laser shows. These systems are particularly sensitive in historic venues, so do check your venue contract carefully and please let your DJ know in advance if this is an issue.
Like the majority of acts at Alive Network, the very best wedding DJs make it all look so easy. This is not just luck; professional wedding DJs spend considerable time and effort ensuring their music libraries are up to date and that their mixing skills are honed to perfection. They also invest considerable sums in top quality equipment, including their vehicles!


"The last thing a bride wants to worry about is if the DJ is going to arrive in time! Throughout my career, I've always invested in reliable vehicles, kept them in good repair, and bought full breakdown cover, so I'll get to a venue even if the van lets me down!" - Steve Mills


Every performer is always pleased when someone is available to meet and greet them on the night. You don't have to do this in person; ask an usher or a friend to meet your DJ when they arrive, introduce them to the event manager for the evening, and check they have everything they need.
Your wedding DJ will welcome a tab at the bar for soft drinks as DJing can be hot and thirsty work, especially in the summer. Also offer them a meal or food from the buffet if available, so they are not working all night on an empty stomach. While the offer of a cool beer at the end of the night will be welcomed, don't be offended if they decline, as they will have to drive home.
Most wedding DJs don't need a changing room, but again it's only polite to check. However, they might require a chair or small side table for their gear, so check in advance and ensure the venue have these ready if required.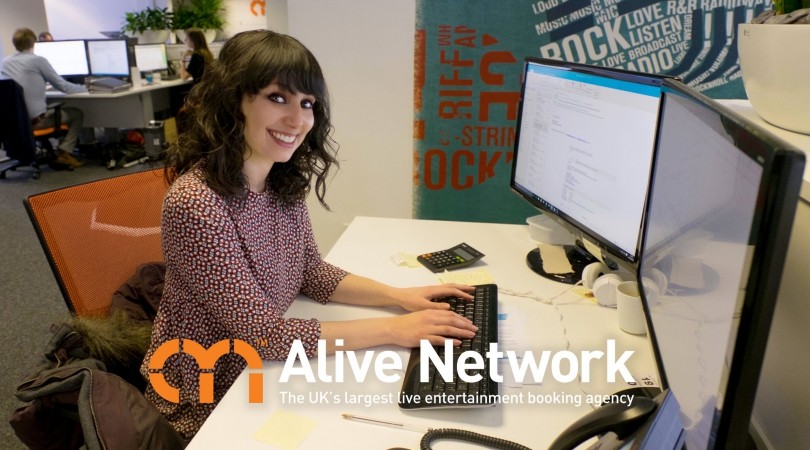 How do I make a booking?
To make an enquiry simply submit an enquiry from the DJ's profile page on our web site (
click the 'add to basket' button and follow the instructions
) or give us a call on 0845 108 5500.
Once we have all your event details we will contact the DJ to confirm their availability, discuss any requests you might have made, and get a confirmed quote.
Once your Alive Network coordinator sends you a confirmed quote and you're happy with it, simply let them know that you'd like to secure a booking with the DJ. You can do this via phone or email. They will contact the DJ to confirm the booking based on the quote submitted.
You will then be required to pay a deposit, usually over the phone by credit card, and we will send you and the DJ a booking confirmation form which shows exactly what you've both agreed to and all your event logistics.
Once we've sent you the booking confirmation, both you and the DJ have 48 hours in which to cancel the agreement should you no longer wish to go ahead, otherwise your booking is in place and is non-cancellable.
If you need to discuss any aspect of your booking, or if you need to make any changes, your dedicated Alive Network coordinator will be on hand to support you as much as you need.
You will be put in touch with the DJ approximately 3-4 weeks before your event to run over the arrangements, fine tune the details and make any changes necessary.
Useful links
Wedding DJ roster pages
Wedding Entertainment
Need help choosing a Wedding DJ? Give us a call.
If you would like help selecting the perfect entertainment for your event, simply give us a call or submit the quick enquiry form below and one of our talented entertainment coordinators will be happy to assist.
Make a Quick Enquiry
01782 740839 Make a Quick Enquiry
9am-5.30pm Mon-Fri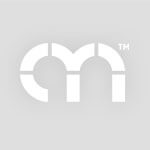 Posted by Rich Hearn, Digital Marketing
on Mon, 1st October 2018