Everything You'll Ever Need To Know About Booking A Caricaturist

Ultimate Entertainment Booking Guide!
Can you guess what it is yet? Here's everything you'll ever need to know about booking a caricaturist, what they do, how much space they'll require, how to choose a quality caricaturist and how much they cost to hire for your wedding, private party, conference, trade show stand, corporate event or awards dinner.
To kick off this ultimate guide to booking a caricaturist for your event, here our top 3 caricaturists who are shining examples of the best caricaturists available to hire in the UK: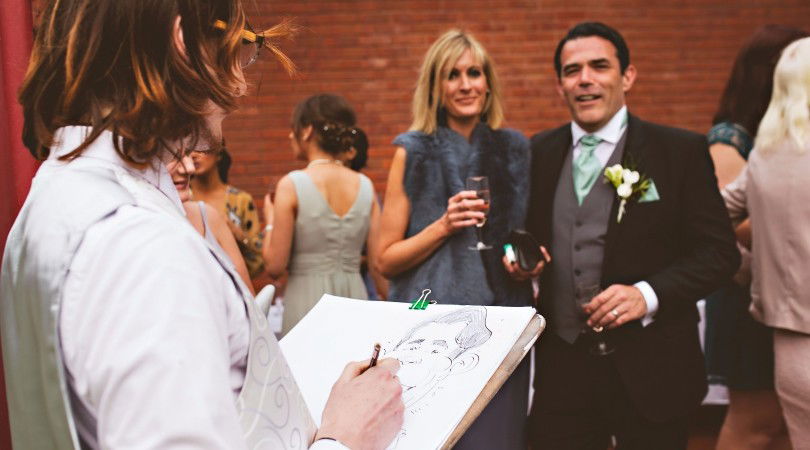 What is a caricaturist?
Caricaturists
are remarkably skilled artists who draw portraits in cartoon style in around five minutes. Usually working in felt pen or pencil, on A4 (letter) or A3 (poster) size paper, a caricaturist can capture the essence of anyone who sits for them in an exaggerated style that can either be flattering or amusing, or both!
As live entertainers, caricaturists can produce a black and white portrait in around five minutes or less although some claim to do up to 20 drawings per hour - that's one every three minutes! Obviously, the more time your caricaturist has to create their pictures, the more detailed they will be. Most offer at least 8 portraits an hour.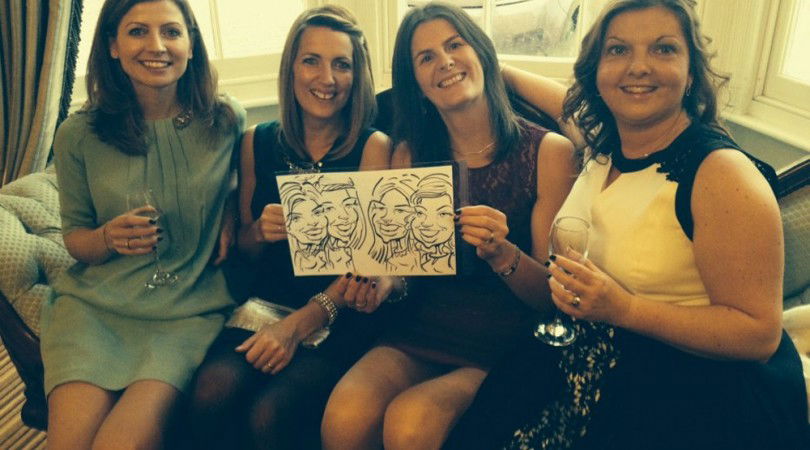 A caricaturist can also create drawings in black and white or full colour to order from photographs, ideal for group portraits for awards, posters for parties, or bespoke wedding invitations. Caricaturists are also a great attraction at trade fairs, providing portraits on branded paper that have a much longer 'shelf life' than the average handouts.

All Alive Network's caricaturists can be hired for corporate functions, private commissions, weddings, product launches, parties, company fun days, bar mitzvah, balls, conference dinners, exhibitions, promotions, charity functions, and almost any special occasion.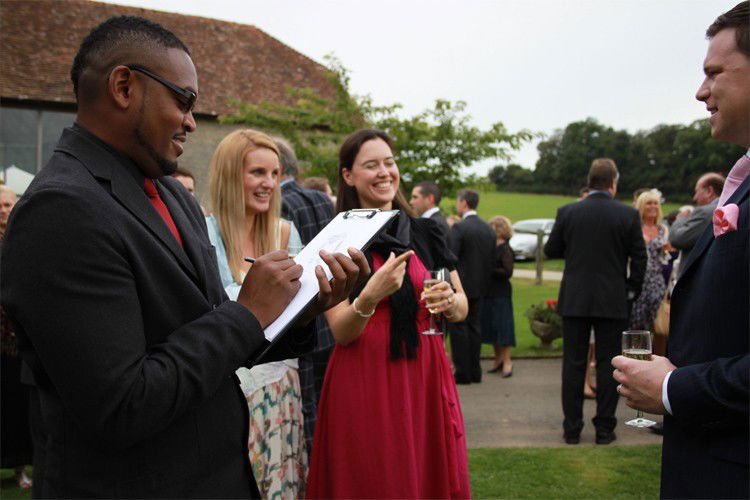 What to look for in a quality caricaturist

First, check out the caricaturist's work showcased on their profile page, which usually includes portraits of celebrities. This doesn't mean they've actually met and drawn these people in real life; these drawings are designed to showcase their talents and give you an idea of how they capture the essence of a person on paper. It also gives an indication of their style and how much they exaggerate features for comic effect - look particularly at ears and noses. If the style seems too 'harsh', then that caricaturist may not be suitable for a family wedding, but be perfect for a hen night or stag do!

The best caricaturists are not just great artists, they are also terrific entertainers, able to put people at their ease while they are being drawn, and amuse onlookers too. So, if any caricaturist provides a video of themselves at work, it's always worth a look!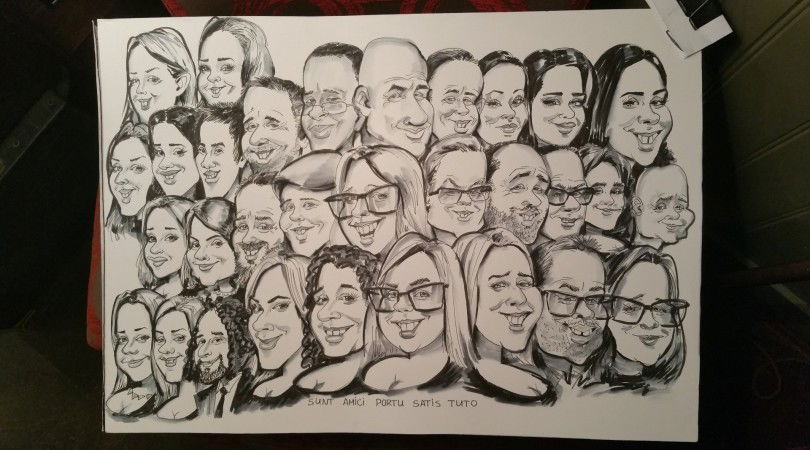 Caricaturists do not need to have an art degree or indeed any formal training, although many do and are accomplished artists in their own right. Some are members of ISCA, the
International Society of Caricature Artists
(formally known as the National Caricaturist Network), which has over 650 members worldwide, but is primarily for US-based artists.
Look for credentials that extend beyond the world of weddings and corporate entertainment - caricaturists with Alive Network have worked in film, animation, for magazines, TV and the media, from Spitting Image to national newspapers. One even directed a music video for Madonna! Not only does that experience show in the quality of their work, they are also fascinating to talk to.
Need help hiring a caricaturist for your party or event?
If you would like help selecting the perfect entertainment for your event, simply give us a call or submit the quick enquiry form below and one of our talented entertainment coordinators will be happy to assist.
Make a Quick Enquiry
01782 740839 Make a Quick Enquiry
9am-5.30pm Mon-Fri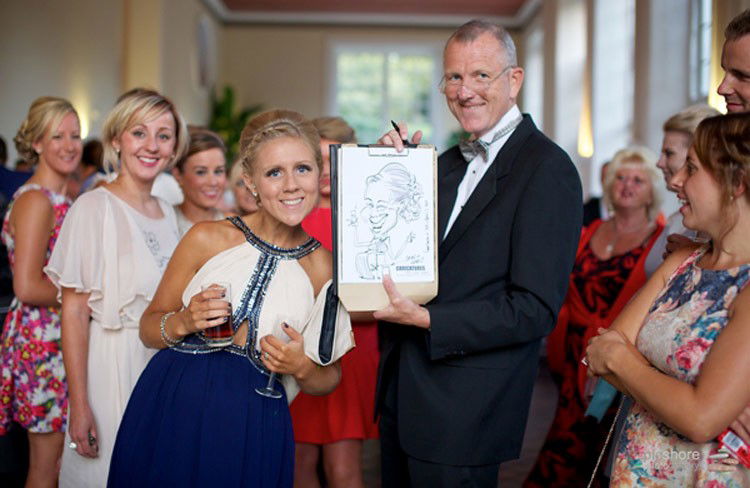 What formats do caricaturists offer?

Caricaturists essentially offer two formats; mix and mingle amongst guests, or drawing seated on a chair with their subject sitting opposite them.

Mix and mingle involves the caricaturists walking around and drawing standing up, but please be aware they do require decent lighting, so it's not a good format for a dark disco or candlelit drinks reception, for example!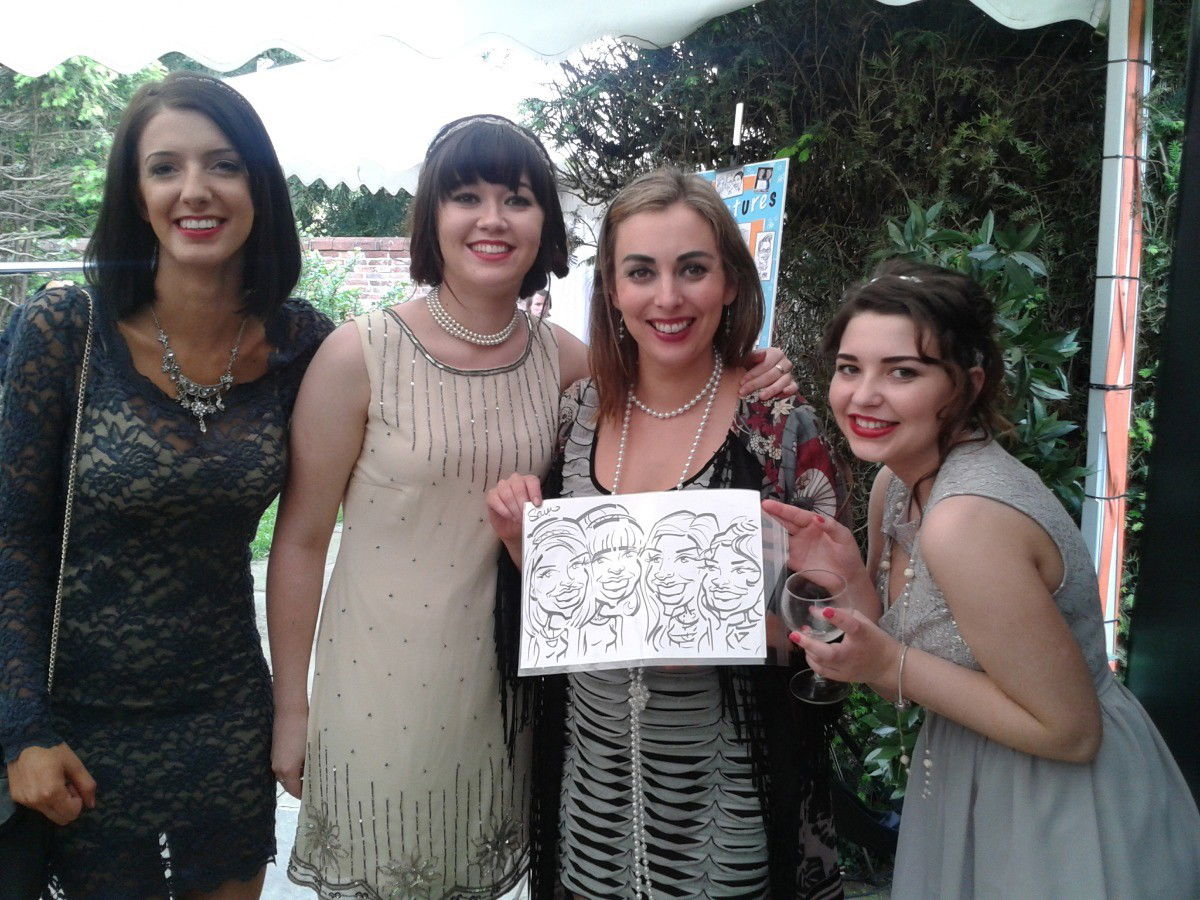 Seated drawing sessions are better for both guests and caricaturists, as other guests can watch the portrait emerge on the paper over the caricaturist's shoulder. It's more relaxing for the person being drawn too. Not that the subject needs to sit stock still for ages;
Ivo the Caricaturist
, one of Alive Network's most experienced caricaturists, says that he actually only needs the sitter (subject) to sit still for around a minute!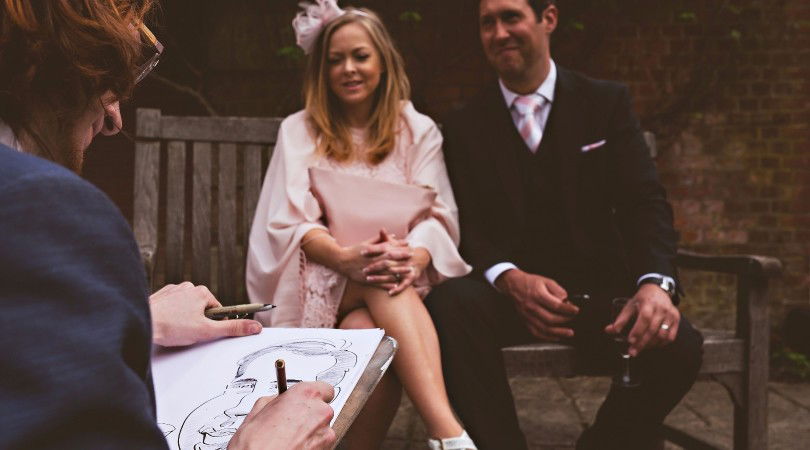 For trade shows, caricaturists will offer a flexible timetable of drawing time, but if you want continual drawing happening every minute of the show, you'll need to hire two or more caricaturists. (See why below!)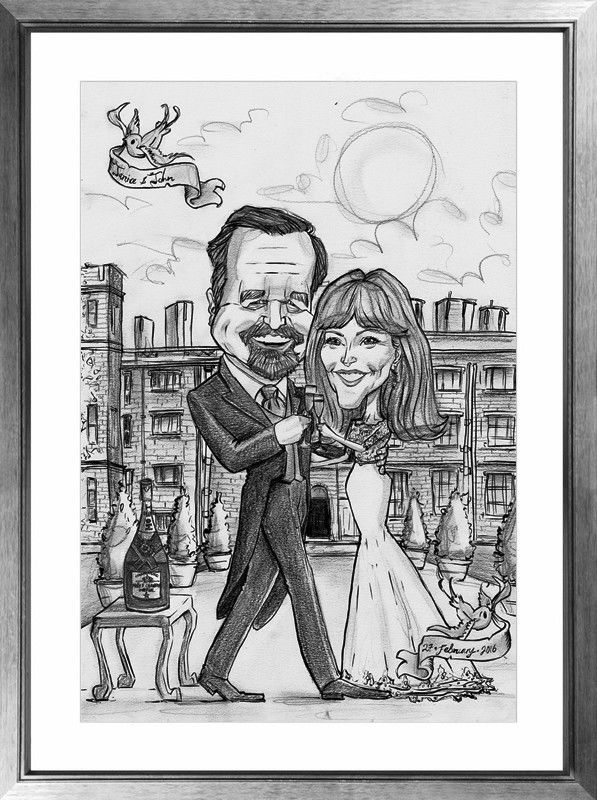 What equipment do caricaturists need?

Caricaturists are very self-contained, requiring only two chairs and good lighting so they can see their sitter. Ivo can draw both seated and standing up for a mix and mingle, or a drinks reception, but he always prefers to draw sitting down. "It's much less tiring for my arms, and I can achieve much better drawings when I don't have to use energy to hold the paper up."

All caricaturists will bring their own supply of paper and pens, although you might like to provide branded or specially headed paper so that those wonderful portraits are also branded with your company name, event or wedding details! Make sure you consult your caricaturist before ordering the paper, so it is of the right size, weight and quality they require. So, if you want a specific paper, always check with your caricaturists that they are happy to draw on it!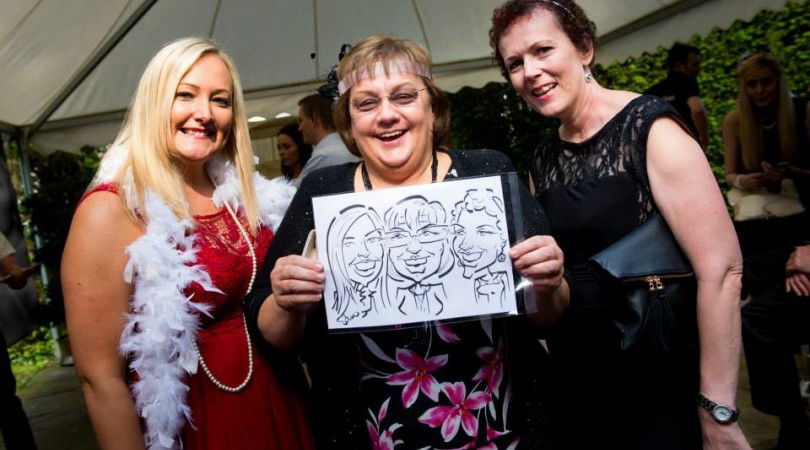 How much space will caricaturists require?

Very little space is required, just two chairs placed about a metre apart, and good lighting so your caricaturist can see his/her subject properly. Ivo says he doesn't need a dressing room or anywhere to store equipment, but others might prefer to have somewhere to store spare paper, pens, etc, and day clothes if they get changed to draw. Again, it's always best to ask.
What is the usual performance length for caricaturists?

Caricaturists usually offer a three-hour booking period for weddings, parties, corporate functions, etc. This is the total time they will be present, and allows for a rest every hour or so for a comfort break! Caricaturist Ivo says these breaks are crucial; "It's tiring work drawing and looking at people, and I need to rest my eyes for just five minutes or so every hour."

For trade shows, your caricaturist will advise on the best pattern of work that ensures top quality drawings over the whole day or show period, while allowing for those all-important eye and brain breaks, not to mention lunch!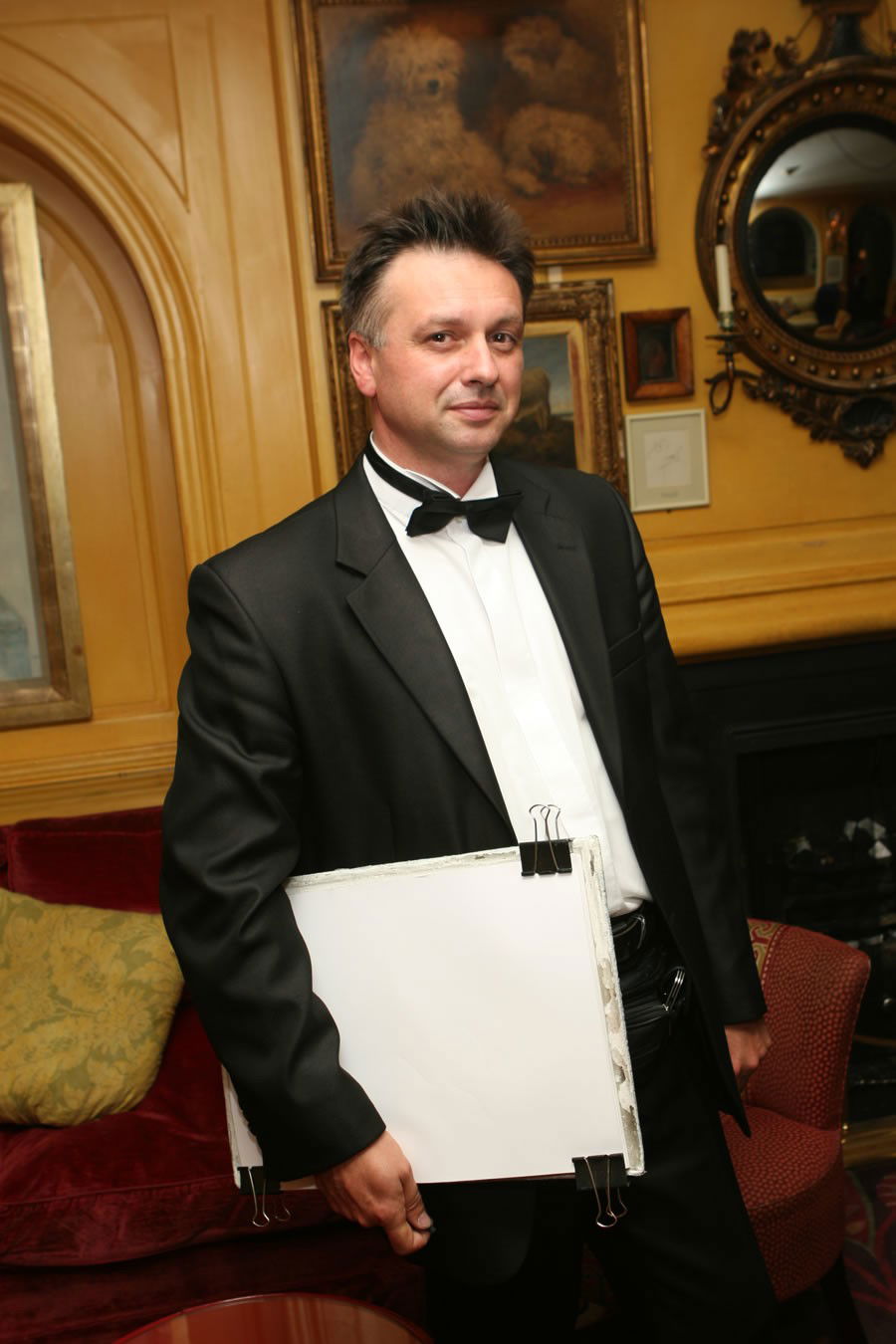 What options do caricaturists offer?

Most caricaturist drawings done at speed will be monochrome (single colour), but colour drawings are available on commission. Some artists often use pre-drawn bodies onto which they add individual's heads, creating a more 'finished' drawing in less time.

As an experienced caricaturist, Ivo is quick to point out that even the best artists in the world won't be able to draw everyone at a 100+ guest wedding or party.
For larger parties, it pays to hire two caricaturists to share the workload. However, do bear in mind that not everyone wants to be drawn!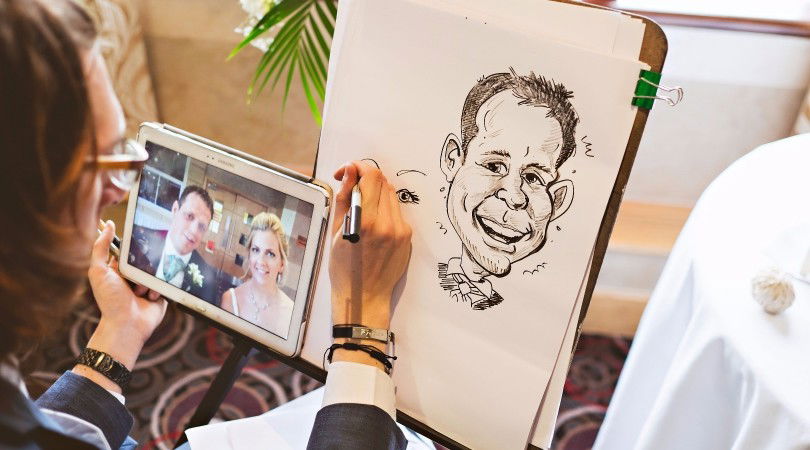 How much does a caricaturist cost?

To hire a caricaturist, you'll need to budget for at least £270 for an experienced caricaturist such as Ivo, though many charge around £320, and up to £440 for international artists.

Why is there a difference between what different caricaturists cost?
All Alive Network artists can set their own fee, which is usually a reflection of their experience, reputation, how far they need to travel, and their past client list. A 'cheap' caricaturist may have exactly the same quality of drawings and range of experience, but just choose to charge less!
Anything else I need to know?

You should always offer your caricaturist a proper meal during their time at your event, and free soft drinks from the bar or bottled water. Food should be provided in a quiet area and not when they are actually drawing, as you can't hold a fork and a pen at the same time! Drinks should be provided at all times, as often the caricaturist will be talking as well as drawing, and talking for three hours is thirsty work. Not every caricaturist will require food; Ivo doesn't like to eat whilst he's at work, and as he says, that makes him cheaper to hire!
How do I make a booking?

Once you have selected the caricaturist(s) you require, just make a booking via the website. The team at Alive Network will contact you to double-check the logistics and timings, and then confirm the details of your booking. You pay a small deposit over the phone by credit card, and then your contract and receipt will be sent by email to you. Once your booking is confirmed, you will be put in contact with the caricaturist three weeks before the event to double check the arrangements and make any changes necessary.