To view our Jazz function bands for hire, please click here.

By Alive Network, with contributions from members of Bobby Swing Band, Jazz Beat and All That Jazz.

What are Jazz bands and what do they do?

Jazz is a really broad term and covers many incarnations of the form, from Dixieland and Jazz Blues, right through to Modern Jazz, Free Jazz or even Acid Jazz. Due to the wide range of jazz styles, the line up and instrumentation of our jazz bands is also equally varied.

The most popular types of jazz bands booked for parties and weddings are:

Dixieland Jazz bands
These are often wandering musicians playing lively New Orleans/Charleston old school jazz rags.

Swing Jazz bands
Usually featuring a vocalist and often playing Rat Pack, Frank Sinatra, Michael Bublé and Jamie Cullem.

"Jazz Standards" bands
Not a style of jazz as such, but taking inspiration from "The Great American Song Book" and "Middle of the Road" jazz classics. These can be instrumental or vocal.

Examples of three popular band types are shown below:

Dixieland – Silk Street Hot Seven, Jazz Moods Dixie
Swing Jazz bands – Swinging Little Big Band, Russell Shaun, Wize Guys
Jazz Standards – All That Jazz, Gabrielle Ghray, Johnny Fingers Trio




Usually, jazz bands for parties are made up of 3-5 members. The most common instruments in these bands are piano/keys, drums, bass or double bass, saxophone, plus a singer. A trio with a singing pianist is a really good way to get more for your money.

Jazz bands with male vocalists often focus on the Frank Sinatra, Dean Martin, Sammy Davis Junior "Rat Pack" repertoire, plus what are described as jazz "standards" and "swing" music.

Jazz bands with a female vocalist often play smoother styles including songs by the likes of Ella Fitzgerald and Billy Holiday.

Many jazz bands also play modern songs covering artists like Michael Bublé, Nora Jones and chart pop tunes.

What should I look for to ensure quality?

All of the jazz bands on the Alive Network web site have already been carefully pre-vetted so they represent the very best of what's available in the UK. We have selected our artist roster from literally thousands of applications so in order to ensure quality all you need to do is choose a band from our web site. Its risk free and you have peace of mind that we've already done the hard work for you.

If you do choose to look around elsewhere, here's what you should look for:

1. A great demo CD
The music should be in time, in tune, and be well produced (it should sound like a high quality recording).

2. Great photos
If a band can't be bothered to have decent photos produced, what else will they be skimping on?

3. Customer reviews and testimonials
Make sure you can read genuine recent reviews from previous customers. You'll find loads readily available here on the Alive Network web site.

4. Equipment
The band should use professional quality PA, instruments, amplifiers and microphones.

5. Experience and background
Check that the band consists of high calibre musicians with a strong track record of playing at prestigious corporate events or at high quality wedding venues. Review the experience of individual players within the band as well as the experience of the band as a whole.

6. The backing of a reliable agency
No agent, no backup if anything goes wrong.
Look for an agency that responds quickly, efficiently, and takes the time to listen to your individual requirements. They will be your point of contact so you need to be happy that they're providing a high quality service too.

7. Cost
You get what you pay for, so don't cut corners unless you don't mind risking the success of your event. We represent hundreds of artists, all of whom define their own fees, so our prices are a good indicator of what's usual to pay.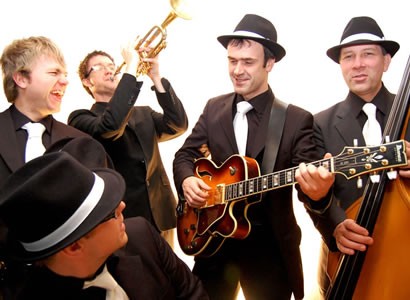 What exactly will a Jazz band do at my event? What will the format be?

Most people who hire a jazz band for their wedding ask the band to play during both the drinks reception and throughout the meal. If you want the band to play in two locations, bear in mind that it will be time consuming and inconvenient for them to dismantle everything. A location where they can remain for the full duration would be ideal, unless the bands set-up uses minimal electrical equipment and no drum kit. If you want them to play outdoors, you really need to ensure there is cover.

It is usual that for drinks receptions, set-up and sound check would happen before guests arrive. For evening performances, it is more usual for the band to arrive and set up after the meal, whilst your venue turns the room around.

To unload, set up and sound check takes on average 40 - 60 minutes. This time is important if you want the band to sound good as levels will need to be balanced correctly. Bands that play Dixieland Jazz will probably need a lot less time to set us as they generally don't use any electrical equipment.

For afternoon performances, the band will usually play 3 x 45 minute sets maximum, split between the drinks reception and the meal.

Evening performances would usually consist of 2 x 60 minute sets, with the first set starting at about 8.30pm. They would then take a break until the next set is required. If a wedding, this first break usually covers the time when the evening buffet is served or when the cake is cut. During this time the band would play background music from a laptop or iPod.

The second live performance would then usually start around 10.30pm lasting 60 minutes until 11.30pm, plus hopefully a few encores! When the performance is finished, the band will usually play more background music until the contracted finish time. Most bands will leave this music running whilst they dismantle their equipment at the end of the night.

The band should start loading their equipment back into their vehicles only after the agreed contract finish time. It takes around 45 minutes to an hour to pack down and load out.

What equipment will the band provide?

99.9% of the bands working with Alive Network will provide all of their own equipment. This would include PA, instruments, amplifiers, and for bands who play at evening performances usually also basic stage lighting and either a laptop or iPod to play background music through their PA between sets.

If the band features a pianist and if there is a piano already at the venue, it is a nice touch if they use the real piano rather than bringing their electric keyboard.

Although there is a difference between the size of PA systems used by the various jazz bands we represent, they will all bring a PA system suitable for up to 150 people, which covers most private parties and weddings. Bands with larger PA systems won't necessarily turn them up any louder but the option is there if needed, and larger systems usually sound much higher quality. Looking at the size and quality of their PA and lighting systems is a good way to judge value for money between several bands. Ask your Alive Network co-ordinator if you need help with this.

Important note: If your event will have more than 150 people, or if the room where the band will perform holds significantly more than 150 people, it's worth remembering that a larger PA system will need to be considered and you should discuss this with your coordinator. As a guide, you need roughly 10 watts per person, so a 300 capacity room will ideally require a 3000 watt (3K) PA system. Most of our bands can arrange larger PA.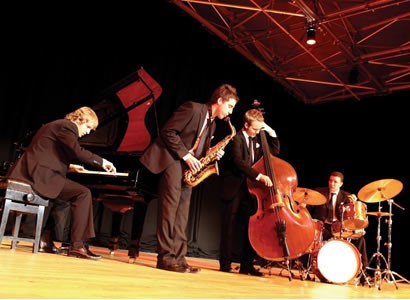 How much space will a Jazz band need?

There is a useful stage size guide on our FAQ page.

Allow an absolute minimum of 1 metre across per person, but ideally 1.5 metres across. Allow 2 square metres for a drummer or pianist. Remember, space is needed in front and to the sides to accommodate the PA, speakers and lighting stands. Due to the different variations of instruments used in a jazz band ensemble, please ask your Alive Network coordinator for clarification of how much space is required.

Minimum band stage size requirements
3 piece band: 3 x 3 metres
4 piece band: 4 metres wide by 3 metres deep
5 and 6 piece band: 5 metres wide by 3 metres deep
7 piece and bigger: 5/6 metres wide by 4 metres deep

The more room the band have, the more comfortable they'll be, and the better they'll perform. That said, bands will do their very best to fit within what ever space you have to work with, just don't expect miracles.

How long will the bands performance last?

The standard is 2 x 60 minute sets, but this can be split 3 x 40 minute sets if preferred. Many bands prefer to play 2 sets because it avoids stopping and starting so they can keep guests on a high for longer. Bands who play in the afternoon at both the drinks reception and during a meal will be used to playing 3 x 40 minute sets to spread the music out.

When choosing the start time for evening performances, bear in mind that if your guests have just eaten, they probably won't want to dance right away. Also, they'll be more in the mood for dancing as the light fades outside and once they've had a few drinks. For the average wedding/birthday party, 9pm would be the ideal start time, with a 30-45 minute break afterwards, and a final performance running until close to a midnight curfew.

Are there any options or variations available to me?

Different bands offer different options, ranging from adding or subtracting members, adding a brass section, singer or a guitarist. Most bands will tailor the line up of the ensemble to the requirements of the client. The options available for each band are shown on their profile page and are selectable when you make an online enquiry. Contact our Alive Network coordinators if you need help or advice on ensemble variations.

If you have a particular theme in mind, most bands will make an effort to meet it, either matching repertoire or clothing. It is best to specify exactly what you want when you make the booking to be sure your chosen band can definitely accommodate.

How much will it cost to hire a Jazz band?

This depends greatly on the size, quality and experience of the band. All Alive Network bands are carefully vetted and so therefore represent the top percentage of quality live bands in the UK. Our bands range from as little as £250 for a singer/pianist up to £2800 for a top flight show band like Vegas Swing.

The average fee for a wedding orientated 3-4 piece jazz band is approximately £800.

The best way to reduce costs is to avoid early arrival times (bands charge extra for this) and try to find a band who are based close by. The home town location of all Alive Network bands is shown on the roster pages and also on each bands profile page. You can also ask your coordinator to recommend the best band local to your event.

Why is there a difference between what different Jazz bands cost?

Generally, you pay more for a reputable band with a high level of experience, stronger ability, and good quality equipment. The minimum standard of our bands is already very high as we carefully vet everyone we work with, but you do get what you pay for.

Also, when you search our web site for bands available in your event location, those bands who are travelling from outside the area will add travel fees, and these are included in the prices you see on our web site. Travel fees can sometimes be 50% extra on top of the bands normal price, so there can be a big difference in the cost of local bands compared to acts from outside the area.

The number of members in the band also greatly affects cost, with 3 or 4 piece bands costing much less than 10 or 11 piece bands.

Some higher earning bands are also VAT registered which pushes the overall cost up.

What security will I get when booking a Jazz band?

When you book a jazz band through Alive Network you'll receive a legally binding contract which protects you against any foreseeable eventuality. This means that short of the band being seriously injured or abducted by aliens, your booking is 100% safe.

You also get the full backing and support of Alive Network, the UK's largest live entertainment agency, as well as the assistance and advice of your personal Alive Network coordinator who will always be on hand to help if you have any questions or concerns.

You can think of Alive Network as your entertainment insurance.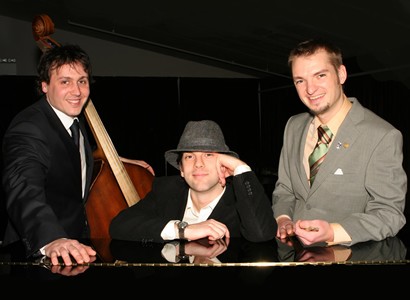 What happens if the band is ill?

It's very rare that problems occur, but if the unthinkable does happen, Alive Network will help you to source a replacement artist, even at very short notice. We work with hundreds of bands across the UK and have a huge database of contacts to fall back on in an emergency.

Given sufficient notice, you will always be fully informed and involved in agreeing a replacement artist. If you aren't happy with the replacement we suggest you can choose another of our acts, or else receive a full refund. If an emergency happens on the day of your event and we cannot contact you, we will liaise with your venue, and send the closest matching alternative artist so you are not left in the lurch.

Is there anything I'll need to provide or ensure for them?

The band will need a safe performance area, with at least 3 or 4 power sockets in close proximity.

For bands performing in the afternoon, refreshments and sometimes food (depending on how long they're at your event) will be required. Soft drinks, water, tea and coffee are usually sufficient. Please make sure you inform the bar staff that soft drinks should not be charged to the band. Please ask your Alive Network coordinator to confirm whether your afternoon jazz band will require food.

Evening bands will require food and refreshments (preferably a hot meal as they'll be on the go for approximately 12 hours and will be hungry). If you are unable to provide a hot meal, some of the evening buffet will usually be sufficient. As above, soft drinks should be available.

Food is usually provided before or after the bands first set.
A changing room is very much appreciated including enough seats for all the band members, and if possible, a mirror.

The dress code of the event is important. The band should be advised in advance if it is a black tie or evening dress event.

Is there anything else I need to know?

We've put together a selection of useful tips and insights provided directly by our artists.

Tilo, Bobby Swing Band quotes "The band is on your side and wants to make your event a success. They will normally go out of their way to accommodate changes or delays in the event. Don't be afraid to ask their opinion, they have usually played at hundreds of events and can give good advice. A professional and friendly approach always works best, and a hot drink on arrival is always welcome!"

Emma, Jazz Beat quotes "All bands on the Alive Network web site are of high quality, so book with confidence! The musicians are professional and great entertainers!"

Matt, All That Jazz quotes "Bands are always eager to provide the highest quality entertainment for your event. It is the one thing that, after having booked the correct band, you should not have to worry about on the day. I would always recommend giving the band freedom to choose what to play. This will enable them to respond to the audience, and put together a set list that works musically. Other than specific requests such as the first dance, just a general understanding of the sort of feel and style that you want to create is really helpful. The more freedom you give the band, the easier it will be to create an atmosphere that will be remembered for years to come."


I would recommend allowing the band freedom to choose what to play, so they can respond to the audience and play a set list that works musically. Just an understanding of the feel and style you want to create is helpful. The more freedom you allow, the easier it will be to create an atmosphere that will be remembered for years to come.


Featured artists

All bands on the Alive Network web site are of high quality, so book with confidence! The musicians are professional and great entertainers!