Kerrie & Matt's Wedding Playlist
The Entertainment
"I walked down the aisle with my dad, to Owen H singing Take That's Greatest Day...this was exactly how I felt; it truly was the greatest day of my life.
"As we were leaving the ceremony room, Owen sang It Must Be Love. Madness are one of Matt's favourite bands and it's the perfect feel-good, 'we are in love' song.
"Owen played two sets during the drinks reception and he was magnificent – simply captivating – and all of our guests loved him.
"In the evening we had Anthony Parella as our DJ. He was fantastic!"
If you like this, you may also like...
Owen H's

 

Top Wedding Song Tips...
Your musician is key in providing the perfect soundtrack to your day, and it's really important that you can input on what's performed so you're free to make it your own.
For your entrance song you need to consider how long it takes to walk up the aisle, when you want your musician to stop, and which specific version of the song you'd like them to learn.
Pick as varied a set list as possible throughout your day, as you want to entertain an audience of all ages and varying musical tastes.
Your professional musician will get in touch about a month before your wedding, to run through the finer details of the day. They should be able to provide you with the full list of songs and suggested set list, and, most importantly, your chosen ceremony songs, for your approval. I make it a point to double check this the week of the event too, just to make sure nothing's changed!
Wedding Singer-Guitarist, Owen H
Considering a caricaturist? How about...
The Music
"For our first dance, Anthony Parella played John Legend's All Of Me, which has been 'our song' since the day we got together.
"For the both of us, the second song was more important as we love dancing and a full dance floor, so we asked him to play Ella Eyre's Came Here For Love track to get the party started, and boy did it! The dancefloor was packed all night long. We didn't want to give any further lists to Anthony as we wanted him to dictate the dancefloor and keep our guests dancing all night long."
Breakthrough perform an acoustic cover of Kerrie & Matt's first dance song, All Of Me by John Legend
Anthony Parella's

 

Top Tips for a Roof-Raising Wedding...
Choose the right type of DJ for your style of party. Do you want someone to understand your music choices, however diverse, and cleverly tailor that into the night, or are you after more of a 'human jukebox' who'll play anything in any order, take requests, and encourage cheesy dance routines?
Giving your DJ specific genres to play from, means they can choose the tried and trusted songs that work from that genre and know where they can branch off to from there.
Always give your DJ a good indication of the load-in, the set-up etc. Is there a noise limiter? You may not be aware of some of these details so put your DJ in touch with someone at the venue who does.
A few essentials will keep your DJ energised so they can give you their best, such as plenty of setup time and refreshments, especially if they've journeyed far. 
If you like this, you may also like...
The Photography
"We wanted the photography to be as relaxed and natural as possible. Cris Lowis prefers to tell a story and not have many 'posed-for' shots – which was perfect for us.
"We woke up to so much snow and Cris was keen to get out and have some shots despite it being bitterly cold. We both love the snow so we dragged my huge train through the snow but it really was worth it in the end. Cris captured the love and emotion of the day and we are truly blessed with spectacular photographs for the rest of our lives."
The Venue
"We went to visit Mill Barns while it was still a building site, but instantly fell in love with the venue, the team and the location. We booked our wedding when the barns didn't even have a roof – our friends and family thought we were mad. Little did we know that our day was going to be blessed with snow and the whole venue was transformed into a Narnia-esque winter wonderland."
The Decor
"We wanted a rustic feel, with lots of twinkly lights. The flowers were bright orange and lime green, and Lynne Palfreyman from Fine Flowers provided spectacular orchids and lilies which were breathtaking – that woman is an absolute dream to work with.
"As the barns are so big we chose to have our surname in rustic lights as a focal point on the dance floor, and we had rustic LOVE letters for the balcony.
"My mum made the place names, menus and favours out of Scrabble letters."
The Outfits
"I wanted orange throughout, and after seeing it against the snow and the navy, it was the perfect choice. I treated myself to bespoke orange converse, with my name embroidered on the heels...they were so comfy and allowed me to dance into the night.
"My wedding dress was a Ronald Joyce design, with a long, spectacular train – it made me feel like a princess. My daughter and sister were bridesmaids; I wanted them to feel beautiful, and they looked so elegant in their dresses. Matt wanted a traditional wedding suit with a twist so we chose a tweed waistcoat with a navy suit. He looked extremely handsome."
The Ceremony
"The morning was crazy, hoping all of our guests would make it in the snow...it was the most snow we had all seen for years.
"Waiting to go into the ceremony room, and watching my daughter Charley go into the wedding barn first made me cry...my dad had to help me compose myself.
"Seeing each other when I walked up the aisle took my breath away. The moment was just amazing; we have never felt so happy. Getting married in front of the large barn window with snow falling off the trees was something truly special. The day was completely charged with emotion and love. During the ceremony we both had written our own personal promises to read to each other, which caused both tears and laughter." 
Find more Rustic Ceremony ideas here...
The Food
"We both love our food, and wanted our family and friends to enjoy the wedding food. We went for a 'host a roast' and Matt chose personalised aprons for a specific man at each table to wear, as they had to carve the joint of meat for themselves. It was great fun to watch them all from the top table.
"The cake was beautiful. It was orange/oakish in colour with a look that was close to the oak beams of the barn, and adorned with edible icing flowers to match my bouquet. We had three different flavours – chocolate & Cointreau, Jack Daniels & fudge, and strawberries & champagne. It went down a storm with guests some even going back for seconds and thirds!"

Favourite Moment
"My favourite moment was seeing Matt's beaming smile as I met him at the end of the aisle. He literally made me feel like a princess."
"Matt's favourite moment was our 'host a roast' wedding breakfast and seeing our family and friends get involved and thoroughly enjoying our alternative choice of catering."
What We Learned
Treasure it… "Cherish each moment of the day, and relax and be yourselves."
Make 'em smile...! "Matt would also say 'happy wife – happy life'."
Loving this? Like these...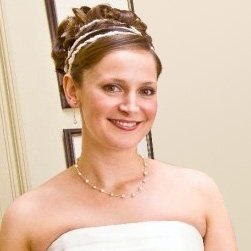 Lily Atkins
Wedding Editorial Team
The Magic Makers
Music, atmosphere and vibes of love and fun Alive Network, UK-wide | Singer-Guitarist Owen H, exclusive to Alive Network | Caricaturists, available through Alive Network | Wedding DJ Anthony Parella, Alive Network | Light Up Letters, available through Alive Network | Photographer Cris Lowis Photography, Stafford and UK-wide | Venue The Mill Barns, Shropshire | Dress 'Ainsley' by Ronald Joyce, available from Isaac Charles Bridal House, Birmingham | Bridesmaids Dresses, True Bride from Proposals Bridal Studio, Coventry | Bridal Shoes 'Glenda' by Irregular Choice, UK-wide | Wedding Rings House of Solus, Birmingham & 77 Diamonds, London | Groom's bespoke suit Mark Andrew Formal Wear, Coventry | Hair Design Laura Michelle Bridal, Bedworth | Beauty Emma Shuttleworth at Make Up By Design, Bewdley | Flowers Fine Flowers, Staffordshire | Catering Jenkinsons, Staffordshire | Wedding Cake Elite Cake Designs, Solihull
Join the Insta party! Tag us into your build-up and big-day moments