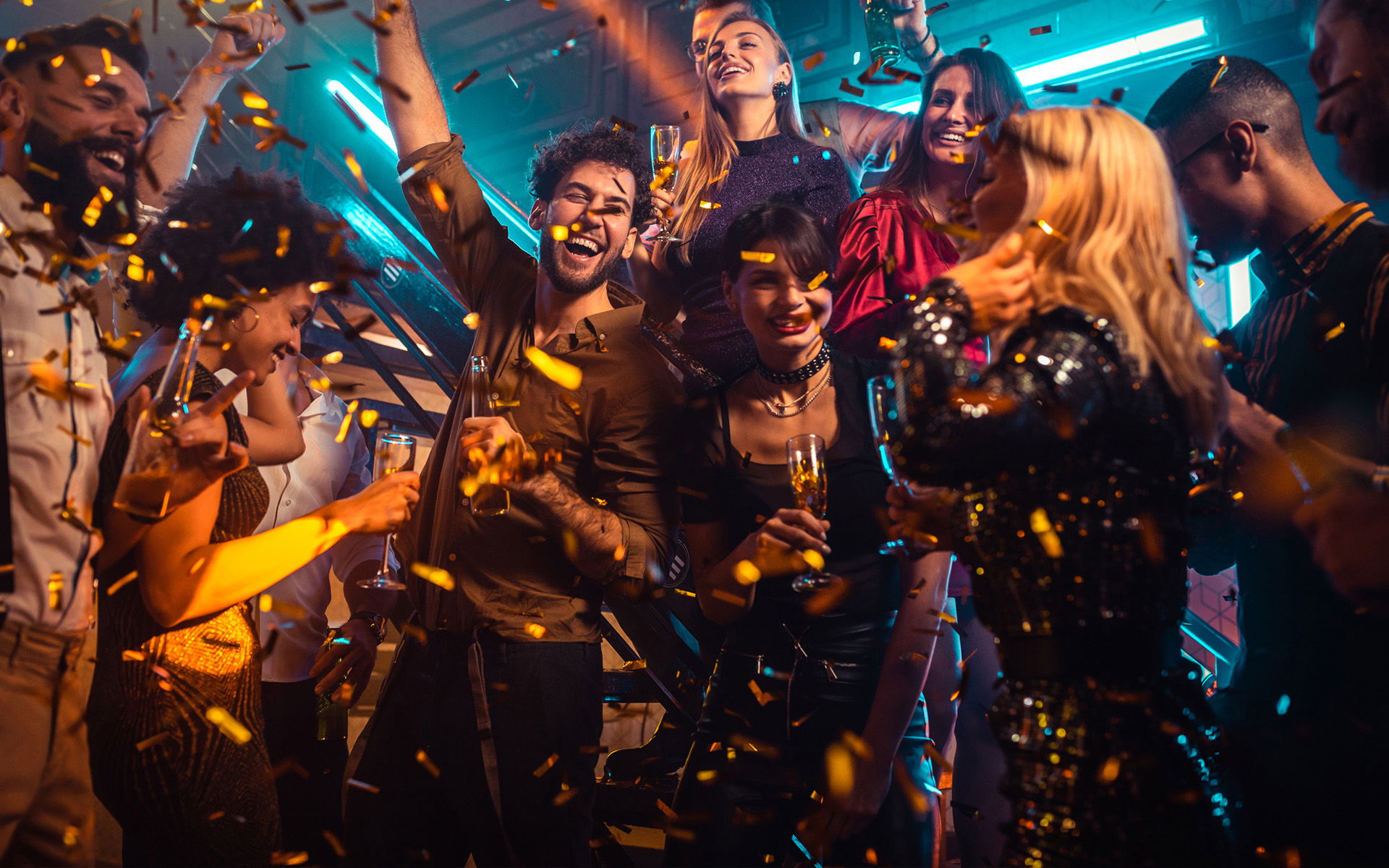 Christmas Party

Entertainment
Your Favourite Christmas Entertainment
---
Christmas Party Bands are your No. 1 when it comes to Christmas entertainment, and it's not hard to see why. A brilliant live band guarantees the party goods, packing your dance floor and giving your guests a night to remember. For a festive atmosphere, Carol Singers, Brass Bands & Rat Pack Singers are your go-to choice. Read more...
Ideas For Entertainment At Christmas Party
Since 1999 we've been providing unforgettable live entertainment for Christmas parties. For a smaller christmas party at home, or for parties on a smaller budget, we can help you source high quality local christmas entertainers such as a close-up magician, DJ or singer guitarist. For large parties, we can provide premium showbands, celebrity hosts, dancers and show stopping entertainment acts.
Christmas Party Entertainment Near Me
We work throughout the UK, with local acts available in each region. Most artists will travel at least a couple of hours to perform at christmas parties, and prices can range from as little as £200 for a local solo performer, up to £20,000 for the most experienced 20 piece show bands. Whatever your budget, and wherever you're based, you're sure to find fantastic xmas entertainment near me.
Truly amazing...Everyone at our Christmas party has said it was the best event they've ever been to. Thank you for making my life as organiser so easy.
Andrew, Engie Services
WOW Factor Xmas Party Entertainment Ideas
---
When only the most spectacular xmas party entertainment will do, look no further than our hand-picked collection of Wow Factor artists. We're talking about high impact LED drummers, gravity defying aerialists, scorching fire performers, beautiful mix-and-mingle show girls - the kind of acts that add visual flair to your Christmas events. Read more...
Christmas Party Entertainment Ideas UK
Our wow factor Christmas entertainers offer something unique and memorable. We understand how it can be a challenge to mix it up each year and keep your annual xmas parties feeling fresh, but with our amazing artists - you'll be providing your guests with something they've never seen before. Get in touch today and our team will put together individually tailored entertainment ideas just for you.
The Show Girls have soon become renowned World Wide for bringing their glitz, glamour and total entertainment value to any event. Formed in 2005 with a list of prestigious clients and events under their belt The Show Girls are undoubtedly the UK's leading show girl provider....

Elite Event Dancers are London's leading supplier of elite dance entertainment. Exceptional, bespoke entertainment for every occasion! Their incredible team of dancers are fully trained professionals who regularly work with high profile music artists & appear in West End musicals & touring productions across the UK & internationally....

Introducing the UK's only Freestanding Aerial LED Cube! Completely dazzling, this stunning aerial act offers incredible entertainment that is visually beautiful, inspiring and unique....

If you are looking for a jaw-dropping act with a huge stage presence, look no further. Unique, thrilling and totally futuristic, Pixellent LED Show is a high-end dance group showcasing clever programming, impressive choreography, revolutionary pixel technology and the option for bespoke branding. Your guests won't believe their eyes!...

A world-class spectacle that will be remembered forever! The only act to hire if you want to make a huge statement & incredible impact at your event! Featuring the world's first LED grand piano, incredible vocals & an array live circus acts!...

Light up your night with these amazing LED stilt walkers. A perfect way to create the 'wow' factor at your event, to welcome guests or roam around your venue....

Robo Bunny is a great walkabout act and can be seen at private parties, corporate events, product launches, Festivals, Bar Mitzvah's and any type of celebration. This fabulous animated Robo Bunny adapts well for meet and greet, mix and mingle and loves to burst out some disco moves on the dance floor with guests as well as on stage or on podiums....

Dazzling, elegant and a real spectacle! Mirror People are a well-loved walkabout act that will wander about your event, entertaining crowds, posing for photos and creating a one of a kind buzz!...

The longest running, hardest working and simply the best Beatles tribute around! Taking their truly magical performance worldwide, the Bootleg Beatles have toured Russia, South America, Australia & India, supported David Bowie, Oasis, & Tom Jones plus performed at Glastonbury, Wembley Stadium, the Royal Albert Hall and The Queen's 40th Anniversary Jubilee celebrations at Buckingham Palace!...

The perfect act for Spring and Summer! Wearing cage skirts bedecked in roses, giant floral headdresses and twirling frilly vintage parasols, our Summer Living Flower Girls are a real vision for all to enjoy!...

The only dance floor addition you need! Disco Ball Heads are a fun, unique & interactive walkabout act that will kick start your party & entertain all of your guests!...

Delivering exceptional drumming skills, modern LED technology and a unique, high impact show, Modern LED Drummers have performed for some of the world's biggest names! Creating an unrivalled party atmosphere, your guests will be up on their feet watching in awe!...

Alive Network are proud to present Revolution one of the UK's only Cyr wheel performance duos. Bringing to you that special something that you've been looking for. A true spectacle of acrobatic control and visual delights. An unrivalled wow factor for any event....

Large and impressive, choreographed fire shows are the perfect addition to any event. Expect fireballs, fast routines and a show to remember!...

A stunning display of creativity & choreography that will leave your guests amazed & inspired! Choose from 2 set shows or the option to create a bespoke show completely tailored to your event. Previous clients include Adidas, Absolut Vodka, Audi, AVON, National Theatre & more!...
Christmas Party Music
---
It's essential to get the music right for your Christmas party. We'll help you to take your festive celebrations to a higher level with the very best christmas party bands, musicians & DJs.
Not sure about what kind of music would best suit your Christmas events? Get in touch and we'll help guide you through the options. Alternatively, why not speak with friends, family and guests to find out what music they'd like to hear? Read more...
Send us a list of their top choices, and our team of entertainment experts will help you find the perfect music match.
Christmas Party Ideas For Adults
Take some time to think about what your guests are going to be comfortable with. Should the music be loud and lively, or mellow and in the background. Are your guests going to want to sing and dance, or would they prefer to watch, chat amongst themselves and listen? Getting your guests involved in planning your Christmas party helps to ensure you can accommodate everyone's tastes, and that your night will be a success.
For guests who want to dance, then a party band or DJ would be your first choice. For smaller parties where you still want live music, a solo singer guitarist or sax player can make a great choice.
For non musical entertainment, magicians and caricaturists are always a great hit with guests, or to wow guests as they arrive, meet and greet performers such as stilt walkers, fire performers and look alikes will add so much more excitement to their arrival.
Beyond our expectations...totally professional. Thank you Alive Network!
Eileen, Omnicom Finance Plc
Christmas Party Entertainers
---
Our fantastic entertainers will elevate your Christmas party to new levels of excitement. From breathtaking magical snowdome dancers, to our awe-inspiring table magicians and caricaturists, we'll work with you to find the perfect performer for your event. Read more...
Entertainment For Christmas Party At Home
Think about ways in which you can make your Christmas party a bit different. What could you do to greet guests as they arrive? How can you mix up the music to offer something your guests haven't seen or heard before.
Why not try Christmas themed living tables or flower girls to serve the drinks? How about festive themed stilt walkers or fire artists to greet guests when they arrive? Or how about laying out the red carpet and booking comedy paparazzi to snap your guests as they're celebs?
And talking about celebrities, how about booking look alikes to pose for photos with your guests? We've got Gordon Ramsey, Marilyn Monroe, Ali G, James Bond, David Brent, even The Christmas Grinch and many more.
For interactive party ideas, why not try local carol singers to lead guests in a traditional sing-along? Or perhaps a singer pianist who would take requests of your favourite christmas hits? Involving guests in the performance will be something unique that they'll remember forever
Unusual Christmas Party Ideas
If you really want to turn heads and mix things up, why not book a performance from the sword swallowing Mr Bones Sideshow? Or on the Greatest Showman circus vibe, try our Ultimate Circus Experience? If you need any help with ideas for your festive parties, just get in touch and we'll be happy to make recommendations.
Christmas Party Photo Booths
---
One of the easiest Christmas party activities to host, and one of the most popular with guests, is a photo booth or selfie mirror. Photo booths can be delivered anywhere in the UK and will come with a selection of Christmas photo booth props, so that your guests can enjoy dressing up and posing for the camera. Read more...
Christmas Photo Booths
One of the great benefits of hiring a Christmas photo booth is that the photos can be branded with your event name & date (and your company logo for business events). Photos can be printed on the spot or delivered digitally. They make a great memento for guests to take home and remember your night, and if you're brave, to share on social media too!
Fun Christmas Party Activities & Ideas
A photobooth makes for great, fun Christmas party activities for your guests to get involved with. They're a great way to break the ice and get guests interacting, and it's fun to see the hidden extrovert coming out in those people of whom you'd least expect it!
TOP TRENDS FOR 2023
Christmas Party Themes
From Prohibition parties to Apres Ski getaways, check out our top Christmas party ideas
and themes to make your 2023 Christmas Party the best yet..
I have no hesitation in recommending Alive Network to all our customers!
Jo, Kings Hotel
Tell Us What You Need
To get personalised entertainment ideas for your Christmas celebration, please fill in the form.
Why Choose Alive?
We know you need a pair of safe hands. We're market leaders, with 24 years' experience
in booking live entertainment for events worldwide. But there's more!
---
Expert, Friendly Advice
Need to sort your perfect entertainment quick and smart? No problem. Our huge team of enthusiastic entertainment experts at Alive HQ will help you do just that. They'll inspire you with ideas and suggestions tailored to you, and support your event from initial ideas to the day itself - all at no extra cost!
24 Hour Emergency Cover

From artists falling ill, to accidents closing motorways, you'll have the backup of the UK's largest entertainment agency to help you out if things go wrong. We'll be on hand 24 hours a day, 7 days a week, 365 days of the year to help find a solution or draft in a suitable replacement. Happy Christmas!
World-Class Artists

Need the best of the best? You're in the right place. We've built an invitation-only network of the most reliable and talented performers in the business. Looking for bright new talent? Our scouts work with the UK's most prestigious music schools and industry insiders to handpick the next big thing for your events.
Photos by: iStock/bernardbodo