Cecile Harpist
Having performed at prestigious venues throughout the world in front of members of the Royal Family; and on radio and TV Cecile Harpist is a highly experienced and professional harpist who will add a touch of class to any occasion. Her repertoire covers everything from classical, modern pop songs and themes from stage, film and TV.
Price from £487 + travel based on 1 person performing Up to 2 hours
Set List / Repertoire
Classical and Opera
7 Progressive Sonatas - Naderman
Adagio from Oboe Concert – Telemann
Adagio from Piano Concert no.2 - Rachmaninoff
Air d'Orphée from Orphée et Eurydice – Gluck
Air on The G String – J.S Bach
Allegretto - Czerny
Andante from Violin Sonata in A - Handel
Andantino - Duvernoy
Arabesque no.1 – Debussy
Arioso – J.S Bach
Arrival of the Queen of Sheba – Handel
At Times My Thoughts Come Drifting (Wie Melodien Zieht Es Mir)- Brahms
Aubade - Hasselmans
Au Matin - Tournier
Ave Maria - Gounod
Ave Maria - Schubert
Barcarolle from 'Les Contes d'Hoffman' - Offenbach
Berceuse from 'Jocelyn' - Godard
Bilitis – Lai
Bist du Bei Mir – Stölzel
The Blue Bird - Stanford
Bridal Chorus from 'Lohengrin' - Wagner
The Brook - Heller
A Butterfly - Grandjany
Canon in D - Pachelbel
Cantique de Jean Racine - Faure
Casta Diva from 'Norma' - Bellini
Chaconne – Jeremiah Clarke
Chanson de Fortunio from 'Le Chandelier' – Offenbach
Chanson de Mai - Hasselmans
Chorus of the Hebrew Slaves from 'Nabucco' - Verdi
Clair de Lune - Debussy
Cradle Song – Mozart
Dance of The Blessed Spirits - Gluck
Dance from 'Alceste' - Gluck
Deep River Interlude – Grandjany
Divinire – Ludovico Einaudi
Duet from 'Don Juan' - Mozart
Duet from 'The Pearl Fishers' - Bizet
Egyptian March from 'Aida' - Verdi
El Condor Pasa - Milcherg
El Picaflor – Marson
En Bateau from 'Petite Suite' - Debussy
Etude Impromptu – Tedeschi
Fairytale – Einaudi
Fantasia No.2 in D Major - Telemann
Finale from 'Organ Symphony' - Saint-Saëns
Flower Duet from 'Lakme' – Delibes
Forgotten Dreams – Leroy Anderson
Für Elise – Beethoven
Grazioso - Telemann
Gymnopédie No.1- Satie
Habanera from 'Carmen' - Bizet
Harmony of Angels - Burgmüller
Harpe d'Eole – Hasselmans
Hornpipe from 'Water Music' - Handel
I Giorni – Ludovico Einaudi
Ich Liebe Dich - Grieg
Impromtu – Faure
Intermezzo from 'Cavalleria Rusticana' – Mascagni
Intermezzo Opus 118, No.2 – Brahms
In Paradisum – Fauré
Jesu, Joy of Man's Desiring – J.S Bach
La Belle Hélène from 'Le Judgement de Pâris' – Offenbach
La Donna E Mobile from 'Rigoletto' - Verdi
La Nascita Delle Cose Segrete - Einaudi
Ländler – Schubert
Largo from New World Symphony – Dvorak
Largo - Handel
Largo from 'Winter' - Vivaldi
La Réjouissance from 'Music for the Royal Fireworks' - Handel
'Lascia ch'io pianga' from 'Rinaldo' - Handel
La Source – Hasselmans
Lento from Sonata in B Flat Minor, 2nd Movement – Chopin
Le Matin - Grieg
Le Temps des Cerises - August Renard/Jean-Baptiste Clément
Liebestraum - Liszt
Love Unspoken from 'The Merry Widow' - Lehar
Lullaby - Schubert
Meditation from 'Thais' - Massenet
Melody – Couppey
Moderato Cantabile from Fantaisie Impromptu - Chopin
Morning from 'Peer Gynt' – Grieg
Musetta's Waltz from 'La Boheme' – Puccini
Music for The Royal Fireworks - Handel
My Heart at thy Sweet Voice from 'Samson and Delilah' - Saint-Saëns
Nocturne from String Quartet no.2 - Borodin
Nocturne – Glinka
Nocturne in B Flat – John Field
Nessun Dorma – Puccini
Nimrod - Elgar
Nottorno - Respighi
Ode To Joy – Beethoven
O For The Wings of a Dove – Mendelssohn
On the Wings of Song - Mendelssohn
O Mio Babbino Caro from 'Gianni Schicchi' - Puccini
Panis Angelicus – Franck
Papageno's Aria from 'The Magic Flute' – Mozart
Password - Einaudi
Pavane - Faure
Pavillon Chinois - Beaumont
Plaisir d'Amour – Martini
Piano Sonata in C – Mozart
Piano Sonata in G Op.49 – Beethoven
Pie Jesu – Lloyd Webber
Pie Jesu - Faure
Prelude in C – J.S Bach
Polovtsian Dances from Prince Igor - Borodin
Quando me'n vo from 'La Bohème' - Puccini
Quatre Preludes pour Harpe – Tournier
Raindrop Prelude - Chopin
Reverie – Hasselmans
Romance Opus 118, No.5 - Brahms
Romance in A flat - Parish-Alvars
Ronde de Nuit - Hasselmans
Rondo - Päissler
Rondo from 'Eine Kleine Nachtmusik' - Mozart
Rosina's Aria from 'The Barber of Seville' – Rossini
Salut D'Armour - Elgar
Slumber Song – Gurlitt
Sonata in C – Mozart
Sonata in G – Beethoven
Sonata in D – John Parry
Song To The Moon - Dvorak
Spring from The Four Seasons – Vivaldi
Study in D – Bertini
Suite Espagnole - Albeniz
Summer Song - Wedgwood
The Swallow – Burgmüller
The Swan (Le Cygne) from 'Carnival of the Animals' – Saint-Säens
Theme from New World Symphony - Dvorak
Themes from Piano Concerto no.2 - Rachmaninoff
Theme from Symphony No.1, Op.68, 4th Movement – Brahms
Theme from Symphony No.3, Op.90, 3rd Movement - Brahms
Theme from Symphony No.6 ,Op.74, 1st Movement - Tchaikovsky
Träumerei - Schumann
Trois Petites Notes de Musique - George Delerue/Henri Colpi
Trumpet Voluntary – Purcell
Una Furtiva Lagrima from 'L'Élisir d'Amore' - Donizetti
Valse from 'Coppélia' - Delibes
Valse Légère from 'Faust' - Gounod
Variations on a Theme of Mozart - Glinka
Wedding March - Mendelssohn
Wheels – Petty
Where 'ere You Walk from 'Semele' – Handel

Folk and Traditional
The Ash Grove
All Through the Night
Amazing Grace
Annie Laurie
Ar Lan y Mor (By the Sea)
Arran Boat Song
Auld Lang Syne
Aura Lee
Believe Me If All Those Endearing Charms
The Bells of Aberdovey (Clychau Aberdyfi)
Blind Mary
The Blue Bells of Scotland
Brian Boru's March
Carnavalito (Peruvian Tune)
Castle of Dromore
Charlie is My Darling
Cielito Lindo (Mexican Tune)
Cysga Di, Fy Mhlentyn Tlws (Sleep, My Pretty Child)
David of the White Rock (Dafydd y Garreg Wen)
Down By The Sally Gardens
Drink To Me Only
Dros y Dwr i Draeth Llanstephan
Early One Morning
Eleanor Plunkett
Eriskay Love Lilt
Fhear a'Bhata
Flow Gently, Sweet Afton
The Foggy, Foggy Dew
The Girl from Penderyn
Give Me Your Hand
Greensleeves
Hiraeth
Hush Little Baby
I Gave My Love a Cherry
In An English Country Garden
The Lark in the Clear Air
Last Rose of Summer
Little Saucepan (Sosban Fach)
Lisa Lan (Fair Lisa)
Mhairi's Wedding
My Bonnie Lies Over the Ocean
My Darling Clementine
Myfanwy
My Love is Like a Red, Red Rose
My Wild Irish Rose
O Danny Boy/Londonderry Air
Santa Lucia (Bel Canto Napolitain)
Scarborough Fair
Scotland the Brave
She Moved Through The Fair
Shenandoah
The Ships of Caernarfon (Llongau Caernarfon)
Skye Boat Song (O'er the Sea to Skye)
Suo Gan
The Water is Wide
Watching the White Wheat (Bugeilio'r Gwenith Gwyn)
When Irish Eyes are Smiling
With a Hundred Pipers
Ye Banks and Braes
Pop and Film Music
59th Bridge Street (Feelin' Groovy) - Simon and Garfunkle
7 Years – Lukas Graham
Across the Universe – Beatles
Ain't No Sunshine – Bill Withers
All I have to Do Is Dream - Everly Brothers
All Of Me – John Legend
A Nightingale Sang in Berkeley Square – Glenn Miller
And I love you so - Don Mclean
And So It Goes – Billy Joel
Angel – Sarah McLachlan
Angels - Robbie Williams
Ashokan Farewell from 'The Civil War' - Jay Ungar
A Thousand Miles – Vanessa Carlton
A Thousand Years – Christina Perri
A Whole New World from 'Aladdin'
Balcony Scene from 'Romeo and Juliet'
Beneath Your Beautiful – Labrinth
Best Of You – Foo Fighters
Bittersweet Symphony – The Verve
The Blower's Daughter – Damian Rice
The Book of Love – Stephin Merritt
Both Sides Now – Joni Mitchell
Bridge over Troubled Water - Simon and Garfunkle
Brown Eyed Girl - Van Morrison
Build Me Up Buttercup - The Foundations
Cannonball – Damian Rice
Can You Feel the Love Tonight from 'The Lion King' – Elton John
Can't Buy Me Love – Beatles
Can't Help Falling In Love – Elvis Presley
Can't Take My Eyes Off Of You - Frankie Valli
Chasing Cars – Snow Patrol
Cheerleader - OMI
Chi Mai – Ennio Morricone
Clocks – Coldplay
The Closest Thing To Crazy - Katie Melua
Close To You – Carpenters
Clown – Emile Sande
Come What May from 'Moulin Rouge'
Colours of the Wind from 'Pocahontas'
Cry to Me from 'Dirty Dancing'
Dawn from 'Pride and Prejudice'
Daydream Believer – The Monkees
Don't Know Why – Norah Jones
A Dream is a Wish Your Heart Makes from 'Cinderella'
Dreams - The Cranberries
Edelweiss from 'The Sound of Music'
Elenore - The Turtles
Eight Days a Week - Beatles
Eleanor Rigby – Beatles
Endless Love - Lionel Richie
Every Breath you Take - The Police
Evergreen - Barbra Streisand
Everything – Michael Buble
(Everything I Do) I Do It – Bryan Adams
Fairytale – Ludovico Einaudi
Feed The Birds from 'Mary Poppins'
Fields of Gold – Sting
Fireflies – Owl City
The First Time Ever I Saw Your face – MacColl
Fix You - Coldplay
Forrest Gump Themes – Alan Silvestri
For The Love of a Princess from 'Braveheart' – James Horner
From This Moment – Shania Twain
Gabriel's Oboe from 'The Mission' – Ennio Morricone
Glasgow Love Theme from 'Love Actually' – Craig Armstrong
Goodnight – Beatles
Hallelujah from 'Shrek' – Cohen
Happy – Pharell Williams
Happy Together – The Turtles
Have I Told You Lately – Van Morrison
Heartbeats – Jose Gonzales
Heaven – Sammy / Bryan Adams
Here Comes the Sun - Beatles
Hero - Enrique Iglesias
Hold Back The River – James Bay
How Long Will I Love You – Ellie Goulding
He's a Tramp from The Lady and the Tramp
Hey Jude – Beatles
Hold Back The River – James Bay
How Long Will I Love You – Ellie Goulding
Ice Castles Theme - Hamlisch
I Don't Want to Miss A Thing - Aerosmith
I Have a Dream - Abba
I'm Yours – Jason Mraz
I've Had The Time of My Life from 'Dirty Dancing'
Imagine - Beatles
I still Haven't Found What I'm Looking For - U2
I Say a Little Prayer for You - Aretha Franklin
I See The Light from 'Tangled' - Alan Menken
Isn't She Lovely – Stevie Wonder
I Will Always Love You - Dolly Parton
I Won't Give Up – Jason Mraz
John Dunbar Theme – John Barry
Just The Way You Are – Bruno Mars
Kiss From A Rose – Seal
Kiss The Girl from 'The Little Mermaid'
Kissing You from 'Romeo and Juliet' - Des'ree
La Valse D'Amelie from 'Amelie' – Yann Tiersen
La Vie En Rose from 'La Vie En Rose' - Louiguy
Lane's Theme from '8 Seconds'
Let it Be - Beatles
Let it Be Me - Everly Brothers
Let It Go from 'Frozen' – Idina Menzel
Let's Hear It For The Boy from 'Footloose'
Liz On Top Of The World from 'Pride and Prejudice'
The Long and Winding Road – Beatles
Love is a Song from 'Bambi'
Lovefool from 'Romeo and Juliet'
Love Me Do – Beatles
Love theme from 'The Godfather' – Nina Rota
Marry Me – Jason Mraz
Marry You – Bruno Mars
May It Be from 'The Lord of the Rings' – Enya
Merry Christmas, Mr Lawrence - Sakamoto
Moondance - Van Morrison
Moon River from Breakfast At Tiffinys– Mancini
My Favourite Things from The Sound of Music - Rogers
My Heart Will Go On from 'Titanic' - James Horner
Nella Fantasia from 'The Mission' – Ennio Morricone
Norwegian Wood – Beatles
Nothing Compares To You - Sinead O'Connor
Now We Are Free from 'Gladiator' – Hans Zimmer
Oh, Pretty Woman - Roy Orbison
Oltremare – Ludovico Einaudi
One Day Like This - Elbow
Over The Rainbow - Eva Cassidy
Paradise - Coldplay
Pelagia's Song from 'Captain Corelli's Mandolin'
The Pink Panther – Mancini
The Power Of Love – Gabrielle Aplin
Romeo and Juliet – Dire Straits
Portugese Love Theme from 'Love Actually'
Pure Imagination from 'Willy Wonka and the Chocolate Factory'
Raindrops Keep Fallin' On My Head from 'Butch Cassidy and the Sundance Kid'
Read All About It – Emile Sande
The River Flows in You - Yiruma
The Rose - Amanda McBroom
Run – Snow Patrol
Safe and Sound from 'The Hunger Games' – Taylor Swift
The Scientist – Coldplay
She from 'Notting Hill' – Elvis Costello
She's Always a Woman – Billy Joel
She's the One - Robbie Williams
Skinny Love – Birdy
Skyfall - Adele
Some Day My Prince Will Come from 'Cinderella'
Some Enchanted Evening from 'South Pacific' – Rodgers and Hammerstein
Something There from 'Beauty and the Beast'
Somewhere in Time from 'Somewhere in Time' – John Barry
Somewhere Only We Know - Keane
Somewhere Over The Rainbow from 'The Wizard of Oz'
Songbird - Eva Cassidy
Sound of Silence - Simon and Garfunkel
Stand by Me - Ben King
Stars from 'Les Mis'
Stay With Me – Sam Smith
Take My Breath Away from 'Top Gun'
Tale As Old As Time from 'Beauty and the Beast'
Tara's Theme (My Own True Love) from 'Gone With The Wind'
Tears In Heaven – Eric Clapton
Time After Time - Cyndi Lauper
Time to Say Goodbye - Andrea Bocelli
This Year's Love - David Gray
Through the Eyes of Love from Ice Castles
To Make You Feel My Love - Bob Dylan
True Colours – Cyndi Lauper
Unchained Melody – North
The Way We Were – Hamlisch
The Way You Look Tonight - Kern
We May As Well Be Strangers – Keane
What a Wonderful World - Louis Armstrong
What The World Needs Now Is Love – Bacharach
When I Was Your Man – Bruno Mars
When You Say Nothing At All – Ronan Keating
When You Wish Upon A Star from Pinocchio
The Whirling Ways Of The Stars That Pass from 'The Theory of Everything'
The Wind beneath my Wings - Henley and Silbar
With or Without You - U2
Wishing You Were Somehow Here Again – Lloyd Webber
Wonderful Tonight - Eric Clapton
Wonderwall - Oasis
Yesterday – Beatles
You're Beautiful – James Blunt
Your Song from 'Moulin Rouge' – Elton John
Jazz Standards and Musical Theatre
Ain't misbehavin' - Waller and Brooks
Alfie - Bacharach
All I Ask of You from 'Phantom of the Opera' - Lloyd Webber
All The Things You Are - Kern
Around the Clock Suite - Pearl Chertok
As Time Goes By – Hupfeld
At Last – Etta James
Autumn Leaves – Kosmas
Because - Guy d'Hardelot
Bewitched - Rodgers
Bidin' My Time - Gershwin
Blue Moon - Rodgers and Hammerstein
Body and soul - Green
Bring Him Home from Les Miserablés
But Not For Me - Gershwin
Bye, Bye Blackbird - Henderson
Can't Help Lovin' Dat Man from Showboat
Chances Are – Allen
Days of wine and roses – Mancini
Dream - Mercer
Don't Cry For Me Argentina from 'Evita' – Lloyd Webber
Don't Get Round Much Anymore - Duke Ellington
Embraceable You - Gershwin
Everybody Loves Somebody - Lane
Fly Me To The Moon – Sinatra
Fools Rush In – Bloom
For You - Michael Kamen
I Dreamed a Dream from 'Les Miserables'
Indian Summer – Victor Herbert
I Love You Truly - Carrie Jacobs Bond
It Had to Be You – Isham Jones
It's Been a Long, Long Time – Styne
I Want To Be Happy - Youmans
I Wish I Knew How It Would Feel To Be Free - Billy Taylor
Jardin d'Hiver – Beaumont
Kiss Me Again – Victor Herbert
Lady Be Good - Gershwin
La Vie En Rose - Louiguy
Losing My Mind from Follies
Lover, come back to me! – Romberg
Love Story
Lullaby of Birdland - Weiss
The Man I Love – Gershwin
Memory from 'Cats'
Misty – Garner
Moonlight in Vermont – Suessdorf
Moonglow - Hudson/DeLange/Mills
My Love - Tony Hatch
One Alone – Sigmund Romberg
On My Own from Les Miserables
O Promise Me - de Koven
Rhythm of the rain - Gunmoe
Secret Love – Fain
Serenade from The Student Prince – Sigmund Romberg
Send in The Clowns from A Little Night Music – Sondheim
Smoke Gets In Your Eyes - Kern
Softly As I Leave You – Sinatra
Softly, As In A Morning Sunrise – Romberg
Somebody Loves Me – Gershwin
Someone To Watch Over Me - Gershwin
Spring Is Here – Loesser and McMugh
Stars from Les Miserables
Stranger in Paradise - Tony Bennet
A Summer Place Theme from A Summer Place
Summertime - Gershwin
Take Five - Desmond
Take the "A" Train - Strayhorn
Tea for two - Youmans
Time After Time - Styne
Themes from An American in Paris and Rhapsody in Blue - Gershwin
They Can't Take That Away From Me - Gershwin
Toyland – Victor Herbert
Wishing you Were Somehow Here Again from 'Phantom of The Opera' – Lloyd Webber
When I Grow Too Old To Dream – Sigmund Romberg
Will You Remember – Sigmund Romberg
Younger Than Springtime - Rogers and Hammerstein

Birthday and Christmas
Angels Have We Heard On High
Away In a Manger
Deck The Halls
The First Noel
Good King Wenceslas
Happy Birthday
Have Yourself A Merry Little Christmas
It Came Upon A Midnight Clear
In The Bleak Midwinter
Joy To The World
Lo, How a Rose E-er Blooming
O Come All Ye Faithful (Adeste Fidelis)
O Little Town of Bethlehem
O Holy Night
On Christmas Night
O Tannenbaum (O Christmas Tree)
Silent Night
We Three Kings of Orient Are
Winds Through The Olive Trees
2 Customer Reviews
Performance quality:

5

stars
Sound quality:

5

stars
Behaviour:

5

stars
Communication:

5

stars
Audience engagement:

5

stars
Value for money:

5

stars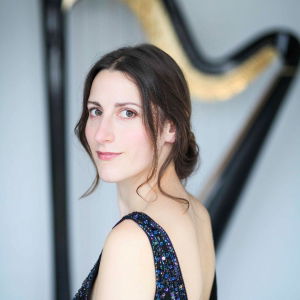 "Cecile played at my daughter and son-in-law's Wedding and she was absolutely amazing. Such Brilliant and beautiful harpist playing. I didn't know that she would be able to play outside . How wonderful that she did ! While we were having our photos taken and the children were playing Cecile provided an absolute brilliant performance for us . We all loved it ! She also played for the Ceremony which was so magical . Cecile was not only a brilliant Harpist but friendly , polite and lovely too. I would certainly like to book Cecile again and would highly recommend her."
---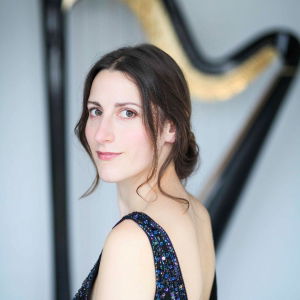 "Cecile was brilliant throughout. She was very friendly and responsive prior to the wedding, gave us a great list of songs and helped us pick the best possible playlist. She set up without me having to provide on the day guidance (which as a stressed groom was helpful) and played beautifully as we expected. We would definitely recommend."
Prices

Price from £487 + travel from London
Based on 1 person performing Up to 2 hours
South West

From £577

East of England

From £603
Most Alive Network artists travel UK wide and internationally. Get a guide price instantly by clicking the 'get quote' button and entering your event date and location. Make an enquiry and we will liase directly with Cecile Harpist to confirm price, availability, and the provide you with a confirmed quote.
Booking Options
Customise your booking with the following options...
Lineup
Default lineup: 1 performer
Harpist
Full Biography
Cecile has studied harp at Trinity College of Music and Royal Holloway, University of London where she graduated in 2012 with a first in harp performance. At the age of 18 Cecile performed to members of the Royal Family as part of the celebrations for Prince Charles' 60th birthday at the Royal Opera House in Covent Garden. This was in collaboration with the then Royal Harpist, Claire Jones, and the Philharmonia Orchestra.

Leading a busy professional career as both harpist and singer, Cecile has performed all over the world including Europe, Australasia, the French Polynesia and the USA. She has taken part in broadcasts on BBC Radio 3 and Classic FM, as well as several television musical appearances. Most recently she took part in the 2014 Royal British Legion's Festival of Remembrance at the Royal Albert Hall, broadcast on BBC One; and in Spring 2015 appeared as a guest recitalist in Kuwait City, performing as part of the British Council's Cultural Season at the Dar al-Athar al-Islamiyyah in collaboration with the British Embassy of Kuwait.

Cecile has made various solo appearances with orchestras around the country performing an array of music including concerto works by Gliere, Mozart, Ravel and Debussy. She currently holds the position of Resident Harpist at The Waldorf Hilton Hotel in Covent Garden, as well as being in high demand for weddings, receptions and corporate events. Such occasions have included performances at private engagements for Rolling Stones member, Ronnie Wood; the former Archbishop of Canterbury, Rowan Williams; Time Out Magazine's New Year's Eve party at London's newest skyscraper, the Shard; and most recently, Her Majesty The Queen and the Duke of Edinburgh
100% of people that booked Cecile Harpist
would recommend Alive Network to their friends


The UK's #1 Service
Our one-to-one service means you're looked after every step of the way.


Best Value
Get unbeatable value with no hidden costs.


Chat To Your Artist
After booking, speak directly
with Cecile Harpist.


Safe & Secure
Reliable artists. Secure contracts. 24/7 Emergency Cover.