The Entertainment
"Having recently been to a wedding which had a great indie-rock band, we searched for something similar on Alive Network's site. We chose The Stereo Rising due to their excellent video and bio... we thought they were perfect! They also had an excellent playlist that combined all our favourite indie-rock songs from the past 10–15 years, as well as new tracks. And we liked the fact that they offered to learn a couple of songs for us."
"Prior to the day they took the stress out of the organisation by being prepared and experienced, and they offered suggestions on how best to run things and what sort of music worked. It was better than we imaged, mainly down to their professionalism and experience which allowed them to setup with minimal support or oversight, allowing us to really enjoy the day."
"As the wedding got a bit closer we decided it would be good to have some music during the ceremony. We wanted something that would combine traditional with a bit more fun. Jessica Louise was perfect – she had modern songs that sounded beautiful on a harp."
The Music
"In the ceremony we wanted traditional mixed with a modern twist, and chose Jessica Louise as she met this perfectly. We decided upon a mix of music which was wedding-themed but also reflected our personalities. For the processional, Sarah chose Beauty and the Beast, Tale As Old As Time as she loves Disney – it sounded amazing on a harp.
"We picked Happy by Pharrell Williams to exit the ceremony – it was an apt title and we enjoy the Minion films (we've even named our cat Kevin in homage!). It was a great moment and really reflected just how happy we were at the time!"
"Dancing the night away to some of our most enjoyable indie hits was great. For the evening reception, we wanted songs that reflected our lives at university and growing up with our friends, who were a big part of the wedding, alongside our families. We included some songs that would get everyone up dancing and singing away. By working with The Stereo Rising we were able to develop a set list based around 3 sets with short breaks in-between while a DJ played. This gave us a nice pace of live songs with short breaks to get the drinks in."
"We wanted something that was different from the normal wedding first dance songs, so The Stereo Rising learned and performed James TW When You Love Someone for us."
The Photography
"We chose Emily Mudie Photography because of Emily's calm and relaxing attitude and the attention to detail in her photography portfolio. We wanted to capture all the little details of our wedding while combining relaxed shots with the more formal ones."
The Venue
"Tylney Hall is special to us as we've celebrated various occasions there over the years, both with family and as a couple. It's a beautiful venue with fantastic gardens, and wasn't too far away for the majority of our guests."
The Decor
"We wanted to combine the traditional venue with a few modern touches... adding to the beautiful venue without hiding it. We used sage green as the main colour, combined with lace and cream colours in the decor. For the flowers, we chose a combination of spring green with beautiful white roses... with the addition of purple flowers in the bride's bouquet."
The Outfits
"I saw my dress on 'Say Yes to The Dress', and searched for a stocklist who could get a sample. I went for a café/ivory colour – I loved it… and was glad to have a 'big' style dress that suited my petite frame. We had been admiring the evening dress in a shop, but decided it was too extravagant to have another dress just for the evening. Mum surprised me with it a few weeks later! It was lovely to have a second dress that I could dance around in, but was still so beautifully bridal."
"Matt's suit was bespoke, with the date of the wedding embroidered inside the jacket."
"For the bridesmaid's dresses, we wanted a traditional full length that the girls would feel comfortable in. They tried on numerous styles and chose one that suited them all."
The Ceremony
Sarah: "I was a bit overwhelmed but I wasn't nervous, just keen to see my groom. It was really emotional walking up the aisle with my Dad; I was trying so hard not to cry. During the ceremony I was fine – Matt and I held hands really tightly, which calmed me down completely."

Matt: "When Sarah came in I was so taken aback with how beautiful she looked, I no longer noticed the guests." 
Find more Classic Ceremony ideas here...
The Food
"In the evening we did bacon and sausage sandwiches with chips – a huge success."
"We had a semi-naked wedding cake combining lace decorations with three flavours – Victoria sandwich, red velvet and lemon cake. The toppers were a groom penguin and cat bride, which relate to pet nicknames we call each other – Pingu and Cat!"
Favourite Moment
"Walking out of the ceremony to Happy was a great moment as it really reflected just how happy we were at the time!"
"Also dancing the night away to some of our most enjoyable indie hits was great."
What We Learned
Forget the weather… "The weather is such a small part of the day. I was stressing so much on the run up to the day as the forecast was bad. Actually it wasn't too bad and it didn't matter. What mattered was we got married and all our friends and family were there and had a great time."
Take it in together… "Just enjoy the day, it goes by so quickly that it almost feels unreal. Planning in a small period of time when you can both just go and take it in as a couple is such a good idea. "
Loving this? Like these...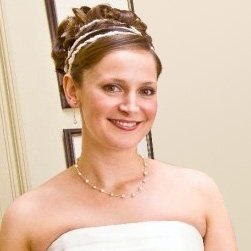 Lily Atkins
Wedding Editorial Team
The Magic Makers
Music, atmosphere and vibes of love and fun Alive Network, UK-wide | Harpist Jessica Louise, exclusive to Alive Network | Wedding Band The Stereo Rising, exclusive to Alive Network | Photographer Emily Mudie Photography, London and UK-wide | Venue Tylney Hall, Hampshire | Main Dress '1612' by Kenneth Winston, available from Diamond Nights & Days, Bagshot | Evening Dress 'Cathlyn' by Phase Eight | Bridesmaids Dresses '6705' by The Dessy Group, available from  From This Moment Bridal, Ewell | Bridal Jewellery Next and Ivory & Co, UK-wide | Bespoke Tiara Stargem Bridal, UK-wide | Wedding Rings  Harrington Brookshaw Jewellers, Guildford | Groom's bespoke suit  Moss Bros., UK-wide | Hair Design  Sian Jones Hairdressing, Epsom | Beauty Tylney Hall Spa, Hampshire | Flowers Moutan Flowers, Hartley Witney, Hants | Balloons  Balloons for U, Basingstoke | Stationery Here Comes The Bride, UK-wide | Wedding cake, sweet trolley, & favours Cookie Creations, Basingstoke
Join the Insta party! Tag us into your build-up and big-day moments