Meeting on game night, and bonding over mutual love of Arsenal, Stephanie & Shaun's wedding day features tasteful football-inspired touches, while honouring Shaun's part-Singaporean heritage. Their Friday 13th wedding is full of lucky red, double happiness and understated elegance. Think natural bride, daring Hayley Paige gown, a Killers-loving setlist – courtesy of The Kicks – and a Zoolander-style dance off.
Plus, find out why choosing your venue is like buying a new home.
Great Fosters country house plays host, and Sarah Legge Photography captures the day.
The Entertainment
"It was really important to us to create a party atmosphere, so we requested our friends leave the children at home, let their hair down and partake in a shot or two of Patron. We wanted to have fun!"
"The band were spot on. We loved their sound and repertoire – we are huge Killers fans and we set out on a quest to find the best rendition of Mr Brightside that we could find, so we chose The Kicks. They smashed it beginning to end. We chatted to them in the interval and it was a real pleasure, they were really lovely guys."
"I will never forget the memory of our friends and family taking part in a Zoolander style dance off to Outkast's Hey Ya. A big shout out to our friend Tom who ripped his trousers sliding on his knees!"

"We had a great time on the dancefloor, particularly for the second set. It was a really warm day, but when everyone got themselves to the dancefloor the party just took off. We even did our first dance routine again, but this time to Oasis in a circle of friends (rather than the Chainsmokers which we had originally danced to at the beginning of the night)."
The Music
"The music was an important factor...it made us feel great, as always! We love our Indie music and we go to festivals each year. My (Stephanie's) Dad was also into his music and I had grown up with the likes of Queen, The Beatles, The Stones etc.
"For the ceremony, we went for classical versions of modern day songs to create the build up atmosphere. We had some Bowie, Metallica, Muse, some Ibiza Classics, and of course a host of instrumental Indie tunes.
"To walk up the aisle, I chose an instrumental version of The Verve's Bitter Sweet Symphony. Then, to walk down the aisle together, we went for Fatboy Slim's 'Right Here, Right Now' while our friends threw red and white confetti – this is the music that Arsenal comes out to at football games.
"Our first dance was The Chainsmokers 'Something Like This'. We finished the dance with Shaun lifting me up which looked amazing on the videos our friends took."
The Kicks' Top Tips...
Bands always have a speciality, so go for one that most closely reflects your own tastes. Our expertise is indie-rock, so that music is at the core of what we play, but, like us, most bands will play a range of songs outside of their genre too. Check out their repertoire before you book.
To create a final setlist, we give couples our most up-to-date repertoire around a month prior to the wedding, and ask for 10 favourites from it and up to 10 that they would prefer us not to play. This list gives us all the info we need to put together some really great sets to keep the dancefloor full.
Make sure your venue can accommodate the kind of event you want. If they mention volume limits, ask what they are and have a look at Alive Network's handy comparison chart for what each decibel level corresponds to. A sound-limiter friendly band, like us, can help.
The setting up process very much depends on the venue and whether they have different rooms for the breakfast and evening reception. It takes around 90 minutes for your typical 4-piece band to setup. And don't forget – weddings always run late so factor that in to your timings too!
If you like that, you'll also like...
The Photography
"I came across Sarah Legge after looking through a lot of Great Fosters wedding portfolios. Her photos are bright and glossy and look like they are straight from a magazine. We knew as soon as we saw her natural style this was exactly what we wanted."
The Venue
"We originally wanted a London wedding. After looking at 20+ venues, we still hadn't found 'the one'. Great Fosters was the first and only venue we looked at outside of London. The stunning setting was just perfect. Before we booked we spent a weekend there and dined at their Michelin starred Tudor Room.
"We've been to many friends' weddings and the ones we always enjoyed the most were all in one place and that was something we wanted to mimick. Shaun also loves being outdoors so lovely grounds that our guests could enjoy was an important factor in our decision."
Advice On Choosing A Wedding Venue...
"It's like buying a new home – you should get a good feeling when you step through the door. Warm and friendly staff also say a lot about the venue and at Great Fosters we pride ourselves in being welcoming and approachable.
Stephanie stayed at the hotel the night prior to the wedding making it a more relaxing start to the day. The Nursery Suite gave her plenty of room to get ready and more and more brides are choosing to stay particularly when the ceremony is taking place at the hotel.
Try to add some personal touches to wow your guests. Pinterest and Instagram are a great source of inspiration for theming and props. If you don't have time or the creativity to do it yourself there are companies out there who hire a huge range of items to enhance your special day.
And finally, remember it is your day so have what you want and take time to enjoy it!"
Lucy Turner, Events Co-ordinator, Great Fosters
The Decor
"The colour scheme had to be red for two reasons – 1) for Arsenal and 2) for Chinese custom as red symbolises good luck, as Shaun is half Singaporean and we wanted to incorporate this into our theme.
"Red (oriental) and rose gold was our theme. We had 'double happiness' Chinese red lanterns, and sent out our invitations in red 'Ang Pow' envelopes."
"We used artificial flowers put together by the super talented Emma Louise Parr. They were beautiful big red silk roses in fishbowl vases with green foliage. None of our guests even knew they weren't real! Artificial flower hire is a very cost effective way of getting your flowers, even if it is not the right season.
"The charm on my bouquet was one of my Dad's sovereign rings. Unfortunately he passed away in 2013 so I wanted something of his to have close to me on the day. It also acted as my 'something old'."
The Outfits
"There had to be plenty of red in there to go with our oriental red theme.
"I knew I wanted a Hayley Paige wedding dress from the start. I had the privilege of meeting Hayley in person at her trunk show and tried on many of her range, before deciding on my 'dare' dress. I just loved the 'pixie' bodices Hayley works into her creations and their uniqueness. I actually nearly did not get my wedding dress as 3 weeks before my day, my Mum and I went for my fitting, to find the store had gone into liquidation. JLM had my dress however, tracked me down and made sure it found its way to me. My seamstress Satish Mal was also an absolute star rearranging the fitting to be at my house instead of the shop.
"Shaun and his groomsmen wore Alexandra Wood bespoke suits with red ties to match the bridesmaids, who were in Monsoon red maxi dresses."
The Ceremony
"Pre ceremony, I was extremely calm. It was just me, my two bridesmaids, my Mum and Carolanne Armstrong on hair and make up. We listened to music and there was no stress as we'd stayed at Great Fosters the previous night in their Nursery Suite.
"Before walking down the aisle, I took a moment to remember my Dad who unfortunately isn't longer with us. That was pretty emotional. I gave my Mum a hug goodbye then it was over to my brother to walk me down the aisle. I remember Shaun's handsome smile looking back at me as we were half way quick marching down that aisle to him."
Find more Classic Ceremony ideas here...
The Food
"Great Fosters excelled themselves on the wedding breakfast, we received so many compliments on the amazing 3 course meal. We had a Pork Kromesku (similar to a croquettas), a summer chicken dish and finished with lemon posset, which was very refreshing on such a hot day. We also had a hog roast in the evening which was amazing apparently, unfortunately we didn't get much time to eat much of it but the guests loved it.
"Shaun and I share a love of cheese and are not really sweet tooth people, so instead of a sweet wedding cake, we had a cheese cake provided by Paxton and Whitfields. We received so many compliments on that too and enjoyed devouring the remnants over the following days ! it was topped by hedgehog wedding toppers, in memory of our beloved pet hedgehogs Sega and Frankie (yes you read that right, we had pet hedgehogs!)."
Favourite Moment
"It's a tossup between the speeches, especially Shaun's when he was being interrupted by his Dad, and our friends having a dance off during the band's second set."
What We Learned
Time together… "The day will fly by. Our friends gave us great advice to stick together as much as possible on the day, so we'd share all the same memories."
Love for Alive
"Our Entertainment Coordinator, Clare was really helpful in coordinating everything for us efficiently and without fuss."
Loving this? Like these...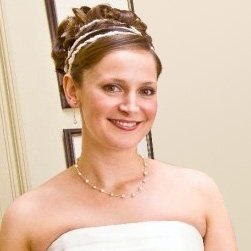 Lily Atkins
Wedding Editorial Team
The Magic Makers
Music, atmosphere and vibes of love and fun Alive Network, UK-wide | Wedding Band The Kicks, exclusive to Alive Network | Photographer Sarah Legge Photography, Surrey and UK-wide | Venue Great Fosters, Surrey | Wedding Dress 'Dare' by Hayley Paige at JLM Couture, Worldwide (alterations by Satish Mal) | Bridesmaids Dresses, Monsoon, UK-wide | Hair Vine Debenhams, UK-wide | Bridal Shoes 'Romy' & Bag Jimmy Choo, World-wide | Wedding Rings Peter Baxter Jewellery, Birmingham | Groom's outfit Alexandra Wood, UK-wide | Hair & Beauty Carolanne Armstrong, UK-wide | Dancing Lessons Wimbledon Dance Academy, Wimbledon | Flowers Emily-Louise Bespoke Artificial Flowers, Essex | Fairy Lights & Uplighters, PartyLights.co.uk, UK-wide | Chiavari chair hire Host With Style, UK-wide | Stationery Ang Pow Envelopes sourced from Hong Kong | Favours Chinese Tea Cups with Blooming Tea Flowers, World-wide | Wedding Cheese cake Paxton & Whitfield, UK-wide
Join the Insta party! Tag us into your build-up and big-day moments