This was by no means a typical day in my life, but it was one that I'd been building up to for almost a year. When my sister told me she was thinking about signing up for the London Marathon I immediately sent off my application to join her... and she pulled out!
So I was committed to running for the
Mental Health Foundation
. A charity close to my heart after losing my father to depression in 2006.
So, having spent about a year training 3-4 times a week, starting at short 30 minute runs and ending with long runs on Sunday's of up to 22 miles, the big day was upon us.
We travelled down to London on the Friday of the London Marathon weekend, arriving at the London Marathon Expo to pick up my race number and timing chip in pretty good time really, with no major hold ups on route. The
Virgin London Marathon Expo
was held at
Excel London
and was quite an impressive set up with everything from promo stands for other marathons all over the world (Venice looked quite nice!), to trainers that looked plucked from Back To The Future, to the most disgusting tasting Lucozade gels that, I found out, make you feel a bit sick after 18-19 miles!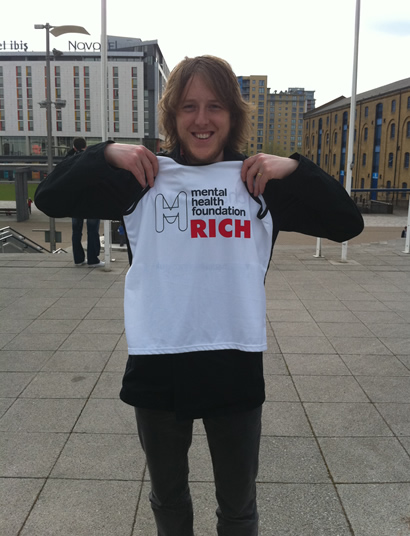 The day before the marathon we ambled around London in the glorious sunshine, taking in the
Saatchi Gallery
which was awesome, as well as managing to convince my wife and mother that they'd enjoy a visit to Portobello market... which meant that I could visit
Rough Trade West
who had some bands playing outside for Independent Record Store Day 2011. I managed to catch Pete and The Pirates acoustic set with about 300 other people. Great atmosphere, catchy tunes, spring sunshine, and there's a bar next door! Perfect!
It was a summer-like morning when the alarm went off at 6.00 am on Sunday 17th April 2011. The taxi to take us to the start line would be pulling up outside at 7.40 am which gave us just enough time to run out of hot water after one person had a shower, then grab some coffee, croissants, and toast for some last minute carb loading, before setting off on my last taxi ride as a non-marathon runner!
We navigated from the B&B in Barnes (a lovely place to stay in London incidentally... very leafy!) along the river, through Chelsea, then down towards Greenwich while avoiding numerous closed roads, and arriving in Greenwich in, what we thought, was really good time... until we met the thousands of other runners and supporters also stomping towards the start line! The atmosphere was starting to build now as we approached the
Virgin London Marathon 2011
start line in Greenwich Park, complete with 40,000 runners, 250,000 spectators, 1 Goodyear blimp, and mile long toilet queues!
The Race

(Imagine "Eye Of The Tiger" as the backing music for this bit!)
So...I eventually crossed the start line at 10.10 am, which was good I thought, as I could easily keep track of whether I was keeping up with my planned pace of 10 minutes per mile. I could see the pace-keeper for 4hrs 22mins (10 minute miles) up ahead...you couldn't miss him! He had a huge flag pole attached to his back with a round sign at the top with the time clearly marked.
And we're off!!!
Damn! Lost the pace keeper!
Oh well, I've got my phone in my pocket for texting my cheering team to find out which side of the road they wanted me at, and between which mile markers they would be waiting to cheer me on.
The first 6 miles were pretty easy and I was making good time whilst managing not to push too hard too soon... and we managed to coordinate the first cheer just before the BBC cameras at The Cutty Sark!
I'm feeling good at this point and looking forward to the next cheer from my cheering team.
13 miles was one of the best bits as not only was I still feeling very comfortable, was slightly ahead of my 10 minute mile target, and had just received a text from my cheering team telling me that they were making their way to mile 18 (where I expected to need them), but this is the point of the race where you run across Tower Bridge! A very cool moment and one I won't quickly forget!
By this point, I'd ran past a few bands of varying qualities...one brass band made me wish I'd brought some
Alive Network
business cards as I danced past them while they rattled through the theme tune from The A-Team!
Mile 14-15 was where we ran on the opposite side of the road from the much faster group who were at mile 21 and 22...some of them looked knackered!
My plan was to try to pick up my pace a little after mile 16 (as I'd heard that's what the pro's do!) but it didn't happen and I was starting to feel it a bit by now and put my headphones on to get into a bit of John Digweed's Transitions Podcast to make it feel like a training run up the canal in my home town of Stone. The crowds, noise, bands, atmosphere etc completely destroyed that illusion, but it was nice to have something familiar playing in my ears as I approached the kind of distances I had never before completed.
Another beautifully coordinated (by text messages) cheer at mile 18 was just what I needed to push on for the last 8 miles. "1 hour 20 minutes left" I told myself!
It was at around mile 20 that I began to think that they were definitely moving the mile markers further apart which wasn't helping with my big push to the finish. My 10 minute mile target was slowly fading and my focus was diverting to finishing without walking instead! It was becoming a battle of my mind over my body as I ran past 22 miles and into distances that my legs had never ran before.
23 miles...just over half an hour left!
24 miles...20 minutes then it's the finishing straight up towards Buckingham Palace.
25 miles...by this point the pull to slow down to a walk was fading as the crowds began to build again..."Keep going!"
26 miles..."GO ON RICH!" My cheering team had got up to the top of the supporters stand on my right and were stood on a wall shouting me on for my final (and totally unexpected as text messages had stopped getting through by this point!) cheer to push me to the finish... just what I needed!
The Finish…with my final spurt of energy coming from that unexpected cheer, I got my phone out to film crossing the finish line... and quickly put it away again when I realised it was the 800 yard (half a mile!) marker!
The REAL Finish...great moment! A feeling of pride was quickly quashed when I was ushered to the side to collect my medal and have my photo taken!!! I wish someone had warned me about this as I was covered in sweat and felt as if I looked way more knackered than everybody else around me.
The final leg of my marathon was still to come as I trudged around St James's Park looking for my family. In a daze, I walked about half a mile in the wrong direction and had to turn around and go all the way back across the park when I realised what I'd done. By now, all I wanted to do was sit down. My legs were burning.
"Never again!" I thought.
Until 2 days later when I got my official time of 4 hours 29 minutes and 40 seconds.
"Hmm...that's only 8 minutes off my 10 minute per mile target. Maybe I could do it again next year and push a little harder?"
At the time of writing my supporters have raised £1,286.00 for the Mental Health Foundation charity, and my target is £1,500.00. Please help me to achieve my target by sponsoring me here.
http://uk.virginmoneygiving.com/RichardHearn
Thanks very much to all of my supporters.

Rich