The Entertainment
"Music was always going to be an important element of our wedding day. We wanted everyone to feel like they'd had a really great day, and that is exactly the feedback we received."
"We listened to sample music from a few bands before deciding on Fraudio. Their repertoire could have been lifted from a playlist of our favourite tracks, and their reviews were amazing."
"We loved Fraudio's style from the moment we heard it. It was different to many other wedding bands – more edgy and a lot more of what we like to listen to at home."
"The band were superb throughout the day. When they weren't playing, in between sets, they were invisible, and when they were playing their sets had everyone dancing. They were complete gentlemen, and totally professional."
The Music
"Suzanne walked up the aisle to 'Salvation' by Gabrielle Aplin which worked beautifully. It's a lovely song which has a special memory for us, and the lyrics perfectly describe how we feel about each other. As we left the ceremony room, we made people smile and dance to Van Morrison's 'Brown Eyed Girl'; it's such an uplifting song for such a happy occasion."
"Fraudio played an acoustic set during the drinks reception and then two full sets during the evening party. A favourite track of ours that wasn't on their set list was 'Everlong' by the Foofighters, so we asked them if they would learn it as an acoustic track. They played it during the drinks reception... it's a real shame that we were both outside at the time with our photographer, so we never got to hear it!" (see below for a little surprise, Suzanne and Matt...!)
"For our 'first dance', we chose 'At Last' by Etta James, which has always been a favourite of ours and has the added bonus of being a really short song so not much dancing is needed! Fraudio kicked into their first live set straight after our first dance, and within seconds the dancefloor was full. It was a fantastic moment, and we immediately knew that we'd chosen the right band."
"So many of our friends and family commented on how good Fraudio were, and the rendition of 'Stand By Me' at the end was awesome. I'd struggle to tell you just how pleased I was with their performance and I would recommend them to anyone."
Fraudio

'

s Top Tips for a Roof-Raising Wedding...
Make a list of a few "Do Play" and "Don't Play" tracks, then trust your band when it comes to creating your set lists – they'll make sure the dance floor is full.
Have your first dance immediately before the band start playing their first set. It gets everybody onto the dance floor and creates a great start to the party.
Check if your venue has any sound restrictions, before booking your band, as these will impact how loud they can play.
Enjoy yourself! The tricky bits are over and it's time to throw some of those crazy shapes!
The Photography
"We loved Ed Brown's natural style from the moment we saw it – he has an amazing eye for capturing some beautiful shots."
"We didn't want a set of posed group photos, but more a record of our day. For most of the day, we didn't even know he was there; he seemed to blend into the background."
The Venue
"Mythe Barn was the first and only venue that we actually visited… we knew it was right for us. It's a bit like buying a house, there's an element of finding somewhere that satisfies your head, but a big part of the decision is made by your heart."
"The standard of the venue was exceptional and the service we got, right from the moment we arrived was wonderful. The layout meant that it was ideal for our small wedding as parts of the venue could be closed off in the evening."
The Decor
"We bought loosely rustic style decorations to complement the venue. I did all of the decorative flowers myself using mostly seasonal spring flowers...they're my favourites. The bouquet and button holes were made by The Garden Rose in Hinckley. Our tables were named after places we have visited during our time together. Our table was 'Ireland' after our favourite couples' holiday to the West Coast of Ireland but we also had 'Duquesa', 'Florida', and 'Mexico', to name just a few."
The Outfits
"We wanted the day to feel relaxed for everyone, so we didn't request any kind of dress codes."
"My dress was Maggie Sottero, 'Ettia'. It was the first dress I tried on and the one I fell in love with, no other dress came close after. I wanted something glamorous but less fitted than a standard wedding dress. It felt amazing. I spent ages searching for diamanté hair clip, and ended up finding one in the sale for around £10... who needs to spend a fortune! I had two pairs of shoes – one high and one low pair – but ended up opting for comfort in the low pair all day."
The Ceremony
"Waiting for Suzanne to enter the room seemed like an eternity, and then I heard the music, and stole a glance over my shoulder to see my bride walking up the aisle. She took my breath away. Literally... I will always remember the absolute love and devotion that I felt for Suzanne when I first saw her that day."

Find more Rustic Ceremony ideas here...
The Food
"We had 3 guests who were on a strict Gluten Free diet, so we asked my nephew, Max Parker, to bake a special GF wedding cake to sit alongside the official cake. Max's cake was only second place to the bride herself as the most photographed part of the wedding! What makes it so amazing is that Max is only 11 years old."
Favourite Moment
"Our first dance, to Etta James 'At Last' was very special; it's a song that means so much to both of us."
"Dancing with our friends and family to Fraudio's evening set was awesome from start to finish."
"We both remember the end of the party when Fraudio left the stage, moved into the middle of the dancefloor and played an acoustic 'Stand By Me', with everyone joining in. The perfect end to a perfect day."
What We Learned
Alone time… "Grab 10 minutes to be alone – bride and groom – at some point during the day."
Be true to yourself… "Do what makes you happy. It's your day!"
Loving this? Like these...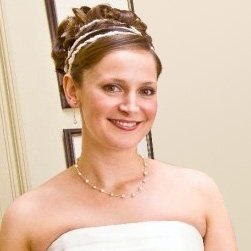 Lily Atkins
Wedding Editorial Team
The Magic Makers
Music, atmosphere and vibes of love and fun Alive Network, UK-wide | Acoustic and Wedding Band Fraudio, exclusive to Alive Network | Photographer Ed Brown Photography, Leicestershire and surrounding counties | Venue Mythe Barn, Leicestershire | Dress 'Ettia' by Maggie Sottero, available from Wedding Belles of Four Oaks, Sutton Coldfield | High Shoes Irregular Choice, UK-wide | Low Shoes asos, UK-wide | Hair Clip  Debenhams, UK-wide | Groom's custom-made shirt iTaylor, Worldwide | Hair Design Katy Barker Hair Company, Tamworth | Beauty Made up by Nives, Tamworth | Flowers Bouquet and buttonholes The Garden Rose, Leicestershire | Decorative flowers Hours of Flowers, Tamworth | Catering Galloping Gourmet, UK-wide | Stationery So Meek, UK-wide | Wedding cake Family friend, Julie Logan
Join the Insta party! Tag us into your build-up and big-day moments
Your Comments
"Our perfect day! We love re-living our wedding day in this awesome blog. Thank you so much!!! Also another HUGE thank you to Fraudio, not only were you incredible on our big day but the recording of Everlong on this blog was the icing on the cake. We were so disappointed to have missed it after you learnt it especially for us but now we have an extra special version. Just amazing!!!!!"

Suzanne Parker Reply

724 days ago |