Prima Divas
The Prima Divas are professional opera singers trained to the very highest standard. They can provide anything from a full concert to corporate entertainment & weddings. Their repertoire varies from classical songs to musical theatre and cabaret.
Price from £769 + travel based on 2 members performing during a wedding ceremony
Set List / Repertoire
Opera Arias - Well-Known Songs from Various Operas


Bellini-
Oh Quante Volte.. (I Capuleti e I Montecchi)
La Tremenda Ultrice Spada " "
Deh Tu Bel Anima " "
Casta Diva (Norma)

Berlioz-
Il M'en Souvient (Beatrice et Benedict)

Bizet-
Me voila dans la nuit (The Pearl Fishers)
Je di que rien ne m'epouvante (Carmen)
Habanera "
Seguidilla "
En Vain Pour Eviter "

Britten-
Come now a roundel (A Midsummer Night's Dream)

Catalani-
Ebben ne andro lontana (La Wally)

Charpentier-
Depuis le jour (Louise)

Donizetti-
Quel guardo il cavaliere.. (Don Pasquale)
Prendi.. ( L'elisir d'amore)
I Segreto Per Esser Felice (Lucrezia Borgia)
O Mio Fernando (La Favorita)

Handel-
Ombra Mai Fu (Xerxes)
Svegliatevi Nel Core (Xerxes)
Dopo Notte (Ariodante)
Pingero la sorte mia..(Giulio Cesare)
Vadoro pupille (Giulio Cesare)
Vani Sono i Lamenti (Giulio Cesare)

Mozart-
Batti batti.. (DonGiovanni)
Vedrai Carino (Don Giovanni)
Ach ich fuhl's ( The Magic Flute)
Porgi amor (Le Nozze di Figaro)
Dove sono (Le Nozze di Figaro)
Giunse al fin il momento (Le Nozze di Figaro)
S'altro che lacrime (La Clemenza di Tito)
Se'il padre (Idomeneo)
Padre germani (Idomeneo)
Zeffiretti Lusinghieri (Idomeneo)
Ruhe sanft (Zaide)
Voi Che Sapete (Le Nozze di Figaro)
Non so Piu (Le Nozze di Figaro)
Parto Parto (La Clemenza di Tito)
Deh Per Questo (La Clemenza di Tito)
Mi Tradi (Don Giovanni)
Ah Fuggi (Don Giovanni)

Tchaikovsky-
Polina's Aria (Queen of Spades)
Adieu Forets (Maid of Orleans)

Operettas/ Musicals/Jazz - More Lighthearted and Well-Known Songs

Arlen-
Somewhere over the rainbow (The Wizard of Oz)

Bart-
Where is love (Oliver)
As long as he needs me (Oliver)

Berlin-
I love a piano
I'm dreaming of a white Christmas

Bernstein-
I feel pretty (Westside Story)
Somewhere (Westside Story)

Gershwin-
Summertime (Porgy and Bess)
Someone to watch over me (Oh Kay)
A foggy day (A Damsel in distress)
For you for me forever more (The shocking Miss Pilgrim)
The man I love
Lorelei
By Strauss
I got rhythm
(And many more Gershwin songs.)

Bart Howard-
Fly me to the Moon

Loesser-
If I were a bell (Guys and Dolls)
I'll know (Guys and Dolls)
I've never been in love before (Guys and Dolls)

Lloyd Webber-
Don't cry for me Argentina (Evita)
I don't know how to love him (Jesus Christ Superstar)
Think of me ( The Phantom of the Opera)
Wishing you were somehow here again (The Phantom of the Opera)
Memory (Cats)

Rodgers and Hammerstein-
Mister Snow (Carousel)
If I loved you (Carousel)
When you walk through a storm (Carousel)
June is Bustin' out (Carousel)
Hello Young Lovers (The King and I)
Shall we dance (The King and I)
Getting to know you (The King and I)
I have dreamed (The King and I)
I cain't say no (Oklahoma)
Out of my Dreams (Oklahoma)
Many a new Day (Oklahoma)
Cockeyed Optimist (South Pacific)
I'm Gonna Wash that Man right out of my hair (South Pacific)
The hills are alive (Sound of Music)
Favourite Things (Sound of Music)
Climb every mountain (Sound of Music)

Schonberg-
I dreamed a dream (Les Miserables)
On my own (Les Miserables)

Sondheim-
Send in the Clowns
You could drive a person crazy
The girls of summer
(And many more Sondheim songs)

Irish songs

Balfe-
I dreamt I dwelt in marble halls

Percy French-
Gortnamona
Phil the Fluter

Hamilton Harty-
My lagan love

Hertbert Hughes-
O men from the fields
Mantle of Blue
The stuttering lovers

Thomas Moore-
Oft in the stilly night
The last rose of summer
Silent oh Moyle

Havelock Nelson-
Lovely Jimmy

Eamonn O Gallchobhair-
A ghra agus a ruin dhil

Traditional Irish songs

Danny boy
She moved through the fair
I will walk with my love
The Salley Gardens
I know where I'm goin
The Garten Mother's lullaby
The leprechaun
The leafy cool-kellure
Roisin Dubh

Duets

Bellini-
Romeo and Giulietta's duet (I Capuleti ed I Montecchi)

Berlin-
You're just in love
Sisters

Delibes-
The Flower duet (Lakme)

Mozart-
Ah perdona al primo affetto..(La Clemenza di Tito)
S'io non moro..(Idomeneo)
Aprite presto aprite.. (Le Nozze di Figaro)
Sull aria.. (Le Nozze di Figaro)
Ah Guarda Sorella (Cosi Fan Tutte)
Prendero (Cosi Fan Tutte)

Offenbach-
Bacarolle (The Tales of Hoffman)

Puccini-
The Flower duet (Madame Butterfly)

Rossini-
The Cat duet

R Strauss-
Sophie/Octavian
Mir ist die ehre..(Der Rosenkavalier)

Wedding Songs

Bach-
Bist du bei mir
Et Exultavit

Bach/Gounod-
Ave Maria

Faure-
Pie Jesu

Franck-
Panis Angelicus

Giordani-
Caro mio Ben

Handel-
Care Selve
Let the bright seraphim

Lloyd Webber-
Pie Jesu

Mawby-
Ave Maria

Mozart-
Laudate Dominum (Vesperae Solennes)
Laudamus Te (C Minor Mass)
Et incarnates est (C Minor Mass)

Schubert-
Ave Maria

Unaccompanied-
Bi Iosa im Chriosa
Ag Chriost an Siol

Wedding Duets

Bach-
Jesu joy of man's desiring

Franck-
Panis Angelicus

Mozart-
Ave Verum
Domine (The C Minor Mass)

Noel Stookey-
There is love

Vivaldi-
Laudamus Te (Gloria)
1 Customer Reviews
Performance quality:

5

stars
Sound quality:

5

stars
Behaviour:

5

stars
Communication:

5

stars
Audience engagement:

5

stars
Value for money:

5

stars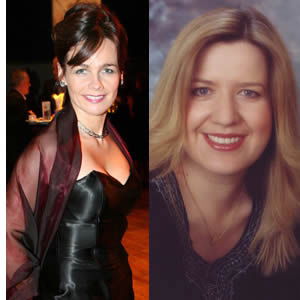 "I just wanted to pass on our deep gratitude for transforming the church ceremony into something really special with your angelic voices. It was quite heavenly and very befitting. So many guests came up to us afterwards and commented on how good you both were and the brilliant atmosphere it created. In all the commotion after the service we managed to miss you and the chance to thank you in person, so I have had to resort to email. I hope Gemma and Tom also took the time to contact you, but they were only home for a few days after their honeymoon before moving to New Zealand! I know they were both very appreciative of your singing and deeply moved. You both have a great gift and I hope you can share it with many more clients in the future. Once again, our most sincere thanks. Regards Dave & Sue Hitchcox "
Prices

Price from £769 + travel from Devon
Based on 2 members performing during a wedding ceremony
Northern Ireland

From £769

Republic of Ireland

From £769

South West

From £867

South East

From £872

East of England

From £887

East Midlands

From £904
Wales

From £905

West Midlands

From £907

Yorkshire and the Humber

From £983

North West

From £1,000

North East

From £1,088

Scotland

From £1,138
Most Alive Network artists travel UK wide and internationally. Get a guide price instantly by clicking the 'get quote' button and entering your event date and location. Make an enquiry and we will liase directly with Prima Divas (OPERA DUO) to confirm price, availability, and the provide you with a confirmed quote.
Booking Options
Customise your booking with the following options...
Requirements
Provided by act...
---
Required by act...
Lineup
Default lineup: 2 members
2 Female Opera Singers- Mezzo Soprano and Soprano
Full Biography
Highlights

• Elegant charming and full of fun these two Divas will steal your hearts and captivate your guests with their beautiful voices
• With a highly varied repertoire they cover from Operatic Arias to Musicals and Jazz to Irish and traditional tunes
• Both trained at the Royal Northern College of Music and have exceptional credentials having sung as soloists at the Royal Albert Hall and with English National Opera.
• Available with backing tracks or piano accompaniment and happy to team up with an accompanist at your wedding service if required
• Requests taken FREE of charge with a minimum of one week's notice
• Available UK wide

Prima Divas is a Classical Singing Duo of professional opera singers trained to the very highest standard. They can provide anything from a full concert to corporate entertainment and can sing at weddings and fund-raising events. Their repertoire varies from classical songs through opera to musical theatre and cabaret.

Louise Walsh (Soprano) and Alison Kettlewell (Mezzo Soprano) trained together at the Royal Northern College of Music. Louise continued her studies at the National Opera Studio and Alison at the Royal College of Music Opera School. Louise then went on to be a major prize winner in the International Belvedere Singing Competition in Vienna and Alison was a winner of the AsLiCo Young European Opera Singers' Competition at La Scala Milan. Louise then worked as a solo artist at the StaatsOper Stuttgart and Alison sang solo roles in many of the northern Italian opera houses. They have worked together for Opera du Rhin and in the Classical Spectaculars as guest soloists at the Royal Albert Hall. Other companies who have engaged them include English National Opera the Royal Opera House Opera Holland Park and English Touring Opera. Between them they have sung at all the major UK concert venues from the RAH to the Bridgewater Hall Manchester the Birmingham Symphony Hall The Queen Elizabeth Hall, St John's Smith Square and the Cadogan Hall.

Highlights for Louise including singing Christine in "Phantom of the Opera" in the west end and for Alison singing Charlotte in "Werther" at Opera Holland Park.

Louise hails from Ireland and Alison is a west –country girl with northern roots. Both have a well developed if dry sense of humour and don't take themselves too seriously. .. However they take their performing very seriously and only the very best will do.

Reviews

Louise:

"A soprano of such crystalline freshness that one cannot help but instantly fall in love with her" (Opera Magazine)

"A lovely voice with a brilliant coloratura" (the Times)

"Magnificently sung" (Opera Magazine)

Alison:

"Superb" (the Observer)

"Simply brilliant" (the Times)

"quite excellent" (Opera Magazine)

"Sung with a "velvety lustre" (Rheinische Zeitung)

Performance Times and Packages

Weddings

• Wedding Ceremony - Includes up to 3 pieces during wedding ceremony using client's organist
• Singing at ceremony and reception - around 40 minutes music using client's organist and then backing tracks

Corporate Events

• Providing up to three 15-20 minutes sets between dinner courses
• Providing full length concert - 1 hour 30 to 2 hours, including pianist
100% of people that booked Prima Divas
would recommend Alive Network to their friends


The UK's #1 Service
Our one-to-one service means you're looked after every step of the way.


Best Value
Get unbeatable value with no hidden costs.


Chat To Your Artist
After booking, speak directly
with Prima Divas.


Safe & Secure
Reliable artists. Secure contracts. 24/7 Emergency Cover.