Corinthia Strings
Having trained at the world's leading music conservatoires, Corinthia Strings have 15 years experience bringing their evocative sound to high-profile events. Performing classical, jazz, pop, Bollywood, TV & Film & more, this experienced quartet have entertained at occasions for the Royal Family, The Grand Prixs in Monaco & more!
Price from £1,090 +VAT + travel based on 4 members performing 2 x 60 minute sets
Set List / Repertoire
Classical
Albeniz Tango Op.165, No.2
Bach Air on the G string
Arioso
Andante (Op.3, No.6)
Brandenburg Concerto No.3
Jesu, Joy of Man's Desiring
Sheep May Safely Graze
Wachet Auf
Prelude from English Suite no. 3
Bist du bei Mir
Cello Suite no.1, Prelude
Barber Adagio For Strings
Beethoven Ode To Joy
Symphony no. 5 (1st movement)
Fur Elise
Bizet Prelude (from Carmen)
Boccherini Minuet (Op.11, No.5
Borodin Prince Igor, First Polovtsian Dance
String Quartet no.2 in D major
Brahms Waltz (Op.39, No.15)
Theme from 1st Symphony
Hungarian Dance no. 2
Haydn Variations
Bridge Sally in our Alley
Caccini Ave Maria
Capua O Sole Mio
Claus Dieter Ludwig Happy Birthday Variations
Clarke Trumpet Voluntary
Charpentier Te Deum
Chopin Nocturne in E flat
Corelli Christmas Concerto (complete)
Debussy Clair de Lune
La Fille Aux Cheveaux De Lin
Delibes Flower Duet from Lakme
Delius Serenade
Denza Funiculi Funicula
Dvorak Humeresque
Slavonic Dance no. 2
Slavonic Dance no. 1
New World Symphony (2nd movement, Largo)
Einaudi Nuvole Bianche
Elgar Chanson de Matin
Chanson de Nuit
Salut d'Amour
Nimrod
Enya Book Of Days
Only Time
Faure Pavane
Pie Jesu (from Requiem)
Franck Panis Angelicus
Ginastera Argentinian Dance No.2
Gluck Dance of the Blessed Spirits
Gounod Ave Maria
Grieg Gavotte from Holberg Suite
Norwegian Dance No.2
Norwegian Dance No.3
Studenternes Serenade (Op.73, No.6)
Waltz (Op.12)
Last Spring
Handel Aria from Xerxes
Arrival of the Queen of Sheba
Water Music: Air and Hornpipe
La Rejouissance - Music for the Royal Fireworks
All We Like Sheep (Messiah)
Hallelujah Chorus (Messiah)
Let The Bright Seraphim (Samson)
lascia ch'io pianga (Rinaldo)
Haydn String Quartet Op.76, No.1
Symphony no. 77, 4th movement
Holst Air
Jupiter Theme (I Vow To Thee My Country)
J. Strauss Blue Danube Waltz
Radetsky March
Pizzicato Polka
Liszt Liebestraum
MacDowell A Deserted Farm
Mascagni Intermezzo Sinfonica from Cavalleria Rusticana
Mendelssohn Wedding March (Midsummer Night's Dream)
Sehnsuchtig, Op.7 No.6
Adagio from Organ Sonata
Mouret Rondeau
Mozart Alleluja from Exultate Jubilate, K165
Andante from Piano Concerto No.21
Ave Verum Corpus
Divertimenti in D, B flat and F (3 movements each Div.)
Eine Kleine Nachtmusik
Larghetto from Clarinet Quintet, K581
Rondo alla Turca
Voi Che Sapete
Non Piu Andrai (Marriage of Figaro)
Offenbach Barcarolle (Tales of Hoffman)
Pachelbel Canon in D
Paradies Sicilienne
Parry Lady Radnor's Suite
Philip Glass Mishima
Piazzola Libertango
Tanguedia III
Puccini O Mio Babbino Caro
Musetta's Waltz
Nessun Dorma
Che Gelida Manina (La Boheme)
Purcell 2 Rondeaux
Trumpet Tune
Rachmaninov Vocalise
18th Variation from Rhapsody on a Theme of Paganini
Ravel Bolero
Menuet from Le Tombeau de Couperin
Saint-Saens The Swan (Carnival of the Animals)
Sartori Time To Say Goodbye (Con Te Partiro)
Satie Gymnopedie no.1
Schubert An die Musik
Ave Maria
Entr'acte from Rosamunde
Schumann Traumeri
Thou Ring On My Finger
Shostakovich Romance from The Gadfly
Sibelius Finlandia
Strauss Pizzicato Polka
Sullivan Three Little Maids from School (The Mikado)
Tartini Cantabile
Tchaikovsky Sleeping Beauty Waltz
Dance of the Sugar Plum Fairy (The Nutcracker)
Pas de Deux (The Nutcracker)
Waltz Of The Flowers (Nutcracker)
Chanson Triste
Trad. Londonderry Air
Greensleeves
Danny Boy
Auld Lang Syne
Vaughan Williams Rhosymedre
Fantasia on a theme by Thomas Tallis
Verdi Andantino from La Forza del Destino
libiamo ne lieti calici from La Traviata
Soldiers' Chorus (Il Trovatore)
Vivaldi Allegro from Spring
Largo from Winter
Autumn
Concerto Alla Rustica
Wagner Bridal Chorus
Ride of the Valkeries
Warlock Pieds-en l'air
Yiruma River Flows In You

Popular Jazz
Armstrong What a Wonderful World
Balakrishnan Skylife
Berstein New York, New York
Brubeck Take Five
C. Collins & F. Leigh Cock Linnet
Cole Porter Let's Do It
Night and Day
You'd Be So Nice To Come Home To
I Concentrate On You
Begin The Beguine
I Get A Kick Out Of You
All Of You
Every Time We Say Goodbye
I've Got You Under My Skin
I Love You
What Is This Thing Called Love?
It's Alright With Me
Denza Funiculi-Funicula
Donaldson Makin' Whoopee
Duke Ellington It Don't Mean A Thing
E. di Capua O Sole Mio
Edith Piaf La Vie En Rose
Errol Garner Misty
Ervin T Rouse Orange Blossom Special
Frederick Loewe On a Street Where You Live (My Fair Lady)
Gardel Tango Por Una Cabeza
Gay Leaning On a Lampost
Gershwin Summertime
Someone To Watch Over Me
S'Wonderful
Love Is Here To Stay
Embraceable You
Fascinatin' Rhythm
They All Laughed
Love Walked In
They Can't Take That Away From Me
A Foggy Day In London Town
Nice Work If You Can Get It
I Got Rhythm
It Ain't Necessarily So
Glenn Miller In The Mood
Harold Arlen Stormy Weather
Isham Jones It Had To Be You
Jobim Besame Mucho
Kern The Folks Who Live On The Hill
Kretzmer/Aznavour She (Notting Hill)
Lemare Moonlight and Roses
Leroy Anderson Blue Tango
Forgotten Dreams
Los Lobos La Bamba
Martin Congratulations
Nat King Cole L.O.V.E.
Nina Simone Feeling Good
Norah Jones Don't Know Why
R. Rodgers My Funny Valentine
Ray Charles Georgia On My Mind
Trad. English Country Garden
Sherwin Nightingale Sang in Berkeley Square
Sinatra The Way You Look Tonight
My Way
Fly Me To The Moon
Scott Joplin Ragtime Dance
Stan Getz The Girl From Ipanema
Suessdorf Moonlight in Vermont
Villoldo El Choclo (Tango)
Waldteufel The Skaters Waltz

Pop
Abba Super Trooper
Hits Medley
Adele Make You Feel My Love
Rolling In The Deep
Someone Like You
Set Fire To The Rain
Hello
AC/DC Back in Black
Thunderstruck
Aerosmith I Don't Want To Miss A Thing
Aha Take On Me
Al Green Let's Stay Together
Alicia Keys / Jay Z Empire State of Mind
Alphaville Forever Young
American Authors Best Day Of My Life
Amy Winehouse Rehab
Ariana Grande The Way
Problem
Aretha Franklin Natural Woman
Say A Little Prayer
Avicii Wake Me Up
Barbara Streisand Evergreen (A Star Is Born)
Bastille Pompeii
Beach Boys God Only Knows
Surfin Safari
Forever
Wouldn't It Be Nice
Beatles Hey Jude
Get Back
Good Day Sunshine
World Without Love
Here Comes The Sun
Strawberry Fields Forever
When I'm Sixty Four
Blackbird
Come Together
All You Need Is Love
And I Love Her
All My Loving
Across The Universe
In My Life
I Will
Michelle
Love Me Do
I Want To Hold Your Hand
Here, There and Everywhere
Eight Days A Week
Eleanor Rigby
With A Little Help From My Friends
BeeGees How Deep Is Your Love
Ben E. King Stand By Me
Beyonce Halo
Crazy In Love
Love On Top
Black Eyed Peas I Gotta Feeling
Billy Joel She's Got A Way / Piano Man
Uptown Girl
Bill Withers Just The Two Of Us
Ain't No Sunshine
Blink 182 All The Small Things
Bloodhound Gang Bad Touch
Bob Dylan Make You Feel My Love
The Shadow Of Your Smile
Bob Marley Is This Love
Bon Iver Skinny Love
Holocene
Bon Jovie Livin' On A Prayer
Bowie Life On Mars
Let's Dance
Heroes
Britney Spears Toxic
Hit Me Baby One More Time
Bruno Mars Marry You
When I Was Your Man
Uptown Funk
Locked Out Of Heaven
Just The Way You Are
Buble Everything
Calvin Harris Summer
Camilla Cabello Havana
Carly Rae Jepson Call Me Maybe
Carpenters Goodbye To Love
Cat Power Sea of Love
Chainsmokers Closer
Don't Let Me Down
Roses
Charli XCX Boom Clap
Christina Aguiliera You Lost Me
Say Something
Christina Perri A Thousand Years
Clean Bandit Rather Be
Rockabye
Colbie Caillat Lucky
Coldplay Clocks
A Sky Full Of Stars
Charlie Brown
Shiver
Every Teardrop Is A Waterfall
Fix You
Reign Of Love
Life in Technicolour
Yellow
Viva la Vida
O Fly On
Adventure Of A Lifetime
Paradise
God Put A Smile Upon Your Face
Counting Crows Accidentally In Love
Colorblind
Craig David Can You Fill Me In
Cyndi Lauper True Colours
Time After Time
Daniel Cesar and H.E.R. Best Part
Daft Punk Get Lucky
Doin It Right
Dave Matthews Band Crash Into Me
Satellite
You And Me
The Best Of What's Around
David Guetta Titanium
Depeche Mode Just Can't Get Enough
Des'ree Kissing You
Dexy's Midnight Runners Come On Eileen
Drake Hold On, We're Going Home
Earth Wind and Fire September
Ed Sheeran Thinking Out Loud
Shape Of You
Photograph
Perfect
Ellie Goulding Burn
Love Me Like You Do
Lights
Still Falling For You
Etta James At Last
Elbow One Day Like This
Elton John Tiny Dancer
Your Song
Yellow Brick Road
Elvis Can't Help Falling In Love
Emili Sande Next To Me
Enrique Inglesias Bailando
Hero
Eric Clapton Wonderful Tonight
Layla
Extreme More Than Words
Eurythmics Sweet Dreams
Eva Cassidy Songbird
Fleetwood Mac Dreams
Landslide
Florence + The Machine Dog Days Are Over
You've Got The Love
Foo Fighters Everlong
Frank Sinatra My Way
Come Fly With Me
Frankie Valli Can't Take My Eyes Off Of You
December 1963
Freddie Mercury I Was Born To Love
FUN Some Nights
George Michael Careless Whisper
Faith
Gnarls Barkley Crazy
Goo Goo Dolls Iris
Come To Me
Gordon Lightfoot If You Could Read My Mind
Gotye Somebody That I used To Know
Grateful Dead Scarlet Begonias
Greenday Good Riddance (Time Of Your Life)
Holiday
Wake Me Up When September Ends
Guns N' Roses Sweet Child Of Mine
Hosier Take Me To Church
Iggy Izalea Fancy
Imagine Dragons Radioactive
Imogen Heap Hide and Seek
INXS Never Tear Us Apart
Israel Kamakawiwo'ole Somewhere Over The Rainbow / Wonderful World
Jackson 5 I'll Be There
James Blunt You're Beautiful
Jason Derulo Marry Me
Jason Mraz I'm Yours
Jeff Buckley Hallelujah
Jessie J / Grande / Minaj Bang Bang
Jimi Hendrix Purple Haze
Jimmy Eat World The Middle
John Legend All Of Me
John Lennon Imagine
Johnny Cash I Walk The Line
Josh Groban You Raise Me Up
Journey Don't Stop Believing
Faithfully
Justin Bieber Baby
Sorry
Love Yourself
Justin Timberlake Mirrors
Can't Stop The Feeling
Kanye West All Of The Lights
Flashing Lights
Katy Perry Dark Horse
Firework
Roar
Unconditionally
KC and JoJo All My Life
Keane Somewhere Only We Know
Killers Mr Brightside
Somebody Told Me
Kings Of Leon Use Somebody
Kygo Firestone
Lady Gaga Applause
Bad Romance
Fugue
Poker Face
Shallow (A Star Is Born)
Lana Del Ray Shade Of Cool
Summertime Sadness
Young And Beautiful
Led Zeppelin Stairway To Heaven
Bron Yr Aur
Leona Lewis Bleeding Love
Leonid Cohen Hallelujah
Los Lobos La Bamba
Lourde Royals
Luis Fonsi ft. Daddy Yankee Despacito
Luis Fonsi / Demi Lovato Echame La Culpa
Lukas Graham Love Someone
Lumineers Ho Hey
Madonna Like A Virgin
Crazy For You
Like A Prayer
Magic Rude
Major Lazer Lean On
Get Free
Mamas and Papas California Dreamin'
Mandy Moore Now I See The Light
Marc Anthony Vivir mi Vida
Mark Ronson Uptown Funk
Mariah Carey Hero
Maroon 5 Payphone
Moves Like Jagger
She Will Be Loved
This Love
Sugar
Marvin Gaye Let's Get It On
You're All I Need To Get By
Maya & Jigulina Stereo Love
Meghan Trainor All About That Bass
Melissa Manchester Come In From The Rain
Metallica Master Of Puppets
Michael Buble Everything
I Believe In You
Michael Franti and Spearhead Life Is Better With You
Michael Jackson Thriller
Smooth Criminal
Billie Jean
Love Never Felt So Good
Beat It
Medley: Off the Wall/ Thriller/ Rock With You/ Man in the Mirror/ I'll Be There
Miley Cyrus Today Was A Fairy Tale
Wrecking Ball
We Can't Stop
Morris Albert Feelings
Mumford & Sons I Will Wait
Awake My Soul
Muse Starlight
Neil Diamond Sweet Caroline
New Order Krafty
Neyo Let Me Love You
Nina Simone Feeling Good
Nine Inch Nails The Fragile
Nirvana Come As You Are
Norah Jones Don't Know Why
Oasis Wonderwall
OMI Cheerleader
One Direction What Makes Your Beautiful
One Republic Counting Stars
Secrets
Stop And Stare
Panic! At The Disco I Write Sins Not Tragedies
High Hopes
Passenger Let Her Go
Percy Sledge When A Man Loves A Woman
Peter Gabriel Book Of Love
In Your Eyes
Pharrel l Williams Happy
Phil Collins A Groovy Kind Of Love
Pink Just Give Me A Reason
Pixies Here Comes Your Man
Plain White Ts Hey There Delilah
Portal Still Alive
Prince Kiss
Queen Bohemian Rhapsody
Somebody To Love
Crazy Little Thing Called Love
Don't Stop Me Now
You're My Best Friend
Love Of My Life
R Kelly I Believe I Can Fly
Rachel Platten Better Place
Radiohead No Surprises
Creep
Karma Police
Ray Charles You Don't Know Me
Ray LaMontagne Hold You In my Arms
You Are The Best Thing
Red Hot Chilli Peppers Dark Necessities
Otherside
Rihanna We Found Love
Stay
Rude Boy
Rick Astley Never Gonna Give You Up
Roberta Flack Killing Me Softly
Robin Thicke Blurred Lines
Robbie Williams She's The One
Rolling Stones Paint It Black
Satisfaction
As Tears Go By
Wild Horses
Ruiz Sway
Sam Smith Stay With Me
Latch
Santana Smooth
Sara Bareilles I Choose You
Sartori Time To Say Goodbye (Con Te Partiro)
Seal Kiss From a Rose
Shania Twain From This Moment On
Shawn Mendes / Camila Cabelo Senorita
Sia Chandalier
Cheap Thrills
Sigur Ros Hoppipolla
Simon & Garfunkel America
The 59th Street Bridge Song (Feelin' Groovy)
Sixpence None The Richer Kiss Me
Smashing Pumpkins Today
Tonight Tonight
Snow Patrol Chasing Cars
Starship Nothing's Gonna Stop Us Now
Stevie Wonder Superstition
My Cherie Amour
Sir Duke
Signed, Sealed, Delivered
Ribbon In The Sky
I Just Called To Say I Love You
Sting Fields Of Gold
Every Little Thing She Does Is Magic
Swedish House Mafia Don't You Worry Child
Take That Greatest Day
Taylor Swift Sweeter Than Fiction
Shake It Off
You Belong With Me
Blank Space
Love Story
Today Was A Fairytale
King Of My Heart
Temper Trap Sweet Disposition
Tina Turner Simply The Best
The Bangles Eternal Flame
The Cranberries Zombie
The Cure Friday I'm In Love
Just Like Heaven
The Darkness I Believe In A Thing Called Love
The Fray How To Save A Life
The Kinks You Really Got Me
The Killers When You Were Young
Mr Brightside
The Police Every Breath You Take
Roxanne
The Postal Service Such Great Heights
The Rembrandts I'll Be There For You
The Smiths There Is A Light That Never Goes Out
The Supremes Baby Love
The Verve Bittersweet Symphony
The Weekend Can't Feel My Face
The White Stripes Seven Nation Army
The Who Baba O'Reily
Tones and I Dance Monkey
Tracey Chapman Fast Car
Train Drops Of Jupiter
Marry Me
Hey Soul Sister
Turtles Happy Together
U2 With Or Without You
All I Want Is You
Beautiful Day
Vance Joy Riptide
Vanessa Carlton A Thousand Miles
Van Morrison Brown Eyed Girl
Have I Told You Lately
Moondance
Tupelo Honey
Victor Young When I Fall In Love
Village People YMCA
Walk The Moon Shut Up and Dance
Weezer Buddy Holly
Island In The Sun
Westlife You Raise Me Up
White Stripes Seven Nation Army
Wiz Khalifa See You Again
Yellow Card Three Flights Up
Zara Larson Lush Life
Zayn / Taylor Swift I Don't Wanna Live Forever
Zedd Clarity

Film, TV, Games and Musicals
Alan Menken Part Of Your World (Disney's The Little Mermaid)
Kiss The Girl (Disney's The Little Mermaid)
A Whole New World (Disney's Aladdin)
Under The Sea (Disney's The Little Mermaid)
Tale As Old As Time (Beauty and the Beast)
Be Our Guest (Beauty and the Beast)
So This Is Love (Cinderella)
Adele Skyfall (James Bond)
Andrew Lloyd Webber The Music Of The Night (Phantom of the Opera)
All I Ask Of You (Phantom)
Memory (Cats)
Arnold / Price BBC Sherlock Holmes Theme
Baerwald Come What May (Moulin Rouge)
Barbara Streisand Evergreen (A Star Is Born)
Bear McCreary Walking Dead Theme
Bernstein I Feel Pretty (Westside Story)
One Hand One Heart (Westside Story)
Somewhere (Westside Story)
Tonight
New York New York (On The Town)
Bill Conti Gonna Fly Now (Rocky)
Bobby Darin Beyond The Sea (Finding Nemo)
Bock Sunrise, Sunset (Fiddler On The Roof)
Bryan Tyler Iron Man 3 Theme
Transformers Prime Theme
Burgon Brideshead Revisited Theme
Celine Dion My Heart Will Go On (Titanic)
The Prayer (Quest For Camelot)
Compay Segundo Chan Chan (Buena Vista Social Club)
Craig Armstrong Glasgow Love Theme (Love Actually)
PM's Love Theme (Love Actually)
Doyle Grant me an Interview (Sense and Sensibility)
Easton For Your Eyes Only (James Bond)
Elton John Can You Feel the Love Tonight (The Lion King)
Circle Of Life (Lion King)
Ellie Goulding Love Me Like You Do (Fifty Shades of Grey)
Foster For Just A Moment (St Elmo's Fire)
Gardel Tango Por Una Cabeza (Scent of a Woman)
Gene Kelly Singin' In The Rain
Giaccino Stuff We Did (Up)
Married Life from Up
Hagood Hardy Anne's Theme from Anne of Green Gables
Hans Zimmer Now We Are Free (Gladiator)
He's A Pirate (Pirates Of The Carribean)
Hisaishi Merry-Go-Round Of Life (Howl's Moving Castle)
Howard Shore Concerning Hobbits (The Lord Of The Rings)
Hupfeld As Time Goes By (from Casablanca)
Hurwitz City Of Stars (La La Land)
Another Day Of Sun (La La Land)
James Horner For The Love Of A Princess (Braveheart)
The Ludlows (Legends Of The Fall)
John Barry Love Theme from Dances With Wolves
John Lunn Downton Abbey Theme
John Paesano Daredevil Theme
John Williams Theme from E.T.
Schindler's List
Imperial March (Star Wars)
Cantina Band (Star Wars)
Jurassic Park Theme
Marion's Theme (Indiana Jones)
Raiders March (Indiana Jones)
Harry Potter Medley
Theme from Jaws
Koji Kondo Legend Of Zelda Theme
Super Mario Theme
Kretzmer One Day More (Les Miserables)
Larson Seasons Of Love (Rent)
Limahl The Never Ending Story Theme
Lin-Manuel Miranda How Far I'll Go (Moana)
Loewe I Could Have Danced All Night (My Fair Lady)
Lopez Let It Go
Love Is An Open Door
Mack David / Hoffman A Dream Is A Wish Your Heart Makes (Cinderella)
Mancini Moon River (Breakfast At Tiffany's)
Pink Panther
Mark Knopfler Once Upon A Time… Storybook Love (The Princess Bride)
Michael Bolton I Can Go The Distance (Disney's Hercules)
Michael Jackson Billie Jean
Miranda How Far I'll Go (Disney's Moana)
Morricone Gabriel's Oboe (The Mission)
Cinema Paradiso
Nigel Hess Theme from Ladies In Lavender
Orzabal Mad World (Donnie Darko)
Pasek A Million Dreams (The Greatest Showman)
Pete Shelley Tour de France Theme ITV
Ramin Djawadi Game Of Thrones (Theme)
Westworld Theme
Ray Parker Ghostbusters Theme
Ryuichi Sakamoto Merry Christmas, Mr Lawrence
Randy Newman Monsters Inc (Theme)
REM Nightswimming
Rodgers and Hammerstein My Favourite Things (The Sound Of Music)
Rota Speak Softly Love (The Godfather)
Love Theme from Romeo and Juliet
Sam Smith Writing's On The Wall (from Spectre)
Schwartz Defying Gravity (from Wicked)
Sherman Mary Poppins Just A Spoonful Of Sugar
Sleeping At Last Turning Page (Twilight)
Sondheim Send In The Clowns (A Little Night Music)
Steve Jablonsky Arrival To Earth (Transformers)
String/Luhrmann El Tango De Roxanne (Moulin Rouge)
Taylor Swift Enchanted (Disney's Enchanted)
Uematsu Final Fantasy Main Theme
Love Theme from Final Fantasy IV
Fragments Of Memories (Final Fantasy)
Ungar Ashokan Farewell (The Civil War)
Voctave Disney Medley
Walter Murphy Family Guy Theme
Westlife Beautiful in White
Yann Tiersen Comptine d'un Autre Ete (from Amelie)
Zayn / Taylor Swift I Don't Wanna Live Forever (Fifty Shades Darker)

Bollywood
Bliss
Foot Print
Horizon
Indian Summer
Inner Voice
Mirage
Reflections
Simply Love
Ajeeb Dastan Hai Yeh
Chraliya
Chura liya hai tumne jo dil ko
Dheere Dheere
Do Dil Mil Rahe Hain
Ek Ladki Ko Dekha To Aisa Laga
Falak Tak
Gerua
Ghar Aaja Soniya
Hamari Adhuri Kahani
Jai Ho
Jee Karda
Kabhi Jo Baadal Barse
Kal Ho Naa Ho
Khaamoshiyan
Kuch Kuch Hota Hai
Main Hoon Hero Tera
Main Hoon Na
Monsoon Wedding Theme
Pehli Nazar Mein
Sachi Sachi Teri Nazre
Tera Meri Pyar Mein
Teri Galiyan
Tujhe Dekha
Tum Hi Ho

Jewish
Dodi Li
Erev Ba (Evening Falls)
Erev shel shoshanim
Hassidic Tunes
Hava Nagila
Hayu Leilot (Once There Were Nights)
Horas
Im Eshkachech
Jerusalem Of God (Y'rushalayim Shel Zahav)
K'var Achare Chatsot
Od Y'shama (Shlomo Carlebach)
Od Yishma II
Mi Adir
Mi Bon Siach
Siman Tov
Sunrise, Sunset from Fiddler On The Roof
Yael Naim (New Soul)

Christian
Barnby O Perfect Love
Bradbury Saviour, Like A Shepherd Lead Us
Charles Gabriel His Eye Is On The Sparrow
Easter O Praise The Name
There Is A Peace
Scandal Of Grace
Edwin Hawkins Singers Oh Happy Day
Elevation Worship O Come To The Altar
Hillsong Oceans
Hillsong What A Beautiful Name
Joncas On Eagle's Wings
Malotte The Lord's Prayer
Robert Lowry Nothing But The Blood Of Jesus
Trad Come Thou Fount Of Every Blessing
Trad It Is Well With My Soul
Trad How Great Though Art
Trad Jesus I Come
Trad Jesus Keep Me Near The Cross
Vangelis Hymne
William Blake Jerusalem

Christmas
A Holly Jolly Christmas
All I Want For Christmas (Mariah Carey)
Angels We Have Heard On High (jazzy)
Away In A Manger (jazz)
Baby It's Cold Outside
Carol Of The Bells / God Rest Ye
Christmas Song (Chestnuts Roasting)
Christmas Waltz
Dance Of The Sugar Plum Fairy
Deck The Halls (Jazz)
Do They Know It's Christmas (Band Aid)
Do You Hear What I Hear?
Do You Want To Build A Snowman? (From Frozen)
Fairytale Of New York (The Pogues)
Feliz Navidad
Frosty The Snowman (jazz)
God Rest Ye Merry Gentlemen (chilled version)
Good King Wenceslas (Piano Guys)
Good King Wenceslas (trad + variations)
Grown Up Christmas List
Have Yourself A Merry Little Christmas
I Saw Mommy Kissing Santa Claus
I'll Be Home For Christmas
In The Bleak Midwinter (trad + jazz)
It Came Upon A Midnight Clear (jazz)
It's Beginning To Look Like Christmas
Jingle Bell Rock
Joy To The World (trad.)
Last Christmas (Wham)
Let It Snow
My Favourite Things
Nutcracker Suite
O Come All Ye Faithful (trad + variations)
O Come O Come Emmanuel (Piano Guys)
O Tannenbaum (jazz)
Rockin' Around The Christmas Trio
Rudolph The Red Nosed Reindeer (Jazzy)
Santa Baby (jazz)
Santa Claus is Comin' To Town
Silent Night (Piano Guys)
Sleigh Ride
Somewhere In My Memory (Home Alone)
Still Still Still (Piano Guys)
Sussex Carol
The First Noel / Holly And The Ivy
The Little Drummer Boy
Walking In The Air (The Snowman)
We Three Kings (jazz)
We Wish You A Merry Christmas (jazzyish)
White Christmas
Winter Wonderland (Pops version)
Winter Wonderland
Wonderful Christmastime (Paul McCartney)
3 Customer Reviews
Performance quality:

5

stars
Sound quality:

5

stars
Behaviour:

5

stars
Communication:

5

stars
Audience engagement:

5

stars
Value for money:

5

stars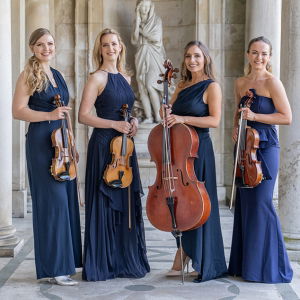 5 stars - Corinthia Strings are Highly Recommended
Igor booked Corinthia Strings for their event
"Fab music, fab dresses! Loved them"
---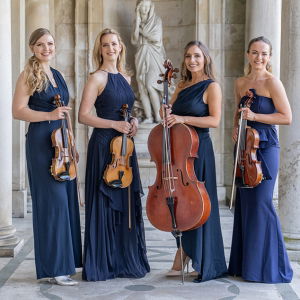 5 stars - Corinthia Strings are Highly Recommended
Jemma booked Corinthia Strings for their Wedding
"Corinthia Strings were fantastic, they played for my wedding and made a special effort to wear blue, which was our colour choice on the day"
---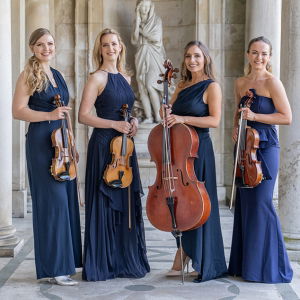 5 stars - Corinthia Strings are Highly Recommended
Ingrid booked Corinthia Strings for their event
"We booked Corinthia Strings Duo to play for a garden party celebrating my Mother's 90th birthday, and the girls were a joy to work with, and even arranged my mother's favourite song specially."
Prices

Price from £1,090 + VAT + travel from London
Based on 4 members performing 2 x 60 minute sets
South East

From £1,089 + VAT

East of England

From £1,134 + VAT

East Midlands

From £1,222 + VAT

South West

From £1,249 + VAT

West Midlands

From £1,254 + VAT

Wales

From £1,340 + VAT
Yorkshire and the Humber

From £1,416 + VAT

Republic of Ireland

From £1,696 + VAT

North West

From £1,699 + VAT

North East

From £1,879 + VAT

Scotland

From £1,995 + VAT

Northern Ireland

From £2,034 + VAT
Most Alive Network artists travel UK wide and internationally. Get a guide price instantly by clicking the 'get quote' button and entering your event date and location. Make an enquiry and we will liase directly with Corinthia Strings to confirm price, availability, and the provide you with a confirmed quote.
Booking Options
Customise your booking with the following options...
Requirements
Provided by act...
---
Required by act...
Lineup
Default lineup: 4 members
String Quartet: 2 x Violin, 1 x Viola, 1 x Cello.
Full Biography
The distinguished members of Corinthia Strings all trained at the world's leading music conservatoires and have established 15 years experience in bringing their evocative sounds to high-profile events. These include occasions for the Royal family, sporting events such as The Champions League Final, Royal Ascot and The Grand Prixs in Monaco and Abu Dhabi, and at renowned venues such as The Royal Albert Hall, Amphitheatre Verona and Beijing's 'Bird's Nest' Stadium.

Priding themselves on their unique musical diversity, members of Corinthia Strings perform regularly as part of illustrious ensembles ranging from the BBC Symphony Orchestra and The London Philharmonic Orchestra, to The Heritage Orchestra with Pete Tong and the Gubbay Big Band Orchestra with Anton du Beke. They can regularly be seen playing on live TV, including for The X Factor, The Jonathan Ross Show, The One Show and BBC's Last Night Of The Proms. They have also recorded numerous soundtracks such as Downton Abbey and Planet Earth, and on pop albums for artists Sam Smith, Emelie Sande, Beverley Knight and Rag'n'Bone Man, to name but a few.

Their repertoire spans this broad spectrum of music from classical, through to jazz, folk, musicals, contemporary pop and even hip-hop.
Each member of Corinthia Strings has over a decade of experience providing music for functions of all kinds, from weddings, to corporate events, to funerals. This puts the quartet in the best possible position to provide advice to clients in terms of music choices and timings.

The quartet pride themselves on providing the highest level of musicianship available. All players are prize winners and highly respected professionals, performing regularly at international festivals, at the Proms and with all of the top London orchestras.
100% of people that booked Corinthia Strings
would recommend Alive Network to their friends


The UK's #1 Service
Our one-to-one service means you're looked after every step of the way.


Best Value
Get unbeatable value with no hidden costs.


Chat To Your Artist
After booking, speak directly
with Corinthia Strings.


Safe & Secure
Reliable artists. Secure contracts. 24/7 Emergency Cover.