Canterbury Strings
Canterbury Strings are a professional & in demand string ensemble who's large repertoire ranges from Classical to Jazz, Film/TV, Theatre/West End & Rock & Pop. Whether performing beautiful background music to suit a wedding or drinks reception, or wowing crowds with a lively street performance, Canterbury Strings have the talent & expert knowledge to make any occasion a hit!
Price from £860 + travel based on 4 members performing 2 x 45 minute sets
Set List / Repertoire
Wedding
Air On A G String - Bach
Arrival of the Queen of Sheba - Handel
Ave Maria – Schubert
Ave Verum Corpus - Mozart
Bridal Chorus from Lohengrin - Wagner
Canon in D - Pachelbel
Hornpipe from Water Music - Handel
Jesu Joy of Man's Desiring - Bach
Largo from Xerses - Handel
Prince of Denmarks March - Clarke
Salut d'Amour - Elgar
Trumpet Tune
Trumpet Voluntary
Wedding March from A Midsummers Night Dream - Mendelssohn
Wedding Day at Troldhaugen - Grieg

Classical
Adagio - Barber
Adagio Cantabile - Beethoven
Adagio for Strings & Organ – Albinoni
Andantino from La Forza del destino – Verdi
Badinerie from Suite No. 2 - Bach
Barcarolle - Offenbach
Beau Brummel - Elgar
Blue Danube Waltz - J Strauss I
Bolero - Ravel
Brandenburg Concerto No. 3 - Bach
Cantata 140 Wachet auf, ruft uns die Stimme – Bach
Canzona - Hasse
Canzonetta - Mendelssohn
Chacony - Purcell
Chanson de Matin - Elgar
Chanson de Nuit - Elgar
Christmas Medley
Clair De Lune – Debussy
Cock Linnet – Collins & Leigh
Concerto Grosso No. 8 Christmas Concerto - Corelli
Concerto Grosso in D min Op.3, No.11 – Vivaldi
Crisantemi - Puccini
Dark Eyes - Hermann
Dances des Cygnes from Swan Lake - Tchaikovsky
Danse Macabre - Saint-Saens
Divertimenti - Mozart
Dolly Suite - Fauré
Double Concerto – Bach
Eine Kleine Nachtmusik - Mozart
Entr'act from Act 3 Carmen - Bizet
Flower Duet from Lakme – Delibes
Four Seasons - Vivaldi
Gelida Che Manina from La Boheme - Puccini
Girl With The Flaxen Hair - Debussy
Greensleeves - Trad
Golliwog's Cake Walk - Debussy
Hoe-Down from Rodeo – Copland
Holberg Suite - Grieg
Humoresque - Dvorak
Hungarian Dance No. 1 – Brahms
Hungarian Dance No. 5 - Brahms
Idylle - Elgar
Intermezzo from Cavalleria Rusticana – Mascagni
Irish Sherry – Trad
Jerusalem
Largo from New World Symphony - Dvorak
La Rejouissance from Music for the Royal Fireworks - Handel
Liberty Bell - Sousa
Lieberslied
Londonderry Air - Trad
Mazurka from Coppella - Delibes
Meditation from Thais – Massenet
Minuet - Boccherini
Minuet from L'arelesienne - Bizet
Molly on the Shore - Grainger
Morning Mood from Peer Gynt Suite - Grieg
Musetta's Waltz - Puccini
Nessun Dorma - Puccini
Nimrod from Enigma Variations - Elgar
Nocturne – Borodin
Nutcracker Suite - Tchaikovsky
O Sole Mio - Capua
Overture to The Barber of Seville - Rossini
Overture to Don Giovanni - Mozart
Overture to The Italian Girl in Algiers - Rossini
Overture to The Magic Flute - Mozart
Overture to The Marriage of Figaro - Mozart
Overture to The Merry Widow – Lehar
Overture to William Tell - Rossini
Palladio - Karl Jenkins
Panis Angelicus - Franck
Pavane - Fauré
Pavane pour une infant défunte – Ravel
Pizzicato Polka - J Strauss
Prelude from The Holberg Suite - Grieg
Prelude to La Traviata - Verdi
Prince Igor from the Polovstian Dances – Borodin
Radetsky March - Strauss
Rhapsody on a Theme of Paganini – Rachmaninov
Romance from The Gadfly - Shostakovich
Romanian Folk Dances - Bartok
Roses from The South - J Strauss II
Salut D'Amour - Elgar
Sheep May Safely Graze - Bach
Sicilienne - Fauré
Slavonic Dances - Dvorak
Soldier's Chorus from Carmen - Bizet
St Paul's Suite. Mov 1 – Holst
Symphony No.25. Mov 1 - Mozart
Tales from Vienna Woods - J Strauss II
The Bat from Die Fledermaus – J. Strauss
Torreador's Song from Carmen - Bizet
Traumerei - Schumann
Two Chorale Preludes Liebster Jesu, wir sind hier – Bach
Two Chorale Preludes Wachet Auf - Bach
Two Rondeaux from Abdelzar & the Fairy Queen - Purcell
Vilia from The Merry Widow – Lehar
Vocalise - Rachmaninoff
Waltz from Eugene Onegin - Tchaikovsky
Waltz from Serenade for Strings - Tchaikovsky
Waltz from Symphony No. 5 - Tchaikovsky
Waltz from Masquerade – Khatchaturian
Where'er You Walk from Semele - Handel

Pop & Rock
A Thousand Years – Cristina Perri
All of Me – John Legend
All You Need Is Love -The Beatles
At Last – Etta James
Baker Street – Gerry Rafferty
Better Together – Jack Johnson
Bittersweet Symphony – Jagger/Richards
Bohemiam Rhapsody - Queen
Bonded - Bond
Candyman – Bricusse/Newley
Can't Take My Eyes Off You – Gaudio
Chandelier – Sia Furler
Cherie D'Amour – Stevie Wonder
Chasing Rainbows – Shed Seven
Common People - Pulp
Copacobana – Barry Manilow
Crazy In Love – Beyonce
Death By Triple Fiddle – Meyer/Bush/Marshall/Bell
Don't Stop Me Know – Queen
Enjoy The Silence – Depeche Mode
Fields of Gold – Sting
Gold – Spandau Ballet
Goodbye to Love – Carpenters
Good Riddance (Time Of Your Life) – Green Day
Good Vibrations – Beach Boys
Happy – Pharrell Williams
Have I Told You Lately – Van Morrison
Here Comes the Sun – The Beatles
I Believe In A Thing Called Love – The Darkness
I Feel Love – Donna Summer
If - Bread
Isn't She Lovely – Stevie Wonder
It's Not Unusual – Tom Jones
It Must Be Love - Madness
I Won't Give Up - Jason Mrarz
Kissing You - Des'ree/Attack
Layla - Eric Clapton
Life On Mars – David Bowie
Love Story – Taylor Swift
Lovers In Japan - Coldplay
Make You Feel My Love - Bob Dylan/Adele
Marry You - Bruno Mars
Mr Blue Sky – ELO
Mr Brightside – The Killers
Music To Watch Girls By - Velona/Ramin/Dean Martin
My Girl - The Temptations
Nightswimming – REM
Nothing Else Matters - Metallica
Oh, Pretty Woman - Roy Orbison
One Day Like This - Elbow
Only Girl (In the World) - Rhianna
Paint It Black - Jagger/Richards
Penny Lane - Beatles
Raging Fire – Phillip Phillips
Rather Be – Clean Bandit
Rio - Duran Duran
Rule the World - Take That
Sex On Fire - Kings of Leon
She - Costello
She's The One - Robbie Williams
Shake It Off – Taylor Swift
Signed, Sealed, Delivered - Stevie Wonder
Someone Like You - Adele
Stand By Me - Ben E King
Street Spirit - Radiohead
Sway/Cherry Pink – Beltran
Sweet Disposition – The Temper Trap
Take On Me - Aha
The Universal - Damon Albarn
Thinking Out Loud – Ed Sheeran
Thunderstruck – AC/DC
Town Called Malice – Weller
Toxic – Brittany Spears
Uptown Funk – Mars/Ronson
Viva La Vida – Coldplay
Wake Me Up - Avicii
We Found Love - Rihanna
We Have All The Time In The World - John Barry
When A Man Loves A Woman - Percy Sledge
With Or Without You - U2
Wonderful Tonight - Eric Clapton
Wonderwall - Oasis
Yellow - Coldplay
Yesterday - Beatles
You Got The Love - Florence & the Machine
You Make It Real - James Morrison
You Really Got Me – The Kinks
You're Beautiful - James Blunt
You're The First, The Last, My Everything - Barry White
1999 - Prince

Jazz
A Foggy Day – Gershwin
A Nightingale Sang In Berkley Square
Anything Goes - Porter
As Time Goes By - Hupfield
Autumn Leaves - Kosma
Banjo & Fiddler - Kroll
Bill - Kern
Cheek to Cheek
Every Time We Say Goodbye - Porter
Fly Me To The Moon - Bart Howard
Getting Sentimental Over You
Glen Miller Medley
Hello Dolly
I Don't Wanna Miss A Thing - Warren
If You Knew Susie - BG Da Silva
I'll Build a Stairway to Paradise - Gershwin
It Had To Be You
It Don't Mean a Thing - Ellington
I Won't Dance - Kern
Let's Do It - Porter
Let Me Try Again
Louise
Love Is Here To Stay - Gershwin
Love Moves in Mysterious Ways
Love Story
Making Whoopee - Donaldson
Misty
Moonlight & Roses - Lemare
Moonlight in Vermont - Suessdorf
Moonlight Serenade – Miller
My Funny Valentine - Rodgers
Nice Work If You Can Get It - Gershwin
Night and Day – Porter
Pasadena
Roseleaf Rag - Scott Joplin
Smoke Gets In Your Eyes
Somebody Loves Me - Gershwin
Spread a little Happiness - Ellis
Summertime - Gershwin
Stardust
The Entertainer - Scott Joplin
The Folks Who Live On The Hill - Kern
They Can't Take That Away from Me - Gershwin
The Man I Love - Gershwin
When I Fall In Love

Latin
Andaluza - Granados
Bachianas Brazileiras No. 5 - Villa-Lobos
Blue Tango - Anderson
Brazilian Fiddler - Del Abreu
Dance Like Crooked Antoine - Goncalves
Danzas Argentinas No. 2 - Ginastera
El Choclo Tango - Villoldo
El Esquinazo Tango - Villoldo
El Fandango del Candil - Granados
El Relicario - José Padilla
Girl From Ipanema - Antonio Carlos Jobim
Habañera from Carmen - Bizet
Jalousie Tango - Gade
La Bamba - (Traditional)
La Cumparsita Tango - Rodriguez
Lamento Quichua - Gianneo
Noites Cariocas - Bandolim
Por Una Cabeza Tango - Gardel
Retintin Tango - Arolas
Spanish Dance - Anon
Tango alla tedesca - Naughtin
Tango in D - Albeniz
Tanguedia III - Piazzola
Tico-Tico Choro Sapeca - Abreu

Theatre/West End
America - West Side Story
Anthem - Chess
Caberet Theme
Close Every Door - Joseph and the Amazing Technicolour Dreamcoat
Get Me To The Church On Time - My Fair Lady
I Don't Know How To Love Him - Jesus Christ Superstar
I Dreamed a Dream - Les Miserables
I Feel Pretty - West Side Story
Love Changes Everything - Aspects of Love
On The Street Where You Live - Oliver
One Day More - Les Miserables?One Hand, One Heart - West Side Story
Seasons Of Love - Rent
Sunrise Sunset - Fiddler on the roof
Tonight – Bernstein
To Life - Fiddler on the roof
With One Look - Sunset Boulevard

Film & TV
A Dream Is A Wish Your Heart Makes - Cinderella
A Postcard To Henry Purcell - Pride and Prejudice?About Time Theme
All Time High (Octopussy) - John Barry?Alice's Theme - Alice in Wonderland
Arrival Of The Birds - The Crimson Wing?As The World Falls Down - Labyrinth
Ascot Gavotte My Fair Lady?Ashokan Farewell - Jay Ungar
Back To The Future Theme?Batman (The Animated Series)?Balcony Scene - Romeo & Juliet?Bare Necessities - Jungle Book
Butterfly Waltz - Twilight Saga?Can't Slow Down - Pride and Prejudice?Cavatina (He Was Beautiful) - The Deerhunter
Chi Mai - The Life & Times of David Lloyd George
Concerning Hobbits - The Lord of The Rings
Dads Army Theme
Diamonds Are Forever - Bassey
Disney Love Medley
Edward Scissorhands
Everybody Needs A Best Friend - Ted
Eye Of The Tiger - Rocky III
Fawlty Towers Theme
Feather Theme - Forrest Gump?Film Themes Medley?Final Song (Boccherini) - Master & Commander?For The Love Of A Princess - Braveheart
For Your Eyes Only – Bond
Gabriels Oboe (The Mission) -Morricone
Game Of Thrones Theme?The Great Escape
Glasgow Love Theme - Love Actually
Hedwig's Theme - Harry Potter
He's a Pirate (Pirates of the Caribbean) – Badelt
Hollow Talk - The Bridge?Honor - The Pacific?How Long Will I Love You - About Time
If I had a farm - Out of Africa
I'll Be There For You - Friends Theme
I Wanna Be Like You – Jungle Book
Imperial March - Star Wars?Iris - City of Angels
Ice Dance - Edward Scissorhands
James Bond Medley
Jeeves and Wooster Theme
Jolly Holiday - Mary Poppins
Jurassic Park
Kisses & Cake - PS I Love You
Lara's Theme - Dr Zhivago
Laurens Walking - The Straight Story
Live And Let Die
Love Theme - Romeo and Juliet
Ludlow's Theme - Legends of the Fall
Maestro - The Holiday
Married Life - Up
Match of the Day Theme
Moon River (Breakfast at Tiffany's) - Mancini/Mercer
Nobody Does It Better (Octopussy) - Hamlisch
Now We Are Free - Gladiator
Over the Rainbow - Wizard of Oz
PM's Love Theme - Love Actually
Portuguese Love Theme - Love Actually
Raiders Of The Lost Ark
Red Dwarf Theme
Scene D'Amour - Vertigo
Schindler's List
Seven - Whicker's World
Skyfall
Storybook Love - The Princess Diaries
Star Wars Medley
Such Good Luck - Downton Abbey
Summer Holiday - Cliff Richard
Superman (John Williams)
The Beatitudes - The Great Beauty?The Black Pearl - Pirates of the Caribbean
The Chain - Grand Prix Theme?The Ecstasy Of Gold - The Good, The Bad, The Ugly
The Grand Finale - Edward Scissorhands
The Impossible Girl - Doctor Who
The Kiss - Last of the Mohicans
The Last Dance - Emma?Muppet Show Theme?The Rhythm Of The Horse - The Horse Whisperer
The Magnificent Seven Theme
Thunderbirds Theme
This Is Halloween - The Nightmare Before Christmas?Turning Page - Twilight
University Challenge Theme
Victoria and Albert
We Go Together - Grease?We Have All The Time In The World - On Her Majesty's Secret Service?When You Wish Upon A Star - Pinnochio
Wind In The Willows Theme
Yakety Sax - Benny Hill
You're So Cool - True Romance
You've Got A Friend In Me - Toy Story
Zorba's Dance - Zorba The Greek
1 Customer Reviews
| | |
| --- | --- |
| Performance quality: | |
| Sound quality: | |
| Behaviour: | |
| Communication: | |
| Audience engagement: | |
| Value for money: | |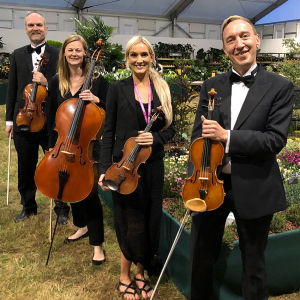 5 stars - Canterbury Strings are Highly Recommended
Ronald E booked Canterbury Strings for their Wedding in Kent • August 2022
"Truly professional performers. They got the spirit of the occasion perfectly and played a fabulous range of music; all of it excellent. They also accompanied me with a rewritten song. I am certainly not a skilled singer but they managed to make me sound quite accomplished! Thank you."
Prices

Price from £860 + travel from Kent
Based on 4 members performing 2 x 45 minute sets
South East

From £861

East of England

From £907

East Midlands

From £958

West Midlands

From £981

South West

From £986

Wales

From £1,290
Republic of Ireland

From £1,291

Yorkshire and the Humber

From £1,300

North West

From £1,325

North East

From £1,397

Scotland

From £1,468

Northern Ireland

From £1,500
Most Alive Network artists travel UK wide and internationally. Get a guide price instantly by clicking the 'get quote' button and entering your event date and location. Make an enquiry and we will liase directly with Canterbury Strings to confirm price, availability, and the provide you with a confirmed quote.
Booking Options
Customise your booking with the following options...
Lineup
Default lineup: 4 members
Standard String Quartet: 2 x Violins, Viola, Cello

Smaller line ups available in booking options:

Optional String Trio: Violin, Viola, Cello
Optional String Duo: Violin, Cello
Full Biography
Canterbury Strings provide superb entertainment for weddings, events, parties and functions. They perform regularly as string quartets, trios and duos in London and throughout the South of England.
This professional and in demand ensemble have a huge range of repertoire from Classical to Jazz, Film/TV, Theatre/West End and Rock & Pop.
As well as providing beautiful background entertainment ideal for weddings and drinks receptions, Canterbury Strings can also provide a lively street performance show, Classical Gala concerts, Palm Court gigs and even a Pub Quiz! Whatever your occasion, Canterbury Strings will wow your guests.

Please note: Canterbury Strings use a pool of highly trained, professional musicians.
100% of people that booked Canterbury Strings
would recommend Alive Network to their friends


The UK's #1 Service
Our one-to-one service means you're looked after every step of the way.


Best Value
Get unbeatable value with no hidden costs.


Chat To Your Artist
After booking, speak directly
with Canterbury Strings.


Safe & Secure
Reliable artists. Secure contracts. 24/7 Emergency Cover.