Scarlett & Adam's Wedding Playlist
The Entertainment
"My friend recommended Alive Network – she got married last year and she found her entertainment through Alive."
"Bob McKenzie had great reviews and seemed to be what we were looking for in a DJ. I wanted someone with experience who could get a feel for the type of atmosphere we wanted through our song choices. Also as it was a smallish wedding I wanted a DJ who had done small and large weddings so knew how to fill the dance floor."
"Bob was fantastic, he had asked for a list of music we wanted to be played and from that he created such a great atmosphere with music that I knew everyone enjoyed. I had many people compliment us on the music. Bob was well prepared and made the day perfect."
"Our Entertainment Coordinator, Clara was responsive and I felt looked after, and that I could rely on her if I did need any help."
The Music
"Music is very important to me and Adam so I spent a lot of time choosing the perfect songs for our day."
"Our first dance was wonderful. The lady who did our food said it was the first dance she had ever watched all the way through... and she cried!"
"We had Can't Stop Loving You by Van Halen play straight after our first dance, inviting everyone to join us, which was lovely. There were a lot of air guitars through the night!"
DJ Bob McKenzie'

s Top Tips for a Roof-Raising Wedding...
Listing about 20 of your favourite tracks will help your DJ create your full set based on genre and tempo, which you can approve before the big day. Make sure you tell us any special family anthems, so we can play them on the night.
If you're booking a medieval venue, check if they have any restrictions that could affect your party, like sound limitations, issues with power supply, parking, and access restrictions. If they know in advance, a good DJ will usually be able to provide solutions to keep your party alive.

Check your DJ's references from previous parties. Most couples will be more than happy to talk about their reception and give you a feeling about how the DJ performed.

Many songs have many versions - make sure your DJ knows exactly which versions you want, by which artist. Do you want the clean radio edit, or the Live concert version?
The Photography
"Elaine Boles was recommended to me, and when we met her we knew she was going to be great – she has a really friendly and slightly quirky approach which we like. I really like candid, natural shots and she did an amazing job at capturing moments that were not typical."
The Venue
"We went to Southsea Castle for our first anniversary of being together. We were walking around and found the ceremony room and it was the first time we spoke about marriage, and how amazing it would be to get married here. When we got engaged we found it difficult to find something that was in the budget but felt special to us, then I remembered the castle and took my parents to go look. As soon as they crossed over the bridge and into the courtyard, they agreed we had to get married here!"
"We wanted somewhere different and memorable. We wanted the convenience of having the whole wedding day at the castle. The size of the ceremony room and marquee was perfect for our party size."
"The venue is amazing, we are also part of the history of Southsea Castle now so you can look us up in centuries to come!"
The Decor
"We kept the ceremony room as it was... we didn't want to take away from the castle charm. For the reception, we didn't have a specific look in mind, but my mum helped to develop the decor. She used spring colours with lots of fun elements, like inflatable seagulls and a decorated giraffe and unicorn as our table centre pieces, which everyone loved.
We had artificial flowers which are amazing, and means I can keep them forever! My bouquet was daisies and gypsophila, and my bridesmaids had daffodils. I had a halo headpiece of real dried gypsophila."

The Outfits
"We wanted retro hippy rock'n'roll vibes... Our look was completely us and a bit different from tradition, which made us feel great on the day."
"I had a clear idea of what I wanted for my wedding dress. I went to some wedding dress shops and tried on different styles, then realised it would be a bit tricky to find the hippy look I wanted. My mum found Hope & Harlequin in Brighton; they specialise in vintage clothes and bespoke dresses, so I was able to choose my dress and have it custom to me which was amazing."
"Adam is not afraid to be different in fashion and we fell in love with a wine coloured velvet blazer. He also wanted flares which are not the easiest to find, so we went online. His boots are from a western cowboy shop that's quite local to us."
The Ceremony
"I felt pretty chilled until we had to leave for the wedding. My friends had arranged a vintage car to take us to the castle. Walking down the aisle I couldn't stop smiling and all the nerves went when I saw Adam waiting for me. We had a short and sweet ceremony with some laughs, which helped everyone feel relaxed. Walking out with Adam, I felt perfect."

Find more Boho Ceremony ideas here...
The Food
"We had a buffet, and there was no table plan! For us, it was lovely as it meant people could sit with who they liked and move around during the day."
"Me and Adam had to have a zombie cake. We play a lot of zombie games and have always enjoyed zombie things together. My mum decorated the whole cake and made our cake topper, which was me and Adam fighting off the hordes with a chainsaw and gun. I'm incredibly lucky to have such a talented mum who created our perfect cake. Our zombie cake was a big talking point, everyone loved it."
Favourite Moment
"So many! Having our first dance all to ourselves, our amazing zombie cake, seeing lots of air guitars and head banging through out the night."
What We Learned
Time flies… "I wish I'd known how fast the day goes... everyone tells you to take it in but you are having so much fun that the time flies by. It was a perfect day."
Love for Alive
"Our Entertainment Coordinator, Clara was responsive and I felt looked after, and that I could rely on her if I did need any help."
Loving this? Like these...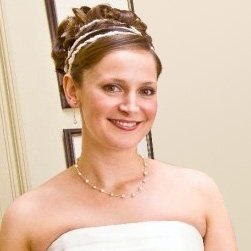 Lily Atkins
Wedding Editorial Team
The Magic Makers
Music, atmosphere and vibes of love and fun Alive Network, UK-wide | Wedding DJ Bob McKenzie, Alive Network | Photographer Elaine Boles Photography, Surrey and UK-wide | Venue Southsea Castle, Hampshire | Wedding planner Marie Ryan, Portsmouth Museum Officer | Wedding dress 'Celia' by Hope & Harlequin, Brighton | Bridal shoes 'Abigails Party' by Irregular Choice | Adult bridesmaids' dresses Scarlett & Jo, London | Bridal halo 'Karena - Hair (3)' & Flowers by Silk Blooms, UK-wide | Wedding rings H Samuel, UK-wide | Groom's velvet jacket Moss Bros., UK-wide | Groom's boots Wild Wild Western Wear, Farnborough & UK-wide | Hair & Beauty Georgina Chambers, Portsmouth | Stationery made by bridesmaid Polly Cantle | Favours boxes from Amazon & chocolates from Costco, UK-wide | Lights & Decor from Amazon & HobbyCraft, UK-wide | Wedding cake M&S (cake), UK-wide; cake decoration by the mother of the bride | Catering The Courtyard Midnight Masquerade Catering, Portsmouth | Transport Craneswater Wedding Cars, Southsea | Accommodation the night before All On Your Doorstep, Portsmouth
Join the Insta party! Tag us into your build-up and big-day moments