This week @ Alive we welcomed The Rips
rock and pop function band
into
Alive HQ Recording Studios
to record a few new tracks. We'll post them up here once they've been mixed.

The Rips have been working with Alive Network since late last year and they're already one of our most popular rock and pop function bands!! They're great guys, awesome musicians, and definitely one to consider if you want to get your party rockin!!
The Rips are without a shadow of a doubt the most talented 'cover' group I have heard in years! Their performance was extremely professional and their variation of covers spanning decades of music from The Monkees to Lady Gaga sounded better than the original artists! A totally fantastic and extremely awesome group - I can't wait to hear them perform again!
- Lord Brett McLean
In the offices, we've been painting the new agents rooms and preparing ourselves for the move next door... Some (edit- Rich's) of our desks have never been so tidy!!! The new live space in our recording studio will be put to good use over the next couple of months with the studio being fully booked until September!!
During this week, our MD Dave put out a big thank you to all of our artists for being so great...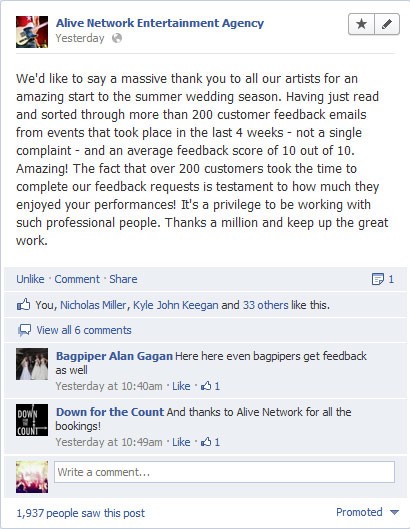 We've also been mega busy this week editing photos from the free artist photo shoots that we ran last week. We'll post links to artists profiles with the new photos in another 'This Week @ Alive'.
In other news, Kyle (Alive's Event Reporter) attended a gig with
The MBB Band
. Click the picture below to see all the photos: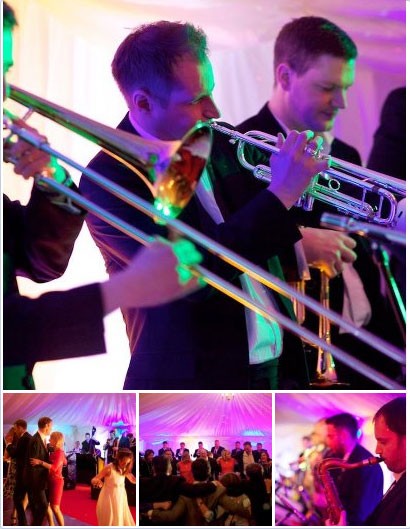 Thanks so much to wedding clients Lucy and Steve for letting Kyle tag along with the band : )
And finally, Rich (Artist Development) and Dave (MD) went on a field trip last night to see the awesome blues guitarist,
Matt Schofield
, at
Band On The Wall
in Manchester as part of the
Manchester Blues Fest
. Awesome guitarist. Awesome venue... A great part of the job!!
Until next week : )