Finding
bands for hire
in the UK has never been easier. All you need is access to the web via a PC, tablet or phone, a pair of headphones and an hour or so of your time!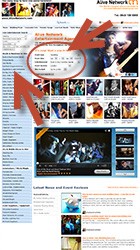 At
Alive Network
, we've done all that hard work for you. Simply go to our Home page, and you'll see listed on the left hand column all the different types of acts you can book. It's no accident that "
Rock & Pop Function Bands
" is top of the list - more people book our superb
cover bands
than any other type of party or
wedding entertainment
. Click on the link and you'll see every
rock and pop band
we have on our books.
Right in the centre of our home page you'll see our live entertainment search. (*
Lads, it's just to the left of the girl in the silver dress with the guitar. Yes, we know where you were looking…
) This makes searching for
bands to hire
so simple, as it filters your results according to band availability on your chosen date, area and budget - sweet!
Whether you click the buttons on the left or use the search, you'll be presented with a list of bands to preview. You can order them by popularity, cost, name or location.
Every band listing has a row of symbols underneath so you can see at a glance what the band offer on the Profile page - how many people are in the band, whether they offer a DJ option, and if they have a video you can watch. Just click on the name of each band to go to their Profile page.

Now the fun bit starts!
Click on a video to see and hear the band in action, then stick on the headphones and listen to their tracks. (*
Yes, they really are that good!
) While you're listening, check out their set list, a catalogue of all the songs the band knows and performs live. If you can hum most of them, then chances are your guests can too, and you've found the right band for you!
Read the feedback the band has got from past clients. You'll soon get a feel for what people like most about them, such as their energy, ability to get people up and dancing, etc.
If you like the look of a band, add them to a Wish List. You'll need to create an account with Alive Network for this, but don't worry, there's no obligation and it saves soooo much time over trying to remember which band you liked after viewing 20+ profiles.
Once you've got a Wish List, we suggest you take a break. By now your head is swimming with images and sounds, and you probably can't remember the difference between
Hipster
and
Happy Hour
(two of our most popular
bands for hire
, BTW.)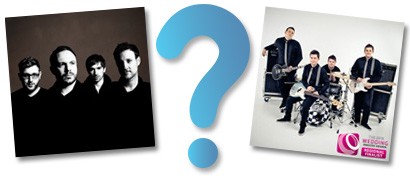 There's no rush, as you can access our website and availability check anytime, 24/7/365. You can also go and find other entertainment you might like for your event such as close-up
magicians
or
fire-eaters
, and add them to your Wish List too!
Once you have a firm date in mind, go back to your Wish List and check availability. You may find our most popular bands are already fully booked for weekends in summer 2014, for example, but not all will be.
Or, click the Detailed Quote button to check availability and see an accurate price based on your venue location. You can also customise your event timings, and add any extras you'd like, such as a DJ package or post midnight finishing time. Remember to take advantage of any special offers, such as free DJ.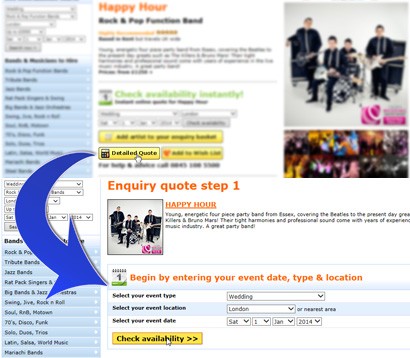 Don't panic about pressing the Quote button - you can add your quote to your enquiry basket, and send it to us, no obligation, no deposit required, no credit card number, nada. Once you've made your enquiry, a member of our team will check it and get back to you to confirm details, and discuss any special requests or unusual features of your booking.
That's it. No fuss, no bother, just great bands to browse, and all the information you need right at your fingertips. No waiting for days for emails about availability, no hidden fees or charges, no endless mobile telephone numbers to band members who never reply; just efficient booking for the UK's best bands, including comprehensive contracts for peace of mind, backed by our efficient team here at Alive Network.
And if you're overwhelmed with the choice, or have very specific requirements, call us anytime during working hours and one of our team will guide you towards the best entertainment for your event, totally free of charge and with no obligation whatsoever.
So next time someone says to you that booking a band for a function is a nightmare, just point them our way!