<< Previous page
|
All String Quartets >

Solar Strings

String Quartet

Highly Recommended

Based in Cramlington, Northumberland
but travels UK wide
The string quartet with experience, professionalism & an extensive repertoire of classical, jazz, tangos, film themes & slick pop tunes. Solar Strings are the perfect choice for any wedding, dinner, corporate function or private party in the North!
Prices: From £492 +
Need a second opinion?

Find out what your friends think of Solar Strings by sharing them on Facebook.
Customer Reviews: 1
of
10

"Dear Solar Strings,

Just a note to say thank you for our magnificent music at our wedding at Middleton Lodge on 23rd April. Our guests told us that your music complimented the day brilliantly.

We were thrilled with your arrangement of 'Friend of the Night' (Mogwai). We had an amazing day.

With best wishes and good luck for the future.

Gayle and Nigel Smithson
"
Read all 10 customer reviews >
Review from Gayle and Nigel Smithson - 23/04/2013
Solar Strings's Biography
Line up:
Quartet:
2 x violin / viola / cello
Highlights
* Professional and versatile quartet
* Best rates in the North East N. Yorkshire & Cumbria
* Repertoire ranges from classical to pop jazz tangoes film themes & trad.(also write arrangements)
* Perfect for many events



Solar Strings are a professional string quartet based in the North East of England. Consisting of four extremely dedicated professional string players the quartet is now one of the most established in the North East. With over ten years of experience in providing high quality live music at so many events the quartet has built a reputation for being professional reliable and flexible.

Solar Strings are vastly experienced in performing live music throughout the North East of England Cumbria and N. Yorkshire providing the perfect soundtrack to all types of events including weddings (ceremony drinks reception and wedding breakfast), product launches, exhibition previews, corporate functions and private parties.

They are available to perform in Northumberland, Tyne & Wear, County Durham, Teesside, Cumbria and N. Yorkshire. Engagements outside these areas will also be considered. Please contact your agent with your requirements.

Solar Strings comprises of Jo Montgomery (violin 1), Kirsten Gibson (violin 2), Gayle Hutchinson (viola) and Ed Pendrous (cello).

Jo Montgomery (vln 1)
Jo studied at Chethams School of Music in Manchester with Christopher Rowland. She was awarded places at the Royal Academy of Music, London, the Royal College of Music, London and the Royal Northern College of Music in Manchester but chose to study at the Guildhall School of Music & Drama with violin professor, Detlef Hahn and Stephanie Gonley.

Since graduating Jo has worked with Ulster Orchestra, which involved live radio 3 broadcasts, recording sessions and a tour of Ireland. She has also performed and recorded with the BBC Philharmonic.

Jo joined the quartet in 1999 and since then has also worked regularly with the Northern Sinfonia as a freelance violinist, taking part in many concerts, recordings and education projects. She has also performed with Leslie Garrett, Sir Cliff Richard and The Avison Ensemble and recently performed on stage with The Royal Shakespeare Company.

Kirsten Gibson (vln 2)
Kirsten studied at the Royal Scottish Academy of Music & Drama and Newcastle University. She graduated from the University of Newcastle upon Tyne with a first class honours degree then in 2001 with an MLitt with distinction.

Whilst studying, she participated in master classes with Leon Spierer, Madeleine Mitchell and The Alberni String Quartet. She has since performed with Aled Jones and Thomas Allen.

Having joined the quartet in 1999, Kirsten is an experienced chamber musician as well as performing regularly in orchestras throughout the north of England. She currently combines teaching at the University of Newcastle upon Tyne with performing and doctoral research.

Gayle Hutchinson (viola)
Gayle is from County Durham. She formed Solar Strings while studying for a BA (Hons) Music at the University of Newcastle upon Tyne. She has also worked with a range of artists such as Smoove & Turrell (Jalapeno Records), The Matinee Orchestra (Arable Records), Beccy Owen and Mercury Music Award nominee Kathryn Williams, with whom she performed at the Queen Elizabeth Hall, London and recorded the album Old Low Light.

Ed Pendrous (cello)
Ed is from Carlisle. He has performed with Solar Strings since 2004. He won the Cumbria Young Artist Award in 1989 and then continued his studies at the Royal Northern College of Music and Huddersfield University, where he won the concerto and string prizes.

Ed has worked with the BBC Philharmonic Orchestra, the National Symphony Orchestra of Ireland and the Ensemble Buxtehude in Paris. Since returning to the north he has worked with the Northern Sinfonia and the English Philharmonic Orchestra as well as numerous solo appearances.

Solar Strings are four professional musicians who are dedicated when it comes to providing you with a fantastic musical experience. We play at all types of events. We perform at weddings and corporate events. We also play at arts previews, VIP receptions, private parties, graduation ceremonies, Masonic functions and banquets.

Weddings-
Solar Strings will provide the perfect soundtrack for your special day. They can provide live music for any combination of the following:

Pre-ceremony drinks - music played by a string quartet is the perfect accompaniment to help you unwind whilst catching up with family and friends. (approx 30 mins).

Wedding Ceremony - during the wait for the bride, live music helps to put the wedding party at ease whilst waiting for the arrival of the bride. The quartet generally play for 15 minutes prior to the ceremony, then again during the entrance, register signing and exit, for which you can choose specific music from the repertoire. If your ceremony is religious, they can usually arrange accompaniment hymn music (approx 45 mins).

Photos and Drinks Reception - after a seamless relocation to another room or even another venue, Aurora Strings can either play a mixed repertoire from the list or they can adapt to suit your requirements (approx 1 hour).

Wedding Breakfast - live music provides the perfect relaxing ambience to accompany the meal (approx 2 hours).

Corporate Events-
Live music from a string quartet makes such a difference when it comes to entertaining clients. Corporate events include sponsorship receptions, VIP receptions, car launches, exhibition previews and university dinners. Clients include Newcastle Building Society, Tyneside Cinema, BALTIC, RAF Boulmer, Newcastle City Council, University of Newcastle upon Tyne, Northumbria University, Dance City and City Motors.

Events include BBC Children In Need, Gateshead Flower Show, The Great North Run VIP event and the launch of the Northern Lights Film Festival.

The quartet has played for numerous celebrities, including Gordon Ramsey, Charlie Dimmock, Bobby Robson, Alan Shearer, Alistair Campbell, Steve Cram and Brendan Foster.

Recording and Session Work-
The quartet is experienced in recording and session work. Recent involvement has included strings for Gary Hilton - Not Afraid to be Happy as well as Smoove - Coming Back and Kathryn Williams' Shop Window EP. The quartet have also worked independently with artists such as The Divine Comedy, Sir Cliff Richard, Beccy Owen (Fairy Snuff), The Matinee Orchestra (Arable Records), Loon and Smoove & Turrell (Jalapeno Records).

Solar Strings' Comments
"Your playing added a real touch of class to the proceedings. In addition to playing beautifully, you were so accommodating and flexible. Things fell behind a little but 'the band played on' beyond expected while there were still guests in the Great Hall. Sincere thanks – I will certainly recommend you."
Bob Watson (Durham Castle)

"Lots of people commented on aolar strings and how good you all sounded. The photographer, who has attended lots of weddings, said that you were the best string quartet he had heard, which says a lot about your playing
and talents. Once again thanks for making our day special."
Ged and Liz Carlin (Seaham Hall)
Solar Strings's Set List / Repertoire
Classical
Suite no. 3 in D, Bach
Air on the G String, Bach
Arioso, Bach
Wachet Auf, Bach
Sheep May Safely Graze, Bach
Brandenburg Concerto no. 3, Bach
Jesu, Joy of Man's Desiring, Bach
Ode To Joy, Beethoven
Habanera from Carmen, Bizet
The Toreador's Song from Carmen, Bizet
Minuet, Boccherini
String Quartet no.2, Borodin
Trumpet Voluntary, Clarke
Christmas Concerto, Corelli
Clair de Lune, Debussy
The Girl with the Flaxen Hair,Debussy
The Flower Song from Lakme, Delibes
O Sole Mio, di Capua
Chanson de Matin, Elgar
Nimrod, Elgar
Salut d'amour, Elgar
Serenade for Strings, Elgar
Pavane, Faure
Panis Angelicus, Franck
Suite from Peer Gynt, Grieg
Wedding Day at Troldhaugen, Grieg
Aria from Xerxes, Handel
Entrance of the Queen of Sheba, Handel
The Water Music Suites, Handel
Concerto Grosso no.5, Handel
Music from the Royal Fireworks, Handel
Intermezzo from Cavalleria Rusticana, Mascagni*
Various string quartets, Haydn
Liebestraum, Liszt
Meditation from Thais, Massenet
Wedding March, Mendelssohn
Alleluja from Exultate Jubilate, Mozart
Andante from Piano Concerto n. 21, Mozart
Der Vogelfanger from The Magic Flute, Mozart
Divertimenti no. 1,2 & 3, Mozart
Bei Mannern from The Magic Flute, Mozart
Barcarolle from Tales of Hoffman, Offenbach
Canon in D, Pachelbel
Troika (xmas), Prokofiev
Nessun Dorma, Puccini
O mio Babbino Caro from Gianni Schicci, Puccini
Trumpet Tune, Purcell
Gymnopedies no. 2 & 3, Satie*
Romance, Schostakovich*
Ave Maria, Schubert
Traumeri, Schumann
The Blue Danube Waltz, Strauss
Sleeping Beauty Waltz, Tchaikovsky
Nutcracker Suite (xmas), Tchaikovsky
Concerto Grosso, Vivaldi
Largo from Winter, Vivaldi
Spring (from 'The Four Seasons'), Vivaldi
Summer (from 'The Four Seasons'), Vivaldi
Autumn (from 'The Four Seasons'), Vivaldi
Winter (from 'The Four Seasons'), Vivaldi
Wedding March, Wagner
The Skater's Waltz, Waldteufel
Capriol Suite, Warlock

Pop Songs / TV & Film Themes / Trad.
Kissing You, Armstrong (Des'ree)*
Goldfinger, John Barry*
Diamonds are Forever, John Barry*
Tainted Love, Cobb (Soft Cell)*
Yellow, Coldplay*
Theme from Sex and the City, Cuomo*
Personal Jesus, Depeche Mode*
One Day Like This, Elbow*
Sweet Talkin' Woman, ELO*
Xanadu, ELO (Olivia Newton-John)*
Dream Catch Me, Newton Faulkner*
Lovely Head, Goldfrapp*
Let's Stay Together, Al Green*
Sweet Child of Mine, Guns n' Roses*
All You Need is Love , Lennon & McCartney*
Hey Jude, Lennon & McCartney
Michelle, Lennon & McCartney
Penny Lane, Lennon & McCartney
Unfinished Sympathy, Massive Attack*
Billy Jean, Michael Jackson*
Your Song, Elton John
Don't Stop Believin', Journey*
The Robots, Kraftwerk*
Could It Be Magic, Barry Manilow*
The First Time Ever I Saw Your Face, MacColl (Roberta Flack)*
My Love, Paul McCartney*
Cars, Gary Numan*
I Feel Love, Moroder (Donna Summer)*
Blue Monday, New Order*
Whatever, Oasis*
Perpetuum Mobile, Penguin Café Orchestra*
Raspberry Beret, Prince
A Whiter Shade of Pale, Procol Harum*
Perfect Day, Lou Reed*
Samskeyti (Heima), Sigor Rós*
A Song for You, Leon Russell (Ray Charles)*
Something So Right, Paul Simon*
Chasing Cars, Snow Patrol*
Close To Me, The Cure*
Sunny Afternoon, The Kinks
Fairytale of New York, The Pogues*
Bittersweet Symphony (intro), The Verve*
Irish Sherry, Trad.
Fiddle Dance, Trad.
Molly on the Shore, Trad.
You're the First, the Last, My Everything, Barry White*

Jazz / Tangos / Musicals / Songbook
Over the Rainbow, Arlen
Close to You, Bacharach
Say a Little Prayer, Bacharach
Misty, Burke
Fueye…! (tango), Charlo
Makin' Whoopee, Donaldson
La vi Ilegar (tango), Francini
Por Una Cabeza (tango), Gardel
Embraceable You, Gershwin
Fascinating Rhythm, Gershwin
I Got Rhythm, Gershwin
Love is Here to Stay, Gershwin
Someone to Watch Over Me, Gershwin
Pennies from Heaven, Johnston
Paragon Rag, Joplin
The Easy Winners (rag), Joplin
The Folks who Live on the Hill, Kern
Autumn Leaves, Kosma
Bohemia Rag, Lamb
Moon River, Mancini
Cafetin de Buenos Aires (tango), Mores
Cristal (tango), Mores
La Calesita (tango), Mores
Ev'ry Time We Say Goodbye, Porter
True Love, Porter
Anything Goes, Porter
Let's Do It, Porter
I Get a Kick Out of You, Porter
My Funny Valentine, Rodgers
Some Enchanted Evening, Rodgers
Suite from Oklahoma & The Sound of Music, Rodgers & Hammerstein
A Nightingale Sang in Berkley Square, Sherwin
Moonlight in Vermont, Suessdorf
EL 58 (tango), Varela/Nery
Ain't Misbehavin', Waller & Brooks
Mr. Wonderful, Weiss
Slippery Elm Rag, Woods
Tea for Two, Youmans
* - Solar Strings' own arrangements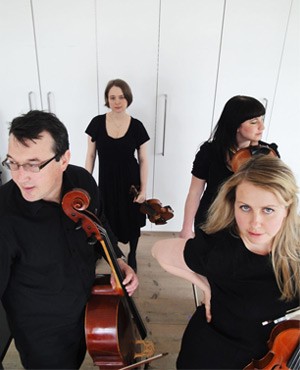 Listen to MP3s
Update Required
To play the media you will need to either update your browser to a recent version or update your
Flash plugin
.
Other customers also liked
Over the past 90 days when other customers have enquired about Solar Strings they have also asked about the following String Quartets ....


Booking Guide
| | |
| --- | --- |
| | In our exclusive guide, find out what a string quartet will do at your event, what type of music they'll play, how long they'll play for, ho ... read more → |