<< Previous page
|
All 70's Bands >

Apollo Groove

Party Band

Recommended

Based in Surrey
but travels UK wide
How do you fancy booking the band that performed to 300,000 in Hyde Park for the Royal Wedding? Apollo Groove have fast been named the UK's top live band for Weddings, Corporate Events and other parties.
Christmas songs available! Video Online!
Prices: From £3486 +
Need a second opinion?

Find out what your friends think of Apollo Groove by sharing them on Facebook.
Customer Reviews: 1
of
9

"Many thanks to Apollo Groove for playing our College Ball. The choice of music was fantastic and was made even better by the way it was played. Proof of this could be seen by both the pocked dance-floor and the topping feet of all those watching. Just as important (at least to our nervous entertainment booker) was that the band were punctual, professional and unbelievably cheerful throughout the whole night. Definitely recommended.

Chris Martin, Oxford Uni

"
Read all 9 customer reviews >
Review from Chris Martin, Oxford Uni - 30/09/2009
Apollo Groove's Biography
Line up:
Sound Engineer + 8 Piece Band
Female Vocals, Male lead vocals, Guitar, Bass, Keyboards, Drums, 2pc brass section,
Also available from 9-12 piece band.


Are you seeking a band that are well known for their...
Absolute
quality?
Outstanding
Musicianship?
World-wide success
at functions all over the globe?
Flexibility
to suit your individuality as a customer?
Varied repertoire
featuring a dynamically designed playlist of both modern and classic party tunes?
Look no further!

Apollo Groove have built up an outstanding reputation over the years, having played all over the world at some of the largest Corporate Events, Weddings, Jewish Simchas and Festivals. Most notably, Apollo Groove were the
only
band to perform to 300,000 people in Hyde Park for the Royal Wedding celebrations. This went down in the record books as the largest UK gig ever!
The band perform, not only performing all over the country but also in world-wide destinations such as Dubai, Italy, Brussells, France, South Africa, Romania, Egypt....and Kazakhstan, and since their Royal Wedding appointment have been approached by booking agents in USA and Australia. This band has gone global!
The band have an exceptional wealth of knowledge and experience, using top UK session players who play for artists such as The Spice Girls, Take That, Robbie Williams, Lily Allen, Amy Winehouse, James Morrisson, Beyonce, Gloria Gaynor, Jools Holland...to name only a few! This means that when you book Apollo Groove you are guaranteed outstanding musicianship, from players who have played in stadiums all over the world.
As a band, Apollo Groove have been booked to play for clients as prestigious as (to name a few): Coca Cola, Pepsi Max, OK Magazine, Lloyds TSB, Marks and Spencer, Waitrose, HSBC, ABN Ambro, IBN, Boots, KFC, Red Letter Days, Stanley Tools, The Sun newspaper, Mitsibushi, Yamaha, The Daily Mail....
The band pride themselves on playing a hugely diverse range of music, and understand that not everyone wants to hear the same old songs that the majority of function bands play! While featuring all the classics from the 50s,60's,70's and 80's, the band also include a more modern selection of music from the present day, which means Apollo Groove can cater for audiences of any age!
The band also include some of the traditional Jewish songs for Jewish Simchas.
Apollo Groove realise that every event is different, therefore we can tailor make our line-up to suit most sizes of room/audiences/budgets.
We currently offer:

8 piece band (Female Vocals, Male Vocals, Guitar, Bass, Keyboards, Drums, 2pc Brass Sections)
9 piece band (as 8 piece plus an extra female vocalist)
10 piece band (as 9 piece an additional trombonist)
11 piece band (as 10 piece plus a percussionist)
12 piece band (as 11 piece plus an extra male vocalist)

(These line-ups are flexible, eg. if you would prefer your 7 piece band to have a saxophonist and a male vocalist that's no problem!)
The full 12 piece band is not to be missed for high level corporate events and larger weddings!
Apollo Groove's Set List / Repertoire
Modern Rock and Pop
This Love, Maroon 5
Bohemian Like You, Dandy Warholes
Place Your Hands, Reef
Sweet Child O Mine, Guns 'n Roses
Are You Gonna Be My Girl, Jet
Love Machine, Girls Aloud
Summer of 69, Bryan Adams
Are You Gonna Go My Way, Lenny Kravitz
Mercy, Duffy
Alright Now, Free
Kiss, Prince
You Shook Me All Night Long, ACDC
Take Your Mama, Scissor Sisters
Filthy/Gorgeous, Scissor Sisters
I Don't Feel Like Dancing, Scissor Sisters
Black or White, Michael Jackson
Vida Loca, Ricky Martin
Reach, Sclub7
Get This Party Started, Pink
Move Your Feet, Junior Senior
I'm Outta Love, Anastacia
Relight My Fire, Take That feat. Lulu
Canned Heat, Jameroquai
Red Alert, Basement Jaxx
Groove is in the Heart, Deelight
Smooth, Santana
Dude Looks Like A Lady, Aerosmith
Rocks, Primal Scream
Let Me Entertain You, Robbie Williams
Kids, Robbie Williams & Kylie
Angels, Robbie Williams
Can't Get Enough Of Your Love, Bad Company
Chelsea Dagger, Fratellis
Crazy In Love, Beyonce
Candy Man, Christina Aguilera
Always There Incognito Feat, Jocelyn Brown
Somebody Elses Guy, Jocelyn Brown
Just Dance, Lady Gaga
Forget You, Cee Lo Green
You've Got The Love, Florence and the Machine
I'm Yours, Jason Mraz
Sweat (Alalalalalong), Inner Circle
Valerie, Amy Winehouse
Tears Dry on Their Own, Amy Winehouse
Finally, Ce Ce Penniston
Something Got Me Started, Simply Red
I Kissed a Girl, Katy Perry
Baby I Love Your Way, Big Mountain
Mr Brightside, The Killers
Sex on Fire, Kings Of Leon
Empire State of Mind, Alicia Keys

70's Disco
Thinking of You, Sister Sledge
December 63 (Oh What a Night), Frankie Valli & The Four Seasons
Celebration, Kool and the Gang
Get Down Tonight, KC and the Sunshine Band
Blame it on the Boogie, Jackson Five
I Want you Back, Jackson Five
Disco Inferno, The Tramps
I Will Survive, Gloria Gaynor
We Are Family, Sister Sledge
Carwash, Rose Royce
Play That Funky Music, Wild Cherry
Le Freak, Chiq
Good Times, Chiq
Boogie Nights, Heatwave
Brickhouse, Commodores
Boogie Oogie Oogie, A Taste of Honey
Lady Marmalade, Labelle
Thats the Way I Like it, KC and the Sunshine Band
Dancing Queen, Abba
Waterloo, Abba
Upside Down, Diana Ross
Ladies Night, Kool and the Gang
Greatest Dancer, Sister Sledge
Lost in Music, Sister Sledge
September, Earth Wind and Fire
Night Fever, Bee Gees
Staying Alive, Bee Gees
Aint No Stopping Us Now, Mcfadden and Whitehead
You to me are Everything, The Real Thing
Long Train Runnin, Doobie Brothers
Young Hearts Run Free, Candy Statton
Don't Leave Me This Way, Thelma Houston
Sex Machine, James Brown
I Feel Good, James Brown

80's Pop
Love Shack, B52s
Walking on Sunshine, Katrina and The Waves
Hot Stuff, Donna Summer
Footloose, Kenny Loggins
Bad, Michael Jackson
Beat It, Michael Jackson
Club Tropicana, Wham
500 Miles, The Proclaimers
Livin on a Prayer, Bon Jovi
Jump, Van Halen
When the Going Gets Tough, Billy Ocean
Wake Me Up Before You Go Go, Wham
You're The One That I Want, Grease
Don't Stop Me Now, Queen
Rockin All Over The World, Status Quo
Gold, Spandau Ballet
Time of My Life, Dirty Dancing
My Sharona, The Knack
All Night Long, Lionel Richie
Ain't Nobody, Chaka Khan
I Wanna Dance With Somebody, Whitney Houston
Express Yourself, Madonna
Give it Up, KC and the Sunshine Band
Don't Stop Believing, Journey

60's, Soul and Motown
Build Me Up Buttercup The Foundations
Cant Hurry Love Diana Ross & The Supremes
Saw Her Standing There The Beatles
Everybody Needs Somebody Blues Brothers
Gimme Some Loving Blues Brothers
Knock on Wood Blues Brothers
Land of 1000 Dances Wilson Pickett
I Wish Stevie Wonder
Superstition Stevie Wonder
Sir Duke Stevie Wonder
Signed Sealed Delivered Stevie Wonder
Uptight Stevie Wonder
Isn't She Lovely Stevie Wonder
Respect Aretha Franklyn
Rescue Me Aretha Franklyn
Baby Love Diana Ross
My First, My Last, My Everything Barry White
Love Really Hurts Billy Ocean
Get Ready The Temptations
Reach Out (I'll Be There) The Four Tops
Hard Days Night The Beatles
Hey Jude The Beatles
I Wanna Hold Your Hand The Beatles
Get Back The Beatles
She Loves You The Beatles
Twist and Shout The Beatles
Aint No Mountain High Enough Marvin Gaye
Sex Machine James Brown
I Feel Good James Brown
I'm A Believer, The Monkeys
Higher and Higher, Jackie Wilson
Shake a Tailfeather, Blues Brothers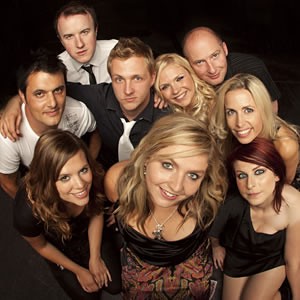 Listen to MP3s
Update Required
To play the media you will need to either update your browser to a recent version or update your
Flash plugin
.

Blog features
Apollo Groove are featured in the following blogs on our web site

Apollo Groove Perform For The Royal Wedding!
Apollo Groove entertained the masses of peopl ...
read more >

Booking options
Choose any of the following booking options when you hire
Apollo Groove
from Alive Network.
| | |
| --- | --- |
| | 11 Piece Band Add £1080 |
| | |
| --- | --- |
| | 12 Piece Band Add £1440 |
| | |
| --- | --- |
| | DJ Service Add £300 |
| | |
| --- | --- |
| | 9 Piece Band Add £360 |
| | |
| --- | --- |
| | 10 Piece Band Add £720 |
| | |
| --- | --- |
| | Cocktail Duo: 2 x 45 minute sets, Add £480 |
| | |
| --- | --- |
| | Cocktail Pianist: 2 x 45 minute sets, Add £300 |
| | |
| --- | --- |
| | Up to 30 live 'Walk on Clips': for up to 2 hours suitable for awards ceremonies, add £288 |
| | |
| --- | --- |
| | 15mins Traditional Jewish Set:, add £288 |
Get an instant online quote for Apollo Groove

CO2 Offset Volunteers
Apollo Groove volunteers in our Carbon Offsetting program.
This means they will offset the CO2 travel emissions created when getting to your event.
If you want to book entertainment with a 'green' conscience -
Apollo Groove
has one!
About our Green Entertainment >
Other customers also liked
Over the past 90 days when other customers have enquired about Apollo Groove they have also asked about the following 70's Bands ....



Booking Guide
| | |
| --- | --- |
| | Everything you'll ever need to know about booking a 70's Disco and Funk band. Find out what a 70's Disco and Funk band will do at your even ... read more → |
Customer reviews for Apollo Groove
Showing
1
to
9
of
9
customer reviews for
Apollo Groove
in date order

30/09/2009
Apollo Groove
"Many thanks to Apollo Groove for playing our College Ball. The choice of music was fantastic and was made even better by the way it was played. Proof of this could be seen by both the pocked dance-floor and the topping feet of all those watching. Just as important (at least to our nervous entertainment booker) was that the band were punctual, professional and unbelievably cheerful throughout the whole night. Definitely recommended.

Chris Martin, Oxford Uni

"
Customer review by Chris Martin, Oxford Uni

30/09/2009
Apollo Groove
"'What a great party! Perfect selection of dance music which had most people on their feel most of the lime - some going! Many, many good things said about the bond afterwards - like I said - great party! See you next year!'

Newdigate School Ball

"
Customer review by Newdigate School Ball

15/09/2009
Apollo Groove
"Apollo Groove took our international awards gala dinner to a new level. From the opening saxophone set during the welcome reception to live walk-up music through to a sensational dance act followed by a 'must-dance' set by the full band, everyone's experience was enhanced by our choice of band.

Our event attracted 500 guests from 51 countries with representatives of all the top non-alcoholic drinks companies including Coke and Pepsi. We have had dozens of comments about the quality of the whole event and particularly the band.

Deciding to add 'live' walk up music for the awards presentation itself was a first for us, and the decision proved totally right. The 'stabs' ranged from intense to amusing – our Managing Editor walked up to the Mission Impossible theme! – and caused one of our guests to remark that it was 'just like the Oscars'... On the sheer entertainment side of things, check out this band. They are awesome.

On the business and event organising side, I have to say the band offer tremendous value for money, backed by the highest levels of professionalism and heaps of clear and concise communication. It was great to run an event where such a key element was not on the worry list. The guys were so up for it and so on top of their game that several people asked if it was 'our usual band', thinking that we must have worked together before !

All I can say is that we can't wait to work with this band again...."
Customer review by Bill Bruce - Beverage Innovation Awards 2009

13/06/2009
Apollo Groove
"Just wanted to say thanks again for 13th June - you were great and would definitely recommend you for the future

Joanna Elliot, Toyota/Lexus
"
Customer review by Joanna Elliot

09/06/2009
Apollo Groove
"We had THE most fantastic day and evening, we absolutely love you guys and wish we could do it all again next weekend (JUST not the planning part!!!)

Camilla Hall, Wedding, June 09

"
Customer review by Camilla Hall

15/04/2009
Apollo Groove
"We'd hired a wonderful bond, Apollo Groove, to play throughout the day, so during the chapel ceremony on acoustic version of 'Somewhere Over The Rainbow' was sung by Sera. lt was incredibly hard trying not to cry!

As featured in 'Asiana Weddings'
"
Customer review by -

27/11/2007
Apollo Groove
"Hi James,

Thanks for the e-mail.

Just to say that we had a fantastic night and Apollo Groove were absolutely perfect! Turned up on time, set up without a hitch and played two amazing sets - everyone was up and dancing and they really made my wife's 40th a very special night!

Thanks too for your professional service and I'd definitely recommend both yourselves and the band.

Many thanks again

Steve"
Customer review by Steve

16/10/2007
Apollo Groove
"Seth,

Glad to give you guys feed back, the band were Brilliant, the only thing I am not sure the audience was as good as them...

On time... professional... fantastic vocals... fantastic sound... no fuss... just great.

Sara and the guys ought to be complemented on the professional manner on the night a fantastic night out, which I am sure from the comments I had back, will bring recommends in the future.

Please pass on my comments to the band, worth every penny...

Seth once again many thanks for your help especially with the short notice you were given...


Cheers & and a sincere

Thank you.

Eamonn & Liz"
Customer review by Eamonn & Liz.

17/05/2007
Apollo Groove
"Hi James - just a quick note to say my wedding at Wembley Stadium on Saturday went 110% perfect.

Apollo Groove were absolutely stunning - truely incredible and lovely people, I really would move Apollo Groove to "highly recommended", everyone in the room were stunned at how good they were.

Jordan was very good also.

Thanks for assisting in this space buddy....appriciate it."
Customer review by Ade
1
Get connected to Alive Network
You can follow Alive Network from the most popular social networking websites
Artist sign-up


How to join Alive



You can hire Apollo Groove in the following areas
Apollo Groove is based in
Surrey
but most of the
70's Bands
working with Alive Network will travel UK wide. View the areas where
Apollo Groove
will perform along with links to more
70's Bands
in those locations
View list >>
Why hire Apollo Groove from Alive Network?
Alive Network are
Apollo Groove's UK Booking Agents
. If you would like to
hire Apollo Groove
please complete an online enquiry or call us on
0845 108 5500
.

Alive Network is the UK's largest
live music entertainment agency
with many 70's Bands for hire. Established in 1999, we provide
high quality live entertainment
for over
7500 events per year
. When you make an enquiry to hire Apollo Groove, your own personal entertaiment coordinator will answer any questions or queries that you might have and liaise directly with Apollo Groove to get you the best possible price, and to ensure they they will provide exactly the right entertainment for your event.
Booking Apollo Groove from Alive Network is easy, safe and secure. Your booking is secured with a legally binding contract giving you complete peace of mind that you're in safe hands. Alive Network personally vets feedback from all of Apollo Groove's performances to ensure standards are met.

In short, hiring Apollo Groove from Alive Network ensures you'll remember your live entertainment for all the right reasons.

A few of the benefits of booking 70's Bands through Alive Network Entertainment Agency
Instant online quotes and availability confirmation
Large choice of professional, reliable 70's Bands
Fast, friendly, personalised advice from expert staff
The easiest way to hire amazing 70's Bands


A small selection of our previous clients:
24 hour emergency cover, 365 days of the year.
Safe & secure bookings with comprehensive contracts
No worries, no hassles, no dissapointments
The very best customer service